This post contains links that, if you click on them and make a purchase, will earn me money. As an Amazon Associate, I earn from qualifying purchases. . Regardless, I only recommend products or services that I believe will be good for my readers. Thanks for helping me continue to produce great content!
Make going back to school a little happier with this recipe for Crispy, Chewy Oatmeal Walnut Cookies! They're made with ingredients you probably have right now in your pantry
Good Cookies Make Happy Families
This recipe for Crispy Chewy Oatmeal Walnut cookies lines up nicely with my mission. Now, by "my mission" I mean, why I write this blog. I absolutely believe that delicious food leads to happier time around the table. I believe that it's in the kitchen, around the table, where families, friendships, and love grow stronger.
And in this world, being a force for love is all-important. After all, without a loving base to launch from, the world can be a cold place, indeed.
At this time of year, with kids going back to school, it's important for our children to think of home as a refuge, and a safe place: somewhere they are truly known, and truly loved. There are few things that make a sweeter memory for a child than coming home from school to a warm, freshly baked rack of cookies, prepared with them in mind. Equally lovely would be having a few of these crispy, chewy, delightful cookies tucked into one's lunch.
I found this recipe in a delightful book called The Artful Baker, that was sent to me by Abrams Books last year, when I was serving on their Abrams Dinner Party. The Artful Baker was written by Cenk Sonmezsoy. This thick, gorgeous cookbook was filled with all sorts of baking challenges, and zillions of pictures, each more gorgeous than the last.
I wanted to try a recipe from the book, but I was looking for a recipe that was easy, and completely approachable. I wanted a recipe that I could create without a trip to the grocery store, with a very few ingredients that were already on hand in my pantry.
What makes Crispy Chewy Oatmeal Walnut Cookies different from regular Oatmeal Cookies?
There are two things that make this recipe different from a regular Oatmeal Cookie recipe. First, the toasted walnuts. Second, there's a lot less flour in this recipe than you're used to in most cookie recipes.
The Toasted Walnuts:
There's a depth of flavor that comes when you toast a nut, that you won't find in their flavor otherwise. It brings the oils of the nut to the surface, and the aroma becomes darker and more intense, and quite wonderful. So, do. not. skip. this. step. Yes, the nuts will be somewhat warmed up by their bake within the cookie dough. But they'll be mostly enveloped by the dough, and thus shielded from the browning you desire. (And we all know that the Maillard effect – aka browning – is what brings great flavor to food.)
On a side note, I truly think pecans would be just as yummy in this recipe if you happen to have them on hand, rather than walnuts, or, if you just prefer them. And if you want to try chocolate chips in them, who am I to judge? I just haven't tried doing that myself, so I can't report on the result.
Less Flour:
These cookies are delicate in structure, due to having less flour. That's why they need to be chilled till firm before you bake them. (Look for that "chill time" in the recipe. You'll want to factor that hour and 20 minutes of chilling time into how long this recipe will take you to achieve a freshly baked cookie.) It gives them such a beautiful buttery flavor, and crispness. It's a delightful aspect of this recipe. They almost remind me of a Florentine cookie, if you're familiar with them, in their texture.
One other side note: after their final chill in the freezer, you could, at that point, go ahead and freeze the dough balls in a ziplock. And you'd have homemade cookies just waiting – (for that perfect moment, when nothing else will do) – waiting to be baked, nestled inside your freezer!!! Talk about being a person who sees to the needs of their household! (My need for immediate gratification seldom lets me be that person…sadly…)
Recipe Notes for Crispy Chewy Oatmeal Walnut Cookies:
As you are deciding when to pull your cookies from the oven, my recommendation would be to pull them out sooner, rather than later. They'll look a little underdone in the middle, but that will be OK, and will give you the chewy center you desire. So watch for the browning of the edges, and take them out when you see that. As they cool, they won't look underdone anymore, and they'll gain more structure. So leave them on the cookie sheet for a couple of minutes before you remove them to the rack.
My Alterations to the Recipe for Crispy, Chewy Oatmeal Walnut Cookies:
My alterations were slight. I decreased the walnuts from the 3 cups of walnut halves called for in the original recipe to 2 c. of walnut pieces. If you use walnut halves, you'll want to break them up a bit before you add them to the dough, but for me, I preferred using halves and partially broken halves that I buy at Costco.
I also increased the salt a bit, because things I bake always seem like they benefit from a bit more salt. As alterations go, those are pretty minor.
Helpful hint:
Costco seems to have the best prices on nuts that I can find.
About the Bosch Universal Plus Mixer:
I mixed up this batch of cookies using my new Bosch Universal Plus Mixer. I'm really enjoying using it. If you've been thinking about a new mixer, now is a great time to look into getting a Bosch. Bosch is running a special package deal, just for my readers. If you use my special code, which is susanwilliamsicecream you'll get a Free Ice Cream maker and 10 dollars off with the purchase of the white Bosch Universal Plus on BoschMixers.com , now through September 1, 2019. If you want to be REALLY impressed by what the Bosch Universal Mixer can do, watch this video!
Yield: 28 cookies
Crispy Chewy Oatmeal Walnut Cookies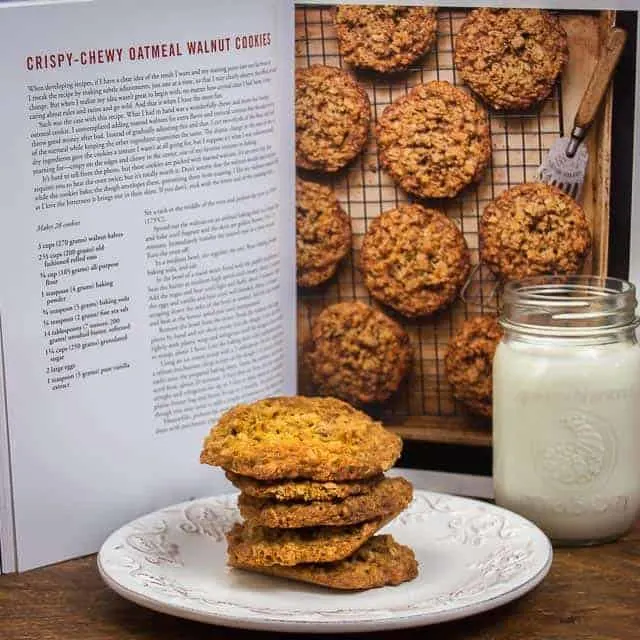 A delicious, easy to make cookie, made with ingredients you probably already keep in your pantry.
Ingredients
2 c. walnut pieces
2 1/2 c. old-fashioned rolled oats (uncooked oatmeal)
3/4 c. AP flour
1 t. baking powder
3/4 t. baking soda
1/2 t. fine sea salt
14 T. butter, softened (1 stick + 6 T. butter)
1 1/4 c. sugar
2 large eggs
1 t. vanilla extract
Instructions
Pre-heat oven to 350º. Spread walnuts on a baking sheet in a single layer, and roast for approximately 8-10 minutes, until they become fragrant. (Don't skip this step. Roasted nuts make a huge difference in the flavor of these cookies.) Pour them immediately off the baking sheet onto a plate, to cool. Turn the oven off, because you're going to chill your cookie dough for a while.
Stir together the dry ingredients into a medium sized bowl: the oats, flour, baking powder, baking soda, and salt. Set aside.
In a stand mixer mixing bowl, cream the softened butter at medium high speed about 2 minutes, until creamy. Add the sugar, and beat until light and fluffy, about 3 minutes. Add the eggs and vanilla, and beat until well blended: about 2 minutes. Scrape down the side of the bowl as needed. Add the dry ingredients, and blend on lowest speed, just until incorporated. Stir the walnuts gently into the mixture, by hand. Cover the bowl with plastic wrap and chill the dough in the refrigerator for one hour.
Line a baking sheet with parchment paper.
Using a 2 Tablespoon ice cream scoop, drop scoops of the dough onto the parchment lined baking sheet. Freeze the unbaked cookies about 20 minutes, until firm.
Preheat the oven to 350º.
Bake the cookies until just their edges begin to turn golden brown, about 16 minutes. (Watch them carefully as ovens, and thus baking times may vary.) Allow them to rest on the pan for 2 minutes after you take them out of the oven, and then transfer them to a baking rack to cool.

.

Notes
In regard to toasting the nuts, nuts go from being beautifully toasted to becoming acridly burnt in a matter of seconds, so don't forget to pour them onto another plate as soon as you remove them from the oven, so that they'll begin cooling.
In regard to baking times: If you're going to err, err on the side of baking them less, rather than over-baking them, or you'll have cookies that are only crunchy, but not chewy.)
Recommended Products
As an Amazon Associate and member of other affiliate programs, I earn from qualifying purchases.
Nutrition Information:
Yield:
28
Serving Size:
1
Amount Per Serving:
Calories:

180
Total Fat:

11g
Saturated Fat:

4g
Trans Fat:

0g
Unsaturated Fat:

6g
Cholesterol:

29mg
Sodium:

144mg
Carbohydrates:

18g
Fiber:

1g
Sugar:

9g
Protein:

3g
Be sure to share this with your friends on Facebook, Yummly, Flip, Twitter, or wherever you enjoy sharing great recipes. I made this image so it would be perfect for Pinterest.
More Cookie Recipes:
If these don't float your boat, and maybe especially if the DO float your boat, I have some other stellar cookie recipes you might like as well. My Browned Butter Dark Brown Sugar Cookies are probably my most favorite. And they're my most popular. And they're to die for. The cookies that made me the Cookie Contest Queen, and the story of HOW these magnificent Raspberry Shortbread Cookies won me that coveted title are worth the read, and the making. These are my AND NOW, FOR SOMETHING COMPLETELY DIFFERENT cookies, and even though they're slightly unexpected, they're totally addictive: Curry Coriander Shortbread Cookies.