This post contains links that, if you click on them and make a purchase, will earn me money. As an Amazon Associate, I earn from qualifying purchases. . Regardless, I only recommend products or services that I believe will be good for my readers. Thanks for helping me continue to produce great content!
There is so much depth of flavor, packed into this one simple cookie, that Browned Butter Brown Sugar Cookies will blow your mind! I am thrilled to be able to share this recipe with you!
My Love For Brown Sugar:
As a kid, I loved putting brown sugar on my cereal. Not plain old white sugar. It had to be BROWN sugar. (I blame Mick Jagger.)
Brown sugar wasn't just that one-note flavor of "sweet": it had that richer, darker flavor that comes from the molasses that's in it. As an adult, my love for brown sugar has expanded into an appreciation for the flavors of toffee, butterscotch, and caramel. Because what could be better than melting that brown sugar into butter?
How Do We Bake a Cookie that Improves What's Already Delicious?
But…say we COULD make it better. Say we took it one step further…suppose you took that butter, melted it, and continued to gently heat it until it began to smell nut-like, and became the color of a copper penny? You know what I'm talking about, don't you? I refer to that marvelous ingredient that is like none other: browned butter.
And then, what if we took that browned butter, and added it to dark brown sugar?
So if you take those lovely flavors of dark brown sugar and browned butter…what might those add to the flavor profile of the humble sugar cookie?
The Time Has Come To Try This Cookie
Oh, my friends: I submit to you that THIS Christmas, it's time to find out! NOW is the time to MAKE. THIS. COOKIE!!!
It Only Takes Paying Attention to Two Critical Steps:
The first step, the browning of the butter, requires careful attention, because when you're browning butter, it crosses over the line from being the perfect copper penny color to being burnt and black in a matter of 30 seconds or less.
The other area where you need to pay attention is the last step: that is, baking these cookies. This requires attention, because with their dark caramel color, you don't want to over-bake them. One of the great aspects of this cookie is that it is crisp on the outside, but oh so moist, tender and chewy on the inside. Brown sugar makes baked goods more moist. So, you don't want to lose that factor by cooking them too much. Thus, lean toward under baking them, rather than over baking them.
They are sweet…but hey: they're sugar cookies. You didn't expect them to be neutral, right? I stumbled across this recipe on the Cook's Illustrated website, and knew instinctively that with my love for brown sugar – I've always liked eating chocolate chip cookie dough better than plain old sugar cookie dough – that I would probably love these cookies.
Take dark brown sugar; add browned butter; what could be bettah? I have one friend who tried this recipe, and it has become her favorite cookie recipe, too. So, take a risk: learn how to brown butter.
Besides, browned butter is a very handy skill to have in your culinary skill set. You can use it in Beggar's Linguine, for example, which is one of my favorite pasta recipes of all time. Not to mention the best way I've ever found to create cauliflower.
Some Tips on Browning Butter:
A word about browning butter: I use a regular silver finish sauté pan to brown it, not a non-stick pan, and I find that to be important. Why? A pan with a dark finish makes it more difficult to see the exact shade that the butter is turning to. I'm constantly moving and sloshing the pan, once the butter melts, because it develops a foam on top. (Those are the milk solids.) I need to see the color of the melted butter that is underneath the foam, so that I'll know when it's reached that color of a copper penny.
The whole process goes quickly. Depending on how hot your flame gets things, it only takes from 1-3 minutes. So, keep swirling that butter, and keep peeking at the color every few seconds. When you smell the nut-like fragrance, and you see you've achieved the color you desire, pour the butter quickly into a heat-proof bowl.
If you merely remove the pan from the heat, the pan is still hot, and will continue browning and probably move into burning your lovely browned butter. So have a heat-proof bowl or measuring cup at the ready to receive your copper-colored goodness.
The Great Food Blogger Cookie Swap of 2014
I'm sharing this recipe as a participant in the Great Food Blogger Cookie Swap of 2014. One hundred percent of the proceeds from this terrific project, put together by Lindsey Landis of Love & Olive Oil, and Julie Deily of The Little Kitchen, go to Cookies For Kids' Cancer. Cookies for Kids' Cancer is a national non-profit a national non-profit organization committed to funding new therapies used in the fight against pediatric cancer, which claims the lives of more children in the US than any other disease. I love that I've had the opportunity to reach out into the blogging community, share some of my cookies, receive some yummy cookies myself, and do some good, all at the same time.
Now, SAVE this recipe. Pin it on Pinterest, for gosh sakes!!! You're going to thank me for this, later.
And, you're welcome.
Yield: 2 dozen cookies
Browned Butter Dark Brown Sugar Cookies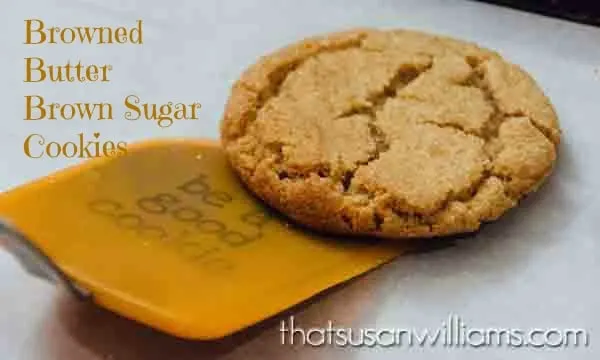 A deliciously moist brown sugar cookie, made with browned butter.
Ingredients
14 T. butter (1 3/4 sticks)
1/4 c. sugar
2 c. packed dark brown sugar
2 c. + 2 T. flour
1/2 t. baking soda
1/4 t. baking powder
1/2 t. salt
1 large egg + 1 egg yolk
1 T. vanilla extract
Instructions
Melt 10 T. of butter in a 10" skillet over medium-high heat. Continue cooking, swirling the pan constantly until the color of the butter under the foam is about the color of penny. Quickly pour the browned butter into a heatproof bowl, and then drop the last 4 T. of butter into the browned butter, to melt. Set aside for 15 minutes.
Preheat the oven to 350º.
Line 2 baking sheets with parchment paper.
Mix the white sugar with 1/4 c. of the brown sugar in a pie plate, and reserve for coating cookie dough balls.
Whisk flour, baking soda, and baking powder together in a bowl, and set aside.
Into a mixer bowl, add the rest of the brown sugar (1 3/4 c.), salt, and the melted browned butter. Mix until no sugar lumps remain, about 30 seconds. Add egg, yolk, and vanilla, and mix another 30 seconds. Add flour mixture, and mix until just combined, about 1 minute. Scrape down bowl to make sure everything is even distributed and mixed.
Roll dough into balls in the palm of your hands. You'll be making 24 balls, and each ball will be about 1 1/2" in diameter. Roll each ball in the reserved sugar mixture in the pie plate. Place sugar coated dough balls onto parchment paper lined cookie sheets: 12 cookies per pan.
Bake 11- 14 minutes, depending on your oven. (I have a convection oven, and two sheets of cookies work perfectly. In a conventional oven, I recommend you brown one sheet of cookies at a time.) Cookies should be puffy, lightly browned on edges, but still soft and tender in the middle. It is important not to overbake this cookie.
Let cookies rest for 5 minutes on the baking sheets once you've removed them from the oven, then transfer to a wire rack to complete the cooling process.
Notes
Browned butter can burn quickly, so be sure and watch it closely as you're melting it, and then as you continue the cooking process. Keep the pan swirling every few seconds, in order to get the foam (the milk solids) to part, so that you can see the color of the butter underneath the foam. The color I look for is the color of a penny. Use your sense of smell as well: you should be checking for a nutty smell. When you've achieved the color you want, quickly transfer it to a heatproof bowl. 15 seconds too much heat can turn perfectly browned butter into perfectly burnt butter.
Recommended Products
As an Amazon Associate and member of other affiliate programs, I earn from qualifying purchases.
Nutrition Information:
Yield:
24
Serving Size:
1 cookie
Amount Per Serving:
Calories:

133
Total Fat:

7g
Saturated Fat:

4g
Trans Fat:

0g
Unsaturated Fat:

2g
Cholesterol:

33mg
Sodium:

141mg
Carbohydrates:

17g
Fiber:

0g
Sugar:

16g
Protein:

1g
Other Recipes for Fans of Browned Butter
Most people who love browned butter, love it with a passion. Therefore, here are some recipes that really show off the difference browned butter can make in a dish.