This post contains links that, if you click on them and make a purchase, will earn me money. As an Amazon Associate, I earn from qualifying purchases. . Regardless, I only recommend products or services that I believe will be good for my readers. Thanks for helping me continue to produce great content!
Roasted Cauliflower with Pine Nuts, Brown Butter and Lime is the most delicious version of cauliflower I have ever eaten! This is a side dish I come back to again and again, year after year.
Roasted Cauliflower Turns Cauliflower Haters Into Cauliflower Likers
I hated cauliflower as a kid. Then I found out you could dip it in ranch dressing while it was raw. Since I almost couldn't taste the flavor of the cauliflower that way, I liked it better, due to my aversion to cauliflower.
As an adult, having discovered that roasting vegetables brought out their natural sweetness, I found out that I really, really LIKED roasted cauliflower. So, I assumed I had reached my own cauliflower taste pinnacle. Happily, I was wrong.
The BEST Roasted Cauliflower
THIS roasted cauliflower side dish recipe is the pinnacle of roasted cauliflower recipes. At least, it's my own personal cauliflower pinnacle. Because, honestly, you can dip a human finger in browned butter, and your finger will be delicious. Painful, if it's your own finger, but delicious.
What is Browned Butter?
Browned butter is what happens RIGHT BEFORE you burn butter. In French, they call it beurre noisette: a noisette is a hazelnut. No hazelnuts are involved in making brown butter, but what the French are alluding to is that when the butter in your sauté pan is just starting to turn brown, and achieves almost a copper color, it has a nutty aroma, kind of like a hazelnut.
But the flavor compounds that are developed in the making of brown butter harness all the goodness of butter, plus a rich, nutty underlying flavor, with more depth, that is just extraordinary.
And in this recipe, it's super easy to do, because basically, to toast your pine nuts, you throw them in the butter you're melting. And when your pine nuts look toasted, your browned butter will be just right, too.
Steps to Making This Roasted Cauliflower Side Dish Recipe
I found this recipe on epicurious. So the basics are this:
Slice the cauliflower thick, drizzle it with olive oil, and plenty of salt and pepper.

Roast it till it starts developing color, about 20 minutes. Flip it.

Roast it on the other side, about 15 or 20 minutes more.

Brown the pine nuts in butter. Remove from heat and add a pinch of red pepper flakes.

Then drizzle all the cauliflower with browned butter, toasted pine nuts & pepper flakes. Give your serving dish big healthy squeeze of lime juice to brighten everything up, and then finish with a sprinkle of a bunch of chopped cilantro.
And don't forget to tell me how much you love me.
The Recipe for Roasted Cauliflower with Pine Nuts, Browned Butter and Lime
Yield: 4 servings
Roasted Cauliflower with Pine Nuts, Brown Butter and Lime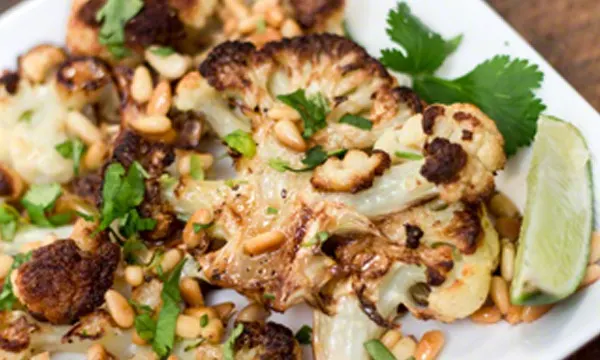 The best roasted cauliflower I have ever had, due to lovely browned butter, lime juice, and pine nuts.
Ingredients
2 tablespoons olive oil, divided
1 large head of cauliflower
Kosher salt, freshly ground pepper
2 tablespoons butter
1/4 cup pine nuts
1/4 teaspoon crushed red pepper flakes
1/4 cup chopped fresh cilantro
1 tablespoon fresh lime juice
.
Instructions
Preheat oven to 450°F. Cover a large rimmed baking sheet with foil. Trim cauliflower stalk and place head stalk side down on a cutting board. Slice cauliflower lengthwise into 1/2" slices.
Arrange cauliflower slices and any stray pieces in a single layer on prepared baking sheet. Drizzle with 2 Tbsp. oil and season with salt and pepper. Toss with your fingers till the cauliflower is evenly coated. Roast until underside is deeply browned, about 20 minutes. Turn cauliflower over, season with salt and pepper, and continue to roast until other side is dark brown and crisp, 15–20 minutes longer.
Meanwhile, melt butter in a small skillet over medium. Add pine nuts, bring to a simmer, and cook, swirling pan occasionally, until pine nuts are toasted and butter is browned and smells nutty, 6–8 minutes. Remove from heat and add red pepper flakes; let cool 10 minutes. Add chopped cilantro and lime juice; season with salt and pepper.
Arrange cauliflower on a serving platter and drizzle with dressing. Serve topped with cilantro leaves.
Recommended Products
As an Amazon Associate and member of other affiliate programs, I earn from qualifying purchases.
If you're interested in looking at other vegetable side dishes of mine that I think are excellent, you might want to check out The Salad to Bring When They Ask You to Bring a Salad. Also out of this world is my Bacon Roasted Buttercup Squash with Rosemary Honey.