With the price of gourmet coffee being what it is these days, have you ever wondered if it might be possible to roast gourmet coffee beans at home? No? We have.
We wanted great coffee, at the lowest price possible, and at the optimum freshness, roasted just the way we like it. Is that asking too much??? We didn't think so. Plus, we've kind of got a terminal case of the "Can Do" spirit around here, when it comes to making great things to eat.
Our bane, and our blessing, is that we love to eat, and we love to eat well. But we often find our tastes are a little more expensive than our budget allows. Which leads us to wonder if we couldn't make the stuff we love, at home, cheaper and better. This type of curiosity and willingness to "give it a whirl", have sparked our adventures into dry-aging our own beef, grinding our own grains, baking our own whole wheat bread, making our own sourdough bread, and even, in the last year or so, making our own wine.
But of all these culinary adventures, roasting our own coffee beans is something that has become a weekly ritual. My husband has been roasting coffee every week, for over six years! He has it down to a science. Takes him about 15 minutes to do. But we've squished the whole process into a 1 minute video, so you can see the process for yourself. We hope you like it!
The 60 sec. Video that Shows You How To Roast Coffee Beans

We buy our green coffee beans from Sweet Maria's, an online website. They ship our beans right to our door, from beans they have curated literally from all over the world: Central America, South America, Africa, Arabia, Indonesia, Asia, and Oceania. I've asked my husband to try to narrow down what his favorite types of coffee beans are, but, honestly? We really couldn't say what type is our favorite. The inventory at Sweet Maria's is carefully selected and constantly changing, depending on availability, and we just enjoy trying all the types. (Besides, if you found the "perfect green coffee bean" chances are, it might not be available the next time you go back to buy more.) Another factor that can completely change the flavor of your "perfect bean" is how dark you roast that bean. Roasting your own coffee beans is an inexact science, and you learn as you go, how to produce the color of roast that *you* prefer.
If your budget allows, you can purchase a coffee roaster at Sweet Maria's, and skip our instructions.
Sweet Maria's, in fact, is where we learned pretty much all we know about coffee roasting.
But here's how we do it.
How to Roast Gourmet Coffee Beans at Home
First, my husband conducts this operation outside the house. Coffee beans that are roasting put off quite a significant amount of smoke, and you really don't want that in your house. So, he roasts them on a propane burner outside.
Second, he uses a Whirley-Pop, which is a popcorn popper with a hand crank on the top that keeps the kernels stirring. My husband drilled a hole in the top to insert a meat thermometer into the pot. Achieving the proper temperature and keeping the beans moving are both important parts of the process. There is a "first crack" and a "second crack" that you have to listen for. And it sounds a lot like the snap, crackle, pop sound of Rice Krispies. But at the same time that you're listening for the "crack", you also have to be watching the color of the beans to be sure you have gotten the depth of roast that you want: in other words, it's an art, and a science.
Both friends and family agree: this is the best coffee you'll ever have. And for 15 minutes a week worth of work (for our family of 3 coffee drinkers) and the huge savings of money? It's so worth it!
Please: share the post, and the video! We'd love that!
Yield: 12 oz. roasted coffee beans
How To Roast Gourmet Coffee Beans at Home (and Save Money) Video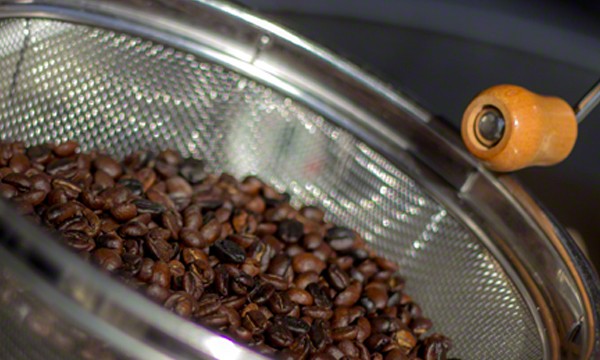 Ingredients
12 oz. Unroasted Green Coffee Beans
Whirley Pop Popcorn Popper
(Behmor Drum Coffee Roaster)
Instructions
For our first five years of roasting our own coffee beans, we roasted our beans outside, over a propane burner, using the Whirley Pop, quite successfully and happily.
We then invested in the Behmor Coffee Roaster, which we are enjoying using now. The advantage is that we no longer have to go outdoors in the dead of winter to roast our green coffee beans.
We hope to review the Behmor in the future, but until then, we 100% recommend the Behmor, if you have the dollars to invest.
Recommended Products
As an Amazon Associate and member of other affiliate programs, I earn from qualifying purchases.
Yum