This post contains links that, if you click on them and make a purchase, will earn me money. As an Amazon Associate, I earn from qualifying purchases. . Regardless, I only recommend products or services that I believe will be good for my readers. Thanks for helping me continue to produce great content!
Interested in a RIDICULOUSLY EASY AND DELICIOUS recipe for the next time you grill some fish? This recipe is not just for grilled trout, but for any kind of fish, actually. The secret to the deliciousness of this recipe for grilled trout is a vinaigrette, made with browned butter, capers, and pine nuts. Three of my favorite ingredients!
Is This Recipe Only For Grilled Trout?
My husband went fishing again up near lake Michigan and came home with a few (but not nearly enough!) steelhead trout. They're a delicious fish, but this recipe sends them to WAY-Over-The-Top Super Deliciousness with this astonishingly easy vinaigrette. With the right ingredients, ANYONE can do this, I promise you. My husband and I have decided we're going to try this vinaigrette on salmon next, and I know it will be RIGHTEOUS!
How Do You Make Browned Butter?
Curious as to how you make a browned butter? Browning butter is just about what it sounds like: melting the butter in a sauté pan over moderate heat, and then continuing to heat and stir it until it just starts to turn a medium brown. Depending on how hot your flame is is, it only takes two to four minutes to brown butter. Therefore, it's important to watch the color of the butter carefully.
As you begin browning the butter, swirl the pan while it's heating. Remove the pan from the heat when it's tan in color. The butter will continue to brown for a bit even after you remove it from the heat. What you're wanting to achieve ultimately is a nut brown color and a toasty aroma. You swirl the pan while you're heating it because the milk solids in the butter will sink to the bottom of the pan and burn if you're not careful, so keep that pan of yours a-moving.
Finishing The Dish
We grill the fish, and then spoon the vinaigrette over the fish and the rice. Really hard, huh? If you doubled the vinaigrette recipe, it could go over the arugula salad, as a dressing for it, too. But since I had a little leftover vinaigrette from the last time I made my yummy Spinach and Butter Lettuce Salad, (you know: The Salad to Bring When They Ask You to Bring a Salad? )I just sprinkled that leftover vinaigrette over my arugula. Then, I used a vegetable peeler to cut long thin strips of Parmesan to decorate the top.
Since my husband was so hungry last night and ready to eat, we rushed the picture taking! I forgot to sprinkle the dish with the toasted pine nuts, and the salad with the Parmesan. But trust me when I tell you that we added both before we ate, and they are important finishing touches of flavor and texture to this dish.
Pictures to see the Process of Grilled Trout Recipe
Before the trout heads for the grill.
Food around the corner.
Shhhh…we're resting.
Here comes the browned butter vinaigrette!
Yield: 4 servings
Grilled Trout with Browned Butter, Caper and Pine Nut Vinaigrette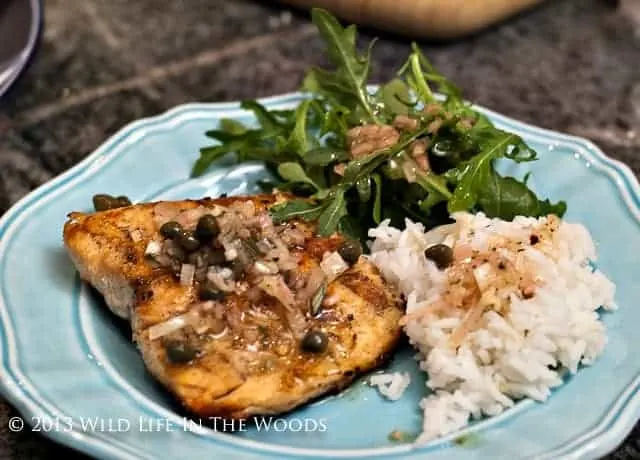 Ingredients
1/2 stick butter
1 T. olive oil
1/4 c. finely chopped shallots
2 T. white balsamic vinegar
1 T. drained capers
1 t. chopped fresh rosemary
Sea salt
Freshly ground black pepper
1/4 c. pine nuts
2 pounds steelhead trout fish fillets
Instructions
Toast the pine nuts in a small sauté pan. That should only take a couple of minutes. Watch them carefully and stir them when they start to smell good, to try to toast both sides evenly. If they start to brown too quickly, remove them from the pan quickly onto a saucer to cool them down. Reserve.
Prepare grill (medium high heat).
Cook butter in a small skillet over medium heat until brown, stirring often, about 4 minutes. Remove from heat. Mix in oil, shallots, vinegar, capers, and rosemary. Season with sea salt and freshly ground black pepper.
Brush the fish fillets with a little olive oil, and then sprinkle them with some sea salt and freshly ground black pepper. Grill the trout, flesh side down, unti brown, about 2 minutes. Turn trout over; grill until cooked through, about another 2 minutes. Transfer trout to plates.
Spoon vinaigrette over trout, and sprinkle with toasted pine nuts. (I put the vinaigrette over the rice that I serve on the side, too.)
Recommended Products
As an Amazon Associate and member of other affiliate programs, I earn from qualifying purchases.
Nutrition Information:
Yield:
4
Serving Size:
1
Amount Per Serving:
Calories:

679
Total Fat:

40g
Saturated Fat:

12g
Trans Fat:

0g
Unsaturated Fat:

25g
Cholesterol:

236mg
Sodium:

487mg
Carbohydrates:

5g
Fiber:

1g
Sugar:

2g
Protein:

72g
Basking in the glow of the golden sunset.
Please, feel free to share this recipe! Use Pinterest, Facebook, Twitter, Reddit, Flipboard, Yummly, or anywhere you like!
Let me know how much you love it!
Because, you will!