This post contains links that, if you click on them and make a purchase, will earn me money. Regardless, I only recommend products or services that I believe will be good for my readers. Thanks for helping me continue to produce great content!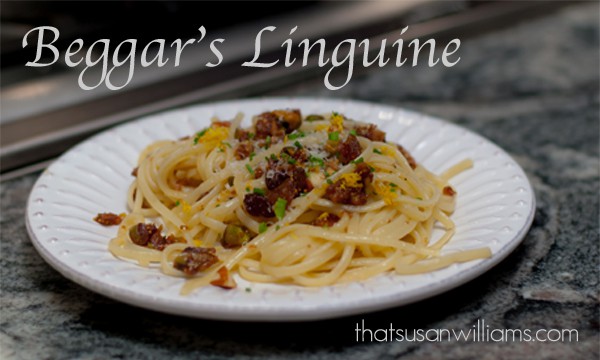 Life is full of serendipity, and serendipitous events are the stuff that make life delicious.
Well, this post is slam full of scrumptious serendipity, (as well as a FABULOUS recipe, called Beggar's Linguine), so dig your literary fork in deep, and start twirling.
About a month ago, I had a delightful dinner with the Nashville Food Bloggers down at a favorite restaurant of mine, Sunset Grill. I walked in alone, not sure what to expect, but what I found was that a DELICIOUS evening had been prepared for me, and I'm not just talking about the halibut, which incidentally, was fin-flappin' fresh, and very tasty. I was a couple of minutes early – which NEVER happens, and slid into an empty seat at the end table. This turned out to be my first and best serendipitous move. Because of where I was sitting, I ended up having the pleasure of chatting at length with our host, Randy Rayburn, who is witty, charming, and who overflows with stories that make you want to just want to sit around and keep him talking for hours.
In addition to sitting with some other FASCINATING Nashville food writers, I also had the very great joy of sitting next to a Nashville food blogger whose work I very much admire, Angela Roberts, of Spinach Tiger. I kept having this feeling that the entire evening was some kind of divine gift, and I breathed a few silent prayers of gratitude as the evening rolled along. So, imagine my surprise the following day while I was at Farmer's Market, picking up some herbs, when right there in the middle of the jalapeño peppers, who should I see but Angela, the woman who'd been seated to my right only the night before. Voilà! More serendipity! It took her a moment to place me. I look different when I'm neither surrounded by dinner plates, nor lit by candle light. . 😀 But I must have made some sort of impression, because a few days later, she invited me to follow her in participating in a blogging tour. So, here's my little offering to the
"My Writing Process Food Blogging Tour".
I'm going to answer four questions I was sent for the "My Writing Process Food Blog Tour", give you a wonderful recipe, AND a super-quick and hopefully inspiring video.
Come on! This will be fun, and I promise to TRY to be interesting, and brief. How's that?
What are you working on?
Lots of things, lately! I helped a friend do a video for McCormick Spices, where I shared a recipe and talked about why it was special to our family, and his video won an Honorable Mention! We had so much fun filming that, that my husband caught the "let's make videos" bug, and we've really been having fun together learning how to do that. (Be sure to scroll down and watch the video we made for today's recipe, if you want to see how we're doing!) I've written some food/wine pairing posts for a wine store in town called Red Spirits and Wine. They're working on launching a brand new website, and I can't wait to share the work I've done for them! I'm the Food Columnist for Midlife Boulevard, an online magazine for midlife women, and I'm always thinking about my next post for them. And, I'm a member of The Cabot Cheese Board, and ALWAYS love working with their products, and tasting some of their exciting new varieties as well. And if that weren't enough, I purchased several copies of a book I've been talking about for months called The Cure, just so that I could give them away. I plan to do that giveaway in the next week or so, and I'm doing it just because I believe that strongly in the wonderful message contained in that book. So, my plate's been more than full, lately!
How does your work differ from others of its genre?
I think my problem has always been that I don't HAVE a genre! Some people have tried to squish me into a box labeled "Food Blogger". And I do write a lot about food. But I won't be contained! (And that attitude has probably to my detriment, from a blogging perspective.) I do love sharing recipes and my husband's beautiful photography, but I also love to tell a good story. I'm not a humor blogger, per se, but people tell me my stories crack them up. And then, some folks say that my more sentimental stories make them cry. I don't tell many stories about my kids these days, because when they reached their teen years, I felt it was important to respect their privacy, so if I DO post something that concerns them, I make sure to secure their permission, first. But if I didn't talk about my faith, I feel like I'd be lopping off the most important part of me. So…for better or for worse…I don't really have a genre. I'm just one of the many "Susan Williams" who will cross your path in this life. So, to differentiate me, you'll just have to think of me as "Oh…that Susan Williams".
Why do you write what you do?
I think I just answered that.
I'm a storyteller. It's what I do.
It's who I am.
And I write because people seem to really appreciate it when I share from my heart.
God made me this way.
So, let's blame Him.
How does your "writing process" work?
I'm always toying with words in my head, but nothing really takes off, until I sit down and, in the words of Nike, "just do it".
If it's a food post, I'm usually thinking seasonally. Many of my newer recipes have come about because a particular vegetable showed up in my CSA share, or because something in the grocery store produce section looked beautiful and perfect. Or, keeping it real, very often something shows up on my blog because my sweet tooth was clamoring for satisfaction. And sometimes, I'll post a recipe because I remember that there's this dish that I've been making for years, and I'm fantasizing that perhaps, someday my children might want to know how I made that dish…
If it's a story, or a devotional that I'm working on, I write because I realize that there are thoughts in my head that are clamoring to be let out, and that if I don't type them out, my brain might explode. Some people declutter their homes. I have to declutter my mind. It's self-preservation. There's only so much mental real estate available. I find that some of my very best ideas begin to take form, and then come together, in the shower. I'm pretty sure that for me, the shower is as close to a physical place of Divine Inspiration as there ever will be.
So, there you have it. So much more than you ever wanted, or needed, to know. But, at least I answered the questions!
On To The Recipe for Beggar's Linguine
Now, as to this recipe: it is absolutely amazing. No, seriously. It may sound a little weird, or surprising. It did to me! I wasn't even convinced I like figs! DO NOT BE PUT OFF by this combination of ingredients!!!!!! This recipe is so delicious, I find myself craving it, whatever the season!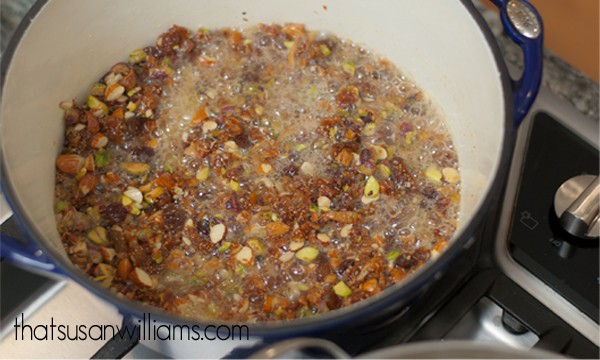 It comes from a cookbook by Dorie Greenspan, called "Around My French Table". The name, "Beggar's Linguine" comes from the name of a candy, called a mendiant, which means "beggar", in French. This particular chocolate bonbon is topped with dried fruits and nuts, and a shaving of orange zest: But as Dorie Greespan pointed out so aptly, were this pasta NOT named Beggar's Linguine, you'd find me begging for it, whatever its name!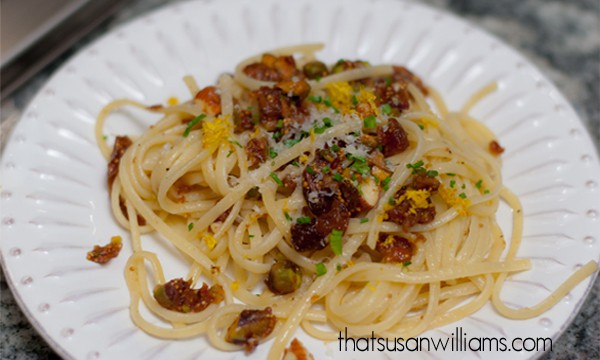 The evening I stumbled across this recipe, I was casting about for something to make, with not much in the fridge. I drug out the Dorie Greenspan cookbook, looking for SOME kind of pasta dish, since I knew I had pasta in the pantry. What I found was this recipe, and serendipity struck! AGAIN! I had some dried fruits and nuts, and while I didn't have the orange that this recipe called for, I DID have some mandarin oranges. So, basically, I really think you could substitute other dried fruits, like apricots, if you prefer, or other nuts, like walnuts, or hazelnuts, or even lemon zest, if you have no orange or mandarin oranges. The overall idea is that you'll need the sweet of the fruit, the crunch of the nut, the brightness and zing of the citrus zest, and the glorious nuttiness of the browned butter and grated Parmesan.
Here's that video I mentioned earlier, so you can see the process: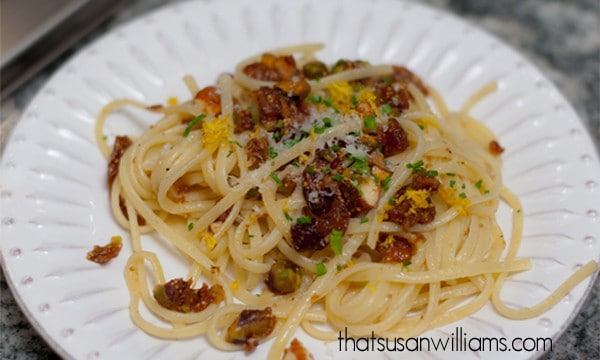 Beggar's Linguine
2014-06-14 14:42:27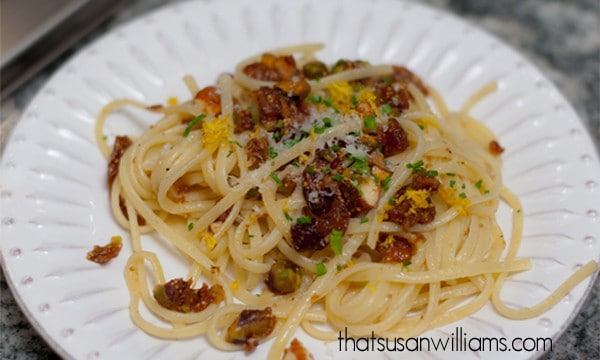 Serves 4
A delicious, vegetarian pasta, filled with ingredients that are easily kept in the pantry: dried fruits and nuts, sautéed in browned butter.
Ingredients
1 pound dried linguine
1 1/2 sticks (3/4 c.) butter
1/3 c. pistachios, coarsely chopped
1/3 c. almonds, coarsely chopped
8 dried Calimyrna Figs, coarsely chopped
1/4 c. golden raisins
sea salt
freshly ground pepper
1/2 c. Parmigiano Reggiano cheese, freshly grated
grated zest of 1/2 of an orange (or 2 mandarin oranges)
minced fresh chives or parsley
Instructions
Cook linguine according to package directions. Water should be salty (like the sea). For a large pot of water, I use 3 T. salt.
While the pasta is boiling, melt the butter in a large casserole. (You are going to put the cooked pasta in this pot, so be sure to use a large pot.) When the butter is melted, stir in the nuts, figs, and raisins. Allow the butter to bubble, and brown lightly: you want it to smell nutty, like hazelnuts, and be a light brown in color.
When the butter has reached just the color you want it, add the drained linguine, and stir it around in the browned butter and fruits and nuts, to coat it evenly. Taste it, and then season to taste with salt, pepper, and Parmigiano Reggiano. Sprinkle the top of each dish with orange zest, chives, and more Parmigiano-Reggiano.
Adapted from Around My French Table
Adapted from Around My French Table
That Susan Williams https://www.thatsusanwilliams.com/
Hope you'll pin this post to Pinterest, or share it on Facebook!