This post contains links that, if you click on them and make a purchase, will earn me money. Regardless, I only recommend products or services that I believe will be good for my readers. Thanks for helping me continue to produce great content!
This recipe for making homemade guacamole is quick, easy, and delicious, and I even included a video for you, to show you how I do it. After making this for years, I have discovered a few secrets, that I'd like to pass along to you.
My Five Secrets for Making Great Homemade Guacamole
Secret #1: The Perfect Avocado
The secret to making great guacamole is a great avocado. I usually buy them when they are still green, and plan on allowing them to ripen on my counter for a day or two before using them. They are perfectly ripe when their skins have turned black, and the flesh gives ever so slightly when you press them.
Secret #2: Hanging On To The Perfect Avocado
Did you know that if your avocado has reached the perfect ripeness, but you hadn't planned on using it that night, that it doesn't need to go to ruin? Simply refrigerate it at that point. Refrigerated, it will stay at that level of ripeness for quite a while. (This was life-changing for me, when I learned it! I had watched far too many avocados rot!) The perfect avocado is smooth and buttery in flavor. There's just nothing like it!
Secret #3: Grape Tomatoes Have Good Flavor and Texture All Year Round
Everyone knows nothing beats a vine-ripened tomato, still warm from the sun, in July or August. But what do you do when you need one for guacamole, and it's the other 10 months of the year? Those little grape tomatoes, stored on your counter (NOT in your refrigerator, which changes the texture completely, as the cell walls of the tomato break down when chilled) can be used year round in your guacamole. I chop them up into small pieces for my guacamole: maybe 8 little pieces per tomato, to get them just the right size.
Secret #4: Lemon Juice
I use fresh lemon juice because not only does the guacamole need a hit of acid to provide brightness and flavor, but also because the Vitamin C in a squeeze of fresh lemon keeps the avocado from turning brown
Secret #5: Lawry's Garlic Salt
I'm not paid by Lawry's or anything, but I've tried lots of garlic salts, and there is something about the flavor of theirs (which contains parsley) that makes a perfect guacamole. You get the salt the recipe needs, and the garlic. It's a two-fer!
If you wouldn't mind sharing this unbelievably easy recipe for me, I'd surely appreciate it!
This recipe is pretty much done by what looks right, and what tastes right, but here is a rough approximation of what I do:
The Recipe for Easy Homemade Guacamole:
Yield: 4 servings
How to Make Easy Homemade Guacamole Recipe and Video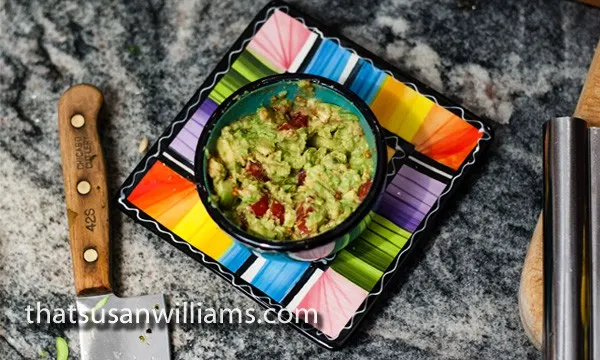 An easy, quick and delicious guacamole. Because when you start with excellent, fresh ingredients, less is more.
Ingredients
2 avocados, chopped
approximately 8 grape tomatoes, chopped
1 T. lemon juice
1/2 t. Lawry's Garlic Salt

Instructions
Squish and stir everything together with a fork.
Taste and adjust salt and lemon juice amounts, according to your taste
Recommended Products
As an Amazon Associate and member of other affiliate programs, I earn from qualifying purchases.
If you're looking for some great recipes to enjoy WITH your amazing guacamole, muchacho, I have some suggestions for you!!! Try my
sour cream and green chile enchiladas
. They're another exquisite example of when LESS can be MORE! And then there are my
Lincoln Town Car Burritos
. They're the Cadillac of the Bean Burrito Automotive World. Not to mention my
Carnitas!