This post contains links that, if you click on them and make a purchase, will earn me money. Regardless, I only recommend products or services that I believe will be good for my readers. Thanks for helping me continue to produce great content!
These bean burritos are so delicious, and so elegant, that they can make you feel you're being pampered. In fact, they might even make you feel like you're eating so high off the hog, that if you WERE riding around in a car, you'd be cruising around town in a Lincoln Town Car.
These bean burritos take the food of the common hombre, and kick it up a notch or twelve.
When is a Bean Burrito Not Just a Bean Burrito?
When it's a Lincoln Town Car Bean Burrito!
These aren't just your average bean burritos, muchachos.
They are, dare I say it? The Lincoln Town Car of the Burrito Automotive family.
(When I named these, I never thought that I might have chosen a car metaphor due to beans tending to give people gas. But…Sigmund Freud's slip MIGHT be showing…that's all I'm sayin'…)
And my friends, I offer unto you the keys to the culinary kingdom. These keys take a ho-hum sort of dish, the lowly bean burrito, and turn it into a dish that your family begs you to make. My secrets will help you achieve excellence in every component of the dish. They are my clever little secrets for making a GREAT bean burrito.
Secret #1: A Great Big Tip on Cooking Beans
This recipe originally came from the Gourmet Today cookbook (the lime green one) and it said to use canned beans, but I keep dried pinto beans in my pantry, because they are economical and delicious. So right off the bat, I change the written recipe a bit by cooking my own dried beans. I utilized a tip I learned from Cooks Illustrated in regard to cooking beans, which is counter-intuitive to everything I have ever heard about cooking beans. The general wisdom one USUALLY hears is: don't salt beans till the end of their cooking time, or they will get tough.
But after tons of experiments and research, Cooks Illustrated found that if you basically brine the beans in your overnight pre-soak, then rinse them the next morning, and then cook them in fresh water, they come out creamier.
So, that brings us to…
Secret #2: How to Brine Beans
The night before, put 3 T. of salt in about 4 quarts of water, and soak your rinsed and sorted dried pinto beans. I soaked about 2 lbs. of beans. The next morning or afternoon, rinse them off, drop in a smoked ham hock (that part is optional, but if you want to know MY secrets, that's how I made mine, and they were yummy. This can be omitted if you find the added fat – and flavor – undesirable.) and cook them till creamy tender. I think mine cooked for 2 and 1/2 hours, but your mileage/cook time may vary.
I also use this method for brining beans in my recipe for Brazilian Black Beans and Rice: Feijoida.
Cooks Illustrated says you can soak them in that salt solution for anywhere from 8 to 24 hours, so do what you need to do. You can do this with the quick soak method, too, if you need to.
Secret #3: Homemade Pickled Onions
For years I saw these being recommended in Gourmet magazine, and for years I avoided them. I'm not THAT big of an onion fan. The very name, "pickled onions" sounded nasty to me. But there they were again, lurking in their bean burrito recipe…and they sounded easy enough to make, and I thought, "Well…I've got some red onions in the closet…I could do this easily enough…it's worth a try…."
Well….wrong. I made the solution…went to get the red onion out, and all my red onions had gone bad. Big fat bummer. But I didn't want to NOT try the recipe because it would mean wasting the solution I had made…so…I used white onion instead.
The good news from my own little personal tragedy is that I now know that white onions can also be pickled, and will also be delicious! They're just not as sweet as red onions, but they are a fine substitute. So when you see the recipe, and you see it calls for red onions, and you have none, despair not. White onions work just fine.
Do not omit the pickled onions. They are Da Bomb.
Without further ado, I give you:
The Recipe for Lincoln Town Car Bean Burritos
Yield: 8 servings
Lincoln Town Car Bean Burritos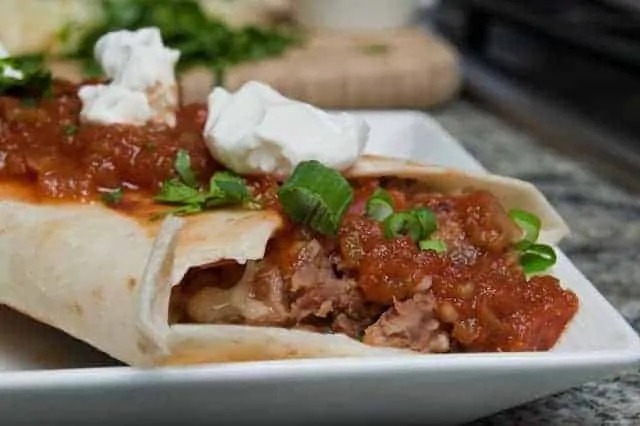 Cheap, easy and delicious, Lincoln Town Car Burritos are a frugal meal of beans, but the pickled onions take them over the top.
Total Time
2 hours
30 minutes
Ingredients
For Pickled Onions:
2 c. water
3 T. red wine vinegar
2 T. sugar
1 t. salt
1 medium red onion, halved lengthwise and thinly sliced crosswise
For Bean Filling:
3 T. vegetable oil
5 garlic cloves, finely chopped
1 t. ground cumin
1/2 t. salt
1/4 t. freshly ground black pepper
2 lbs of cooked pinto beans (see directions at the top of this post for cooking your own dried beans. Canned beans are fine, too.)
1/3 c. water
3 scallions, finely chopped
For Assembling and Cooking Burritos:
6 (8- to 10-inch) flour tortillas
2 c. coarsely grated pepper Jack cheese (about 8 oz.)
1/3 c. finely choped fresh cilantro
1 1/2 T. vegetable oil
Accompaniments: salsa and sour cream
Instructions
Prepare the Onions: Bring water, vinegar, sugar, and salt to a boil in a 1 qt. heavy saucepan.
Add onion and simmer, uncovered, until crisp-tender, about 3 minutes. Drain and cool to room temperature.
Make the Bean Filling: Heat oil in a 12-inch skillet over moderate heat until hot but not smoking.
Add garlic, cumin, salt, and pepper and cook, stirring until garlic is golden, about 1 minute.
Stir in beans, coarsely mashing them with a potato masher or a large fork until combined. Add water and scallions and cook, stirring, until most of water is absorbed, about 5 minutes. Remove from heat.

Assemble the Burritos: Spread one eighth of bean filling across middle of 1 tortilla, leaving a 1" border at either end.
Sprinkle with cheese, 1 heaping T. pickled onions, and scant 1 T. cilantro. Fold ends of tortilla over filling, then roll up tightly, enclosing filling. Transfer seam side down to a plate and assemble rest of burritos in same manner.


Cook the Burritos: Heat 1 1/2 t. oil in a 10- to 11-inch cast-iron or other heavy skillet over moderately high heat until hot but not smoking.
Add 2 burritos, seam side down and fry until lightly browned on underside, 1 to 2 minutes. Using tongs or a spatula, turn over and fry until golden, 1 to 2 minutes more.
Transfer to paper towels to drain briefly, then transfer to a platter and cover loosely with foil to keep warm. Fry remaining burritos in batches, in remaining oil in same manner.
Notes
If you use canned beans, this meal can be prepared in about a half an hour. If you're cooking dried beans, it takes an additional hour to cook the beans in a pressure cooker. Give yourself an additional 2 hours if you're cooking them on the stovetop.
Recommended Products
As an Amazon Associate and member of other affiliate programs, I earn from qualifying purchases.
Nutrition Information:
Yield:
8 servings
Serving Size:
1
Amount Per Serving:
Calories:

421
Total Fat:

19g
Saturated Fat:

7g
Trans Fat:

0g
Unsaturated Fat:

11g
Cholesterol:

28mg
Sodium:

688mg
Carbohydrates:

44g
Fiber:

12g
Sugar:

5g
Protein:

21g
The fixin's.
We add the Pepper Jack Cheese.
We add the pickled onions.
Salsa, sour cream, and cilantro: olé!
Thinking about pinning this on Pinterest? You should!
Or, share it on Facebook, or Twitter, or Stumble it!
How do you feel about Tex-Mex food?

Budget Friendly Recipes
Here's a list of several other budget friendly recipes that exist here on my website, in case you're on the market for more. Each one is delicious, in its own right.