This post contains links that, if you click on them and make a purchase, will earn me money. Regardless, I only recommend products or services that I believe will be good for my readers. Thanks for helping me continue to produce great content!
I have ordered (and loved!) carnitas tacos before in a restaurant, but have never made them myself. I've always hesitated to do so, because all the pork shoulder (Boston Butt) roasts we've ever purchased have been devoted to my husband smoking them, outside. After several summers dedicated to the Smoking of the Butt, he has more than perfected his technique.
And then, this summer, something wonderful happened! Through a connection I made with Lodge Cast Iron, I was invited to choose the Lodge Cookware piece of my dreams. I adore cast iron cooking: do it all the time! But I've always been a little sad that the enameled Dutch oven that I already owned from them was a little on the smallish side. So, I chose this wonderful 7.5 qt Enameled Dutch Oven, in blue. And just a few days after it arrived, I ran across a recipe for carnitas, describing how they are traditionally prepared in their own fat. (By the way, an animal, cooked in its own fat, is also called a confit.) Finally, I was in possession of a Dutch Oven that was large enough to first brown, and then braise, a beautiful pork shoulder roast. My new Dutch Oven's maiden voyage would be to make my first ever batch of carnitas.
Talk about hitting a home run!!! My entire family raved over these! Even my husband, who (and I quote) "doesn't like Mexican food". (I really don't think it's Mexican food that he doesn't enjoy. I think it's the nasty, heavy, greasy Tex-Mex that you get at bad US "allegedly Mexican" restaurants that he doesn't like. You know: the kind that sits in your gut like a boulder for hours afterward.)
And I'm absolutely in love with my new Lodge Enameled Cast Iron Dutch Oven. I'm thrilled thinking about the soups, stews, and braises that I'll be creating in it, this fall, Lord willing.
The recipe I found for the salsa that I made to accompany the carnitas tacos is from Rick Bayless, a chef, author, and restauranteur who is one of the foremost US authorities on Mexican cooking. About 15 years ago, I found his recipe for Essential Chopped Tomato-Serrano Salsa, which I altered a bit and have used ever since. So I decided to combine this recipe for Carnitas from Tasting Table (which I also altered, a bit) with Rick Bayless' salsa recipe. (I make batch after batch of this salsa every summer, when tomatoes are at their peak). I also used my own recipe for Guacamole as a topping.
I really hope you'll try these recipes. You're going to LOVE them!
Recipe for Carnitas and Fresh Chopped Tomato Salsa
Yield: 8 servings
Carnitas Made in my Lodge Enameled Cast Iron Dutch Oven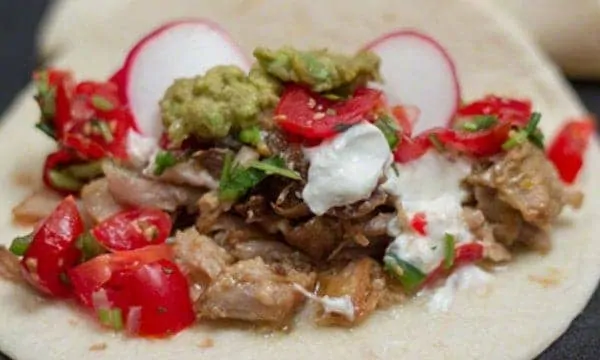 Ingredients
For the Carnitas:
. 3 T. bacon grease (you could also use lard)
. 3 pounds pork shoulder (also called Boston Butt) roast, cut into big 3" chunks
. kosher salt, to taste
. 10 garlic cloves peeled and smashed
. 1 large white onion, roughly chopped
. 3/4 c. milk
. 3/4 c. orange juice
. 1/4 c. lime juice
. 1/4 c. pickled jalapeño pepper slices
. 1/4 c. jalapeño pickling liquid
. 1 t. orange zest
For the Fresh Chopped Tomato Salsa:
. 12 oz. finely diced grape tomatoes
. a dozen or so large sprigs of cilantro, bunched together, and chopped
. 1 large garlic clove, peeled, smashed, and minced
. 1/2 c. finely chopped purple onion (you can use a sweet white if you need to)
. 1/2 of a fresh jalapeño pepper, seeded, and minced (wearing gloves is smart)
. 2 t. fresh lime juice
. 3/4 t. sea salt (you can use more, or less, to taste)
Other accompaniments for Carnitas Tacos:
. Warmed corn tortillas (flour is fine, too)
. guacamole
. finely sliced radishes
. sour cream

Instructions
For the Carnitas:
In a large Dutch oven, heat the bacon grease or lard over medium high heat. Season the pork with kosher salt and add it to the pan. Cook, stirring as needed, until golden brown, 15 minutes. Using a slotted spoon, transfer the pork to a plate.
Add the garlic an onions to the pan, and cook until lightly golden, 5 minutes. Return the pork to the pan with the remaining carnitas ingredients and bring to a boil. Reduce the heat to a light simmer and braise, covered, about 2 hours. (Simmering meat in a liquid is called a braise.) Using a slotted spoon, transfer pork to a cutting board. Shred the meat between two forks into bite sized pieces. Transfer pork to a bowl, and ladle over a cup of the braising liquid. Taste, and season with salt, to taste.
Serve the carnitas on warmed corn tortillas, with the salsa, guacamole, radishes and sour cream.
For the Salsa:
Put the finely chopped purple onion in a fine mesh strainer, and rinse it with cold running water. This will minimize the acrid bitter compound that raw chopped onions develop when exposed to oxygen. Allow the water to drain off of the onion.
In a bowl, combine the chopped tomatoes, minced jalapeños, chopped cilantro, minced garlic, chopped purple onion, lime juice and season with sea salt, to taste.
Let stand for a little while, to allow flavors to develop.
Serve atop carnitas, along with any other desired toppings.
We also added guacamole, finely sliced radishes, and sour cream.
Notes
Other accompaniments for Carnitas Tacos:
. Warmed corn tortillas (flour is fine, too)
. guacamole
. finely sliced radishes
. sour cream

Recommended Products
As an Amazon Associate and member of other affiliate programs, I earn from qualifying purchases.