This post contains links that, if you click on them and make a purchase, will earn me money. Regardless, I only recommend products or services that I believe will be good for my readers. Thanks for helping me continue to produce great content!
I first tasted this unbelievably easy recipe for Sour Cream and Green Chile Enchiladas when I was growing up in West Virginia. This recipe is pure easy, cheesy, creamy, comfort-food goodness! My sister learned it from her roommate, from her time at Abilene Christian University, in the 1970's. And while we didn't know it at the time, we were on the cutting edge of a culinary trend, that was about to sweep the nation: Tex-Mex.
Our Sour Cream and Green Chile Enchiladas System
My husband and I have been making this dish ever since we got married, thirty years ago. I introduced him to it, because I knew that not only was it delicious, it was also easy to throw together when I got home from a long day of work. Once I'd made the white sauce, grated the cheese and chopped the onions, we'd form a little assembly line of two. I'd quickly warm and soften the corn tortillas in oil, and he'd stuff them with the cheese and onions, and roll them. We discovered that of the two of us, he was the much more efficient enchilada stuffer/roller.
All that to say, this is a great recipe to make with a buddy. Once you've got your system down, it goes more quickly, and it's fun to talk about your day, while you're getting dinner ready. Lure your prey helper into the kitchen by first making some easy homemade guacamole. It's ready in a flash, and your helper will be much more compliant after a delicious bite or two of chips and guacamole, or chips and fresh tomato salsa. (You'll find that salsa, or pico de gallo recipe in the midst of my recipe for carnitas, which is another Cinco de Mayo recipe possibility you might want to consider.)
Variations on Sour Cream and Green Chile Enchiladas
Pico de Gallo:
Speaking of pico de gallo, I like to make a small batch of homemade pico de gallo to go with the Sour Cream and Green Chile Enchiladas, because pico de gallo (fresh salsa) adds some very welcome acidity to all that creaminess. It adds new flavors, color, and texture to the dish. But serving a store-bought jar of red or green salsa would be a perfectly acceptable substitute, if you're in a hurry. Sour Cream and Green Chile Enchiladas are an easily made weeknight meal, and sometimes, convenience is at the top of your priority list.
Pre-Grated Monterey Jack or a Brick of Monterey Jack?
Along that vein of thought (convenience), you should know that I prefer to buy my own block of Monterey Jack cheese to grate, as Monterey Jack is the perfect melting cheese. But if convenience is at the top of your priority list, go ahead and buy that pre-grated Monterey Jack cheese. You probably won't notice much of a difference, even though I always struggle with the knowledge that they've coated that pre-shredded cheese with cellulose. (That's wood pulp, folks, but, hey: trees are our friends.)
Homemade Chicken Stock or Store-bought Chicken Stock?
This recipe is versatile enough for you to personalize it any way you and your family like. It's at its very best when I've made it with homemade chicken stock. But if I don't have any homemade broth in the freezer waiting to be thawed, you can bet I've used canned or boxed broth plenty of times. If you want to go completely vegetarian, you could easily substitute vegetable stock for the chicken broth.
Add More Heat, If You Like
If you like your food spicier, you could use Pepper Jack cheese, instead of Monterey Jack (or a combination of the two).
Add Some Leftover Chicken
And, If you happen to have any leftover chicken/rotisserie chicken, by all means, throw in some of that chicken. This recipe is often made with chicken, but I wanted you all to experience it the way I first did, in all its easy, cheesy, creamy goodness.
So, whether it's a weeknight meal, or a Cinco de Mayo fiesta, this recipe is DEFINITELY a keeper! All these years in my family: you know it must be true! Without further ado, then, here's:
The Recipe for Sour Cream and Green Chile Enchiladas
Yield: 4 servings
Easy Sour Cream and Green Chile Enchiladas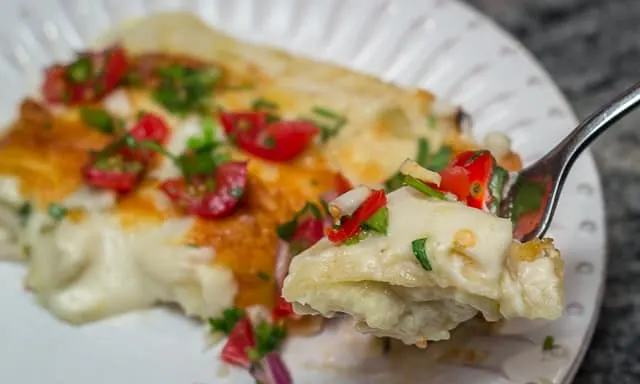 Easy, cheesy, creamy Tex-Mex goodness, this is a weeknight meal that you're going to CRAVE to make again, and again.
Ingredients
1/2 c. butter
1/2 c. flour
2 c. chicken broth
2 c. sour cream
1 4 oz. can green chiles, drained
sea salt
freshly ground black pepper
12 white or yellow small corn tortillas
1/4 c. canola oil
2 c. Monterey Jack cheese
1/3 chopped onion (more or less, according to your family's taste)
1/4 c. cilantro
Instructions
Pre-heat oven to 350º.
MAKE WHITE SAUCE: Melt butter in a medium sized saucepan over medium heat. Add flour, and brown the mixture for a minute or two, stirring constantly. Slowly, about 1/2 c. at a time, stir in the chicken broth, to make the white sauce. Sauce will lump slightly with each addition of chicken broth, but keep stirring, and adding more broth, and gradually the sauce will become the nice creamy consistency you want. At that point, add the drained green chiles, and stir some more. Finally, add the sour cream, stir, and remove from heat. Taste sauce and add sea salt and freshly ground black pepper, to taste.
Heat the oil in a small, shallow skillet, over medium heat, and when hot, warm and soften the tortillas in the oil by frying them for about 5-10 seconds, per side. Drain on a plate covered by a paper towel, and blot the top of each tortilla.
Ladle about 1/2 c. of sauce into the bottom of the enchilada baking dish, to prevent the enchiladas from drying out on the bottom. I use a 9x13 baking dish.
Put a small handful of Monterey Jack cheese and 1 teaspoonful of chopped onions on top of each tortilla, and roll them up. Place in baking dish on top of the 1/2 c. sauce. We can fit 8 enchiladas going down the long side of the pan, and then tuck 2 (going the other way) at the top and 2 on the bottom of the edge that isn't covered. That's not explained very well, but I think you'll figure it out. LOL!
Pour all the white sauce over top, and if you have any cheese left over, you can just sprinkle that on top of the entire pan. Bake for about 25-30 minutes at 350º, till they're becoming slightly golden in color .
Sprinkle with chopped cilantro and serve with pico de gallo and tortilla chips, if desired.
Recommended Products
As an Amazon Associate and member of other affiliate programs, I earn from qualifying purchases.
Nutrition Information:
Yield:
4
Serving Size:
1
Amount Per Serving:
Calories:

851
Total Fat:

76g
Saturated Fat:

38g
Trans Fat:

2g
Unsaturated Fat:

31g
Cholesterol:

180mg
Sodium:

1306mg
Carbohydrates:

23g
Fiber:

2g
Sugar:

5g
Protein:

21g