This post contains links that, if you click on them and make a purchase, will earn me money. Regardless, I only recommend products or services that I believe will be good for my readers. Thanks for helping me continue to produce great content!
This simple, healthy recipe for Wild Salmon with Charred Scallion Sauce is not just good. It's stupid good. As in, it tastes so good, is so simple to prepare, and is so very good for you, that you'd kind of be stupid NOT to try it.
This is a sponsored post. I received product from Wild Alaska Salmon and Seafood to develop this recipe, and I could not be more excited about it. When it comes to Wild Alaska Salmon and Seafood, I will work for fish. I believe that strongly in this company, and in the amazingly fresh and delicious seafood they provide.
Why Wild Salmon?
Now, why, you might ask, dear *that* Susan, were you so eager to work with Wild Alaska Salmon and Seafood? Well, basically, because, around this house, we're sort of slaves to our bellies. We're all about how our food tastes. And unless it tastes great, what's the point?
That's why we avoid farm-raised salmon. My apologies for all the gills I just stepped on. But we strongly prefer wild-caught, sustainable seafood. We love to feel connected to the people involved in harvesting our food, too.
Why Wild Alaska Salmon and Seafood?
My husband discovered Wild Alaska Salmon and Seafood at our local farmer's market, here in Nashville. You can order from them, online, but there is a chance that you MIGHT be able to find them at a farmer's market near you, and so I wanted to give all of my readers a heads-up on WHERE to look for this company. Obviously, if they don't come to your town, and if you want to order from them online, just click the link in the previous paragraph.
BUT, if you are lucky enough to live in Missouri, Indiana, Georgia, Kentucky, or Tennessee, you MIGHT be able to find Wild Alaska Salmon and Seafood selling their product at a Farmer's Market, near you. Head to this page, to find out for sure.
What I want you to know about Wild Alaska Salmon and Seafood is that when they began, their product was only available to restaurants and select purveyors. But NOW you can order from them online, any time of the year, directly from them! They are privately owned, and maintain their own fishing and processing crew. Wild Alaska Salmon and Seafood is not a large corporate operation, and therefore offer the highest quality, with the lowest prices.
Basically, my husband and I have kind of fallen in love with them, because their business is all about taste. They only fish for the highest quality, sustainable fish, and they process it quickly, and carefully. Because they handle everything themselves, from fishing to processing the catch, their customers are ensured the highest quality fish.
Fat Needs Acid
My inspiration for this recipe was a recipe I saw in Bon Appétit for Hanger Steak with Charred Scallion Sauce. The sauce looked so luscious, it made my mouth water. Salmon is an oily fish: filled with all kinds of good fats. And when you're cooking a protein with a higher level of fat (like beef…or…salmon!), I know that ingredients with a briny, acidic tang to them help cut the fat. (Think pickles…or capers….or, in the case of this recipe, both.)
About Cornichons
Cornichons are teeny little briny pickles, no bigger than my little finger, that I learned to love in Switzerland, where they are traditionally served with a fondue. I try to keep a jar in my fridge, as they're a great addition, for example, to a remoulade sauce.
I was able to pick up a jar of cornichons at my local Trader Joe's. If you don't have any cornichons, then chop up a slice or two of a tart, crisp dill pickle, to replace the tablespoon of cornichons that the recipe calls for.
I'll put a link /image, just below my recipe, where you can order your own cornichons through Amazon, and that will save you any disappointing trips to the grocery store.
About Aleppo Pepper
One other unusual ingredient that's a little bit harder to find is the 3/4 teaspoon of dried, ground Aleppo Pepper. The Aleppo pepper is a bright red pepper, with very little heat, and with a slightly fruity Mediterranean flavor. It's pretty hard to find these days, since it comes from the city of Aleppo, which is located in the northwestern part of Syria. (And things haven't been exactly peachy there, lately.)
I couldn't find any ground Aleppo Pepper at my local grocery store, so I ordered some off Amazon, and it arrived two days later. (You gotta love that!) I'll put a link below my recipe where you can order some Aleppo pepper, if you'd like.
If you'd like to try this recipe without ordering any Aleppo Pepper, an acceptable substitute would be some paprika, mixed with some red pepper flakes, or a bit of cayenne. The combination of those two spices will come pretty close to approximating the flavor of the Aleppo pepper. I'd say try 3/4 teaspoon of paprika, to 1/4 t. red pepper flakes, would be a good ratio of flavor to heat.
Why Do You Toast the Walnuts?
Toasting walnuts on the stovetop will accomplish two things for you: first, it will bring a slightly darker, deeper flavor to the walnut. They'll smell good while you're toasting them.
Second, when you pour the olive oil over those warm nuts, and then sprinkle in the minced garlic, the nuts and now warm olive oil will warm and mellow the flavor of the garlic. Uncooked garlic can can be acrid in flavor. Cook it too much, (like the way you're going to begin charring those scallions) and it will become bitter. But warm it gently with the olive oil, and it sweetens, ever so slightly, and will do wonderful things to the flavor of the fish.
A Word About Cooking Salmon Properly
Cooking salmon perfectly can be tricky. When in doubt, err on the side of LESS. You don't want to dry out your beautifully brilliant coral-colored fish. And use a meat thermometer, by all means, to eliminate doubt.
About Charring Green Onions:
When you char those green onions, don't be afraid to get some color on them. You won't believe what a beautiful sweet, contrasting note they add to the sour of the cornichons, capers and vinegar. The mustard kind of helps everything hang together, in harmony and savory-ness. When you add your pinch of sugar, taste, and decide if it needs more. Taste as you go! Always taste.
King Salmon vs. Coho Salmon
We made this recipe the first night with King Salmon, and the second night with Coho Salmon, and I'm going to confide in you that tasting them on the heels (or the fins?) of each other like that, it was easy for me to discern that I preferred the flavor of the King Salmon. But I'm not you, and maybe you should try making both as well, for comparison's sake.
At any rate, I can almost guarantee you that you're going to LOVE this recipe!!!
The Recipe for Wild Salmon with Charred Scallion Sauce
Yield: 4 servings
Wild Salmon with Charred Scallion Sauce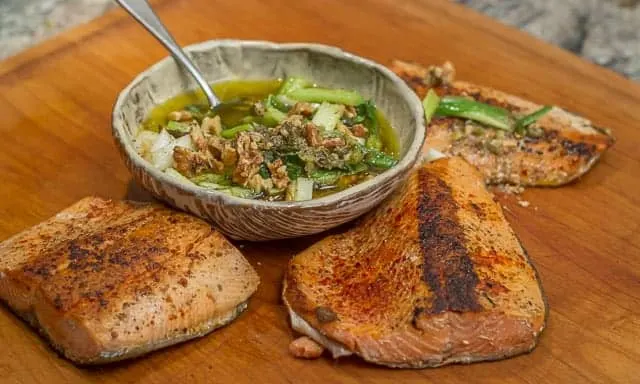 A simple, healthy, delicious way to enjoy the wonderful taste of wild salmon.
Ingredients
1 1lb. fish fillet , portioned into serving sizes
1/2 c. coarsely chopped walnuts
1 garlic clove, finely minced
9 tablespoons extra-virgin olive oil, divided
sea salt
freshly ground black pepper
3/4 teaspoon dried ground Aleppo pepper
8 scallions
2 tablespoons sherry wine vinegar (or red wine vinegar)
1 tablespoon chopped cornichons
1 tablespoon drained capers
1 tablespoon whole grain mustard
3/4 teaspoon chopped thyme
pinch of sugar
Instructions
Toast coarsely chopped walnuts in a small sauté pan, keeping an eye on them and stirring them from time to time. This takes about 5 minutes: they're ready whenever you can begin smelling them, and they have a little shine to them. Transfer them to a small bowl, and sprinkle finely minced garlic over them, covering them in 6 T. extra-virgin olive oil.
Heat a large cast iron skillet over medium heat. Drizzle olive oil over fish fillets, and season with a sprinkling of sea salt, pepper, and Aleppo pepper. Cook in skillet for about 4 minutes on each side, or until a meat thermometer registers 140º, at the thickest part of the fillet. Transfer fish fillets to a cutting board, and allow to rest.
Wipe out skillet, and pour in another tablespoonful of Extra-Virgin Olive Oil. Place scallions in skillet, season with sea salt, and cook, turning occasionally, until scallions are softened and deeply charred, about 4 minutes.
Transfer green onions to cutting board, and cut into 1" pieces. Add to bowl with walnut mixture, along with vinegar, cornichons, capers, mustard, thyme, and sugar and toss to combine. Taste and season with sea salt and black pepper, if desired.
Recommended Products
As an Amazon Associate and member of other affiliate programs, I earn from qualifying purchases.
More Salmon and Fish Recipes
If this particular wild salmon recipe isn't what you're wanting to make for dinner tonight, I have several more wild salmon recipes, as well as some other fish recipes, that you might be interested in taking a look at. There's my no-fail, go-to, standby recipe: Pistachio Crusted Salmon. I also have a recipe that won 1st Runner Up in Wild Alaska Salmon & Seafood Company's recipe contest: my recipe for a product they carry called "salmon burger", which is great big gorgeous chunks of salmon, packed together. My recipe is called, unsurprisingly, Wild Salmon Burgers with Lemon, Capers, and Toasted Sesame Mayonnaise.
Seafood Dishes You'll Love
I thought I'd pull together a list for you of all the seafood dishes we've loved. And we've loved a lot!