This post contains links that, if you click on them and make a purchase, will earn me money. As an Amazon Associate, I earn from qualifying purchases. . Regardless, I only recommend products or services that I believe will be good for my readers. Thanks for helping me continue to produce great content!
Compound butter is nothing complex: it's just butter, mixed with herbs and any seasonings you'd like. It's used to add flavor and a touch of richness to a dish. But you'll be amazed at the difference it makes, for example, in this Grilled Halibut recipe!
I was first introduced to compound butter as a child, only we called it "garlic butter" at my house. When Dad grilled steaks out on the back porch, (and even now, I can remember the aroma of grilled steaks, lightly laced with lighter fluid fumes. 😀 ) Mom was inside, melting butter in a little ceramic pot, and then scraping some bashed up garlic into it. It was my favorite part of the steak. (Probably, it helped undo some of the damage done by the lighter fluid.)
Compound Butters Can Be Made In Advance
If you're one of those cooks who likes to make stuff in advance, this next piece of information will delight you. Chefs who make compound butters very often make them in advance, using softened butter and minced herbs, aromatics (like garlic or shallots) and seasonings.
I've seen recipes where you make it in a larger batch, and then roll it up in a log, wrapped in plastic wrap, and freeze it. Then you can pull it out of the freezer for any meal for which you'd like to use it, and slice off however many medallion sized portions you need, to flavor proteins.
I've used compound butters on beef and pork, but have discovered that one of the very best ways to use it is on fish. The recipe I'm sharing with you today is particularly perfect for fish. It adds moistness to the fish, along with bright (the lime zest and lime juice) and savory (the garlic) flavors. I use it not only on halibut, but any fish I'm grilling. I've never found a compound butter that I like better for fish, than this particular recipe.
Don't feel like you have to limit your use of compound butters to proteins, though. I also serve rice as an accompaniment to grilled fish, and usually add a blop of the butter to the top of the rice, as well. Why not? I believe in spreading the love around!
To Grill the Halibut
To grill the halibut we used in the picture, we simply brushed it lightly with olive oil, and seasoned it generously with salt and pepper. How long it stays on the grill depends on the thickness of the fish. Halibut can dry out easily, so my husband aimed for cooking it medium-rare. His aim was true, as you can see by the color on the exterior of the fish. Grill it till the fish flakes easily, which might run 4-5 minutes per side, depending on the hotness of your fire, and the thickness of your fish.
Can I Substitute Another Herb for Cilantro?
I love the combination of cilantro and lime. However, I realize that cilantro is not the herb for everyone. If you're allergic to cilantro, as my friend is, or if you are one of those folks who just taste soap when they have it, I recommend substituting parsley, or perhaps even some parsley and fresh mint would be nice.
The Recipe for Cilantro-Lime Compound Butter
Yield: 4 servings
Grilled Halibut with Cilantro-Lime Compound Butter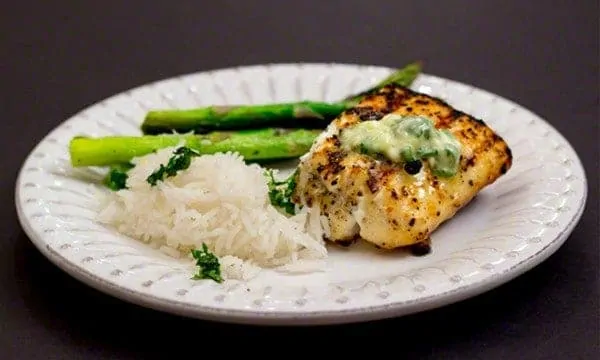 A delicious compound butter that moistens and brightens up the flavor of fish immeasurably. This is worth saving and keeping for any time you have fish. Almost ANY kind of fish!
Ingredients
4 T. butter, softened
1 t. freshly grated lime zest
1 T. fresh lime juice
1 garlic clove, minced
1 tablespoon minced fresh cilantro leaves
1 lb. halibut (this will give you servings that are approximately 4 oz. each)
extra virgin olive oil
coarse sea salt
freshly ground black pepper
Instructions
To grill the halibut: brush it lightly with olive oil, and season it generously with salt and pepper. Halibut dries out easily, so aim to cook it medium-rare, or till the fish flakes easily, approximately 4-5 minutes per side depending on the hotness of your fire, and the thickness of your fish.
To make the compound butter: In a small bowl, combine all of the compound butter ingredients. Serve a dollop of this atop each portion of fish.

.
Notes
I often serve rice as an accompaniment to grilled fish, and a pat of compound butter melted on the rice is also delicious!
Recommended Products
As an Amazon Associate and member of other affiliate programs, I earn from qualifying purchases.
Nutrition Information:
Yield:
4
Serving Size:
1
Amount Per Serving:
Calories:

104
Total Fat:

12g
Saturated Fat:

7g
Trans Fat:

0g
Unsaturated Fat:

3g
Cholesterol:

31mg
Sodium:

92mg
Carbohydrates:

1g
Fiber:

0g
Sugar:

0g
Protein:

0g
Interested in other recipes I use to prepare fish? I have some stellar salmon recipes that might interest you. Here's my go-to recipe for when we're NOT grilling:
Pistachio Crusted Salmon.
And this one is our newest family favorite: Wild Salmon with Charred Green Onion and Walnut Sauce.
You'll be thrilled with any one of them. Please be sure to share this recipe on social media, as a favor to me, wherever you interact with your friends. Thanks, so much!
Other Recipes You Might Enjoy
How to Grill or Roast Asparagus: this recipe tells you how to prepare the most simple and delicious of side dishes!