This post contains links that, if you click on them and make a purchase, will earn me money. As an Amazon Associate, I earn from qualifying purchases. . Regardless, I only recommend products or services that I believe will be good for my readers. Thanks for helping me continue to produce great content!
This Grilled Mango and Blue Cheese Salad is a great salad to make when you're grilling out. You can grill the mango right before or after you grill your protein. Just takes a moment to get that beautiful caramelization!
And I love a great salad! (Especially if someone else is doing all the washing and chopping. Doing the prep work is the one thing I too often let stand in the way of me enjoying more salad in my diet.)
A Balance of Flavors and Textures
One think I've learned from watching Food Network is that great chefs seem to look for a balance of flavors and textures in their dishes. In terms of texture, chefs often like to add a little crunch to a dish that is predominately smooth in texture. In terms of flavors, they like a balance between sweet, salty, sour, and bitter. Balancing flavors basically means that you combine tastes in such a way that they temper and complement one another, with no ONE flavor overpowering the whole dish.
This salad does a great job of keeping lots of flavors in balance, as well as providing a variety of textures. It's actually a riff off of a salad that I saw Chef Michael Symon make on the steak episode of Symon's Suppers. He grilled peaches for his salad, which sounded heavenly to me, but it's springtime here, and there were no peaches to be found. What to do?
Well, because of what I'm learning, I realized that the flavor and texture that peaches provide is a fruit that's smooth and sweet. What other fruit fits that profile, and is in season? Mangoes! They're all over the grocery stores around here right now.
His recipe called for baby arugula, but I had some artisanal lettuces I'd found at Costco: too good to let go to waste! So I used those.
Do I Have to To Use Blue Cheese?
As for the blue cheese? Use whatever kind you like. I found a luscious, mild creamy blue cheese that was featured at Trader Joe's last month called Saint Agur. So good!
If you don't like blue cheese – and I understand that some people don't – hello, my children! – the flavor you are going for is a cheese that has a salty note, so I'd say you could certainly substitute feta, if you'd prefer.
Marcona Almonds? Really?
I also found my Marcona almonds at Trader Joe's, roasted and salted, with rosemary. Mmmm. But I've seen them at Costco as well. This variety of almond is from Spain and the kernel is roundish, relatively sweet and delicate in texture. But you could substitute a sliced almond, if you don't have Marcona almonds where you're shopping. (Actually, you could substitute any nut YOU love, or happen to have on hand. Pepitas would be another nice option.)
Altogether, then, this salad has crisp greens, crunchy Marcona almonds, creamy, tangy, salty blue cheese, sweet grilled mango, and the lovely acidity and fat of the vinaigrette: a veritable party for your mouth, as well as a feast for your eyes! I've made it 3 times since: it's that good! Enjoy this balancing act of flavors and textures! It's the perfect complement for any protein you might happen to be grilling: beef, chicken, pork, or venison will all pair splendidly! And your salad bowl will have NO leftovers!
Here's a thought: you might want to try this with my Five Ingredient Meyer Lemon Grilled Chicken
The Recipe for Grilled Mango and Blue Cheese Salad
Yield: 4 servings
Grilled Mango and Blue Cheese Salad and the Art of Balancing Flavors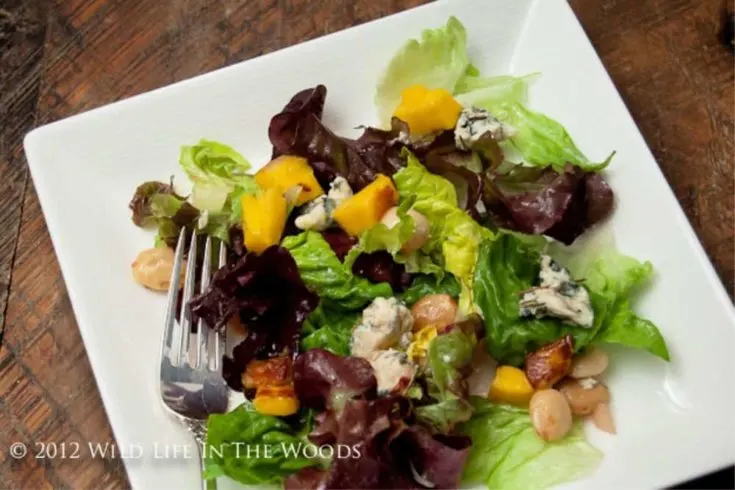 Grilled Mango and Blue Cheese Salad is the perfect salad to set off any protein you might happen to be grilling: beef, pork, chicken, or venison would pair beautifully with this perfectly balanced salad.
Ingredients
1 ripe mango, halved and pitted
1/3 c. extra virgin olive oil
1 clove garlic, minced
1/4 c. red wine vinegar
1 t. Dijon mustard
1 t. honey
Kosher salt
1/2 c. Marcona almonds
3 to 4 c. salad greens
1/2 c. of your favorite blue cheese, crumbled (I used St. Agur from Trader Joe's)
Instructions
CARAMELIZE MANGO: Heat the grill to medium or a cast iron skillet till it's hot. Drizzle the mango with 1 t. of the olive oil, and grill (or place in the cast iron skillet till it caramelizes) for about 1 - 2 minutes. Cut the mango out of the peel, into bite sized pieces.
MAKE VINAIGRETTE: In a small bowl, whisk together the garlic, vinegar, mustard, honey, and remaining olive oil. Season with salt to taste.
Gently mix together the warm mango, almonds, salad greens and blue cheese in a large mixing bowl. Toss with the vinaigrette.


Recommended Products
As an Amazon Associate and member of other affiliate programs, I earn from qualifying purchases.
Nutrition Information:
Yield:
4 servings
Serving Size:
1
Amount Per Serving:
Calories:

468
Total Fat:

37g
Saturated Fat:

10g
Trans Fat:

0g
Unsaturated Fat:

26g
Cholesterol:

25mg
Sodium:

698mg
Carbohydrates:

24g
Fiber:

5g
Sugar:

15g
Protein:

14g
If this recipe sounds good to you, I'd be glad for you to share it on Facebook or Twitter. Or, if you prefer, I definitely think it's PinterestWorthy.
Have you ever stopped to consider the concept I mentioned: the balance of flavors and textures?
More Grilling Out Recipes