This post contains links that, if you click on them and make a purchase, will earn me money. As an Amazon Associate, I earn from qualifying purchases. . Regardless, I only recommend products or services that I believe will be good for my readers. Thanks for helping me continue to produce great content!
Warm Grilled Potato Salad with Kalamata Olives and Parmigiano Reggiano is the best potato salad I've ever had! It's totally unique, and this, alone, would make any grilling occasion special.
Warm Potato Salad? Really?
Yes, really! This side dish is one of my family's favorites when we're grilling out.
We love it with ribs, or burgers, and I'm sure it would be great with any other meat that you care to grill. The thing I love the most about it (besides the fact that it tastes outrageously good) is the little crunch factor that you get from the chopped up green onions, garlic, parsley, and fresh oregano. It's almost like a little gremolata.
And then there's the saltiness of the olives. And the nuttiness of the Parmigiano Reggiano. This is a dish that is MORE than the sum of its parts!
Where I Found This Recipe:
I originally found this in a cookbook by Joanne Weir (remember her cooking show on PBS? I loved the Napa/Mediterranean flair that she brought to her cooking.)
I've only altered her recipe slightly because while she says that her original recipe, which only uses a couple of pounds of potatoes feeds six, we love this stuff so much, and snarf so much of it down, so fast, that I had to double the potato amount.
She called for plenty of "green stuff" to decorate them, so I've left those amounts pretty close to the original recipe, thus altering her original recipe's ratio a bit, but what I've come up with works well on our family's table.
What I Serve It With:
In the pictures, you'll also see the rest of this meal: venison burgers that I call Bambi Burgers, but you can use my recipe for any low fat meat: low fat beef, elk, bison, or venison. You can get that recipe here: Bambi Burgers.
And Caramelized Onions, that are pretty much a staple when I make burgers. Here's a link to the recipe for the Caramelized Onions (so sweet, as the onion caramelizes! so savory, with the thyme and pepper! But with the WHANG note from the sherry vinaigrette!). Just scroll down the page, underneath the first recipe, and you'll see it.
Here are the Bambi Burgers with just a quarter of a slice of Provelone, gently melting on top.
So, here's my adaptation of Joanne Weir's recipe for
Warm Grilled New Potato Salad with Kalamata Olives and Parmigiano Reggiano
Yield: 6 servings
Warm Grilled Potato Salad with Kalamata Olives and Parmigiano-Reggiano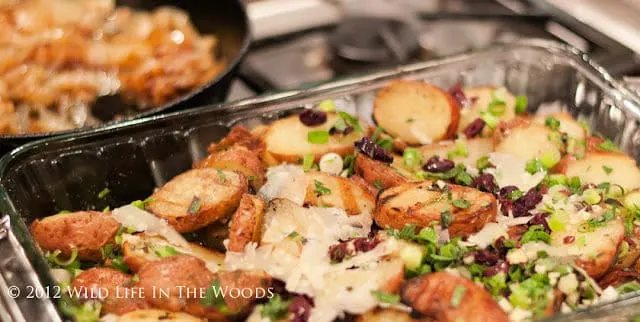 The most delicious side dish I've ever had with a grilled meal. I could skip the protein, and just eat this. THAT's how good it is.
Total Time
1 hour
30 minutes
Ingredients
4 lbs. small red skinned new potatoes
5 T. extra virgin olive oil
sea salt and freshly ground black pepper
5 green onions
3 garlic cloves, minced
1/4 c. coarsely chopped flat leaf parsley
2 t. chopped fresh oregano
1/2 c. pitted Kalamata olives, chopped
3 oz. piece of Parmigiano-Reggiano
Instructions
Preheat oven to 450º.
Wash the potatoes and place in a 13″x9″ baking dish, or a large half sheet pan. Drizzle with 1 T. olive oil, season with sea salt and freshly ground black pepper, cover with foil, and bake until tender, 50-60 minutes. Uncover pan and allow to cool to the point that you can slice them for grilling without burning yourself.
Preheat an outdoor grill.
When the potatoes are tender, and cool enough to handle, slice them. How you slice them will depend on the size of the new potatoes that you used: if they are small, you can slice them in half. If they're a bit larger, like mine were, slice them into about 4 slices. Place the slices back in the pan in which you roasted them, and drizzle them with 2 T. of olive oil. Place potato slices on the grill, turning occasionally, until hot and golden, with grill marks, which will take between 5-7 minutes. Remove from grill, and place in a large serving bowl. Add the remaining 2 T. of the oil, and all the rest of the ingredients, except the cheese: the chopped green onions, garlic, parsley, oregano, and olives. Season to taste with salt and pepper. Keep in mind that potatoes like a lot of salt! Using a vegetable peeler, shave long, thin pieces of Parmigiano-Reggiano on top of the the potatoes. Toss gently and serve immediately, while the potatoes are still warm.
Recommended Products
As an Amazon Associate and member of other affiliate programs, I earn from qualifying purchases.
Nutrition Information:
Yield:
6
Serving Size:
1
Amount Per Serving:
Calories:

475
Total Fat:

18g
Saturated Fat:

4g
Trans Fat:

0g
Unsaturated Fat:

13g
Cholesterol:

12mg
Sodium:

413mg
Carbohydrates:

69g
Fiber:

8g
Sugar:

4g
Protein:

12g
In the foreground, you can see the pan of Caramelized Onions that I made to go on the burgers.
I'd really appreciate it if you'd pin this recipe on Pinterest, if you do that type of thing.
What do you like to serve as a side dish when you grill out?