This post contains links that, if you click on them and make a purchase, will earn me money. As an Amazon Associate, I earn from qualifying purchases. . Regardless, I only recommend products or services that I believe will be good for my readers. Thanks for helping me continue to produce great content!
My Bambi Burgers (that's right – burgers that are made of ground venison) are so good that I would put them up against any other ground beef hamburger you've ever had. Now this is not a claim to make lightly. I realize that. I realize you may need a little convincing. And I can do that. In one word.
Bacon.
OK: three words.
Bacon, and caramelized onions.
We serve our most elegant company these burgers, and they are all blown away, because…well…we make these RIGHT. And I can teach YOU how to do them right, too.
I've tried at least a couple of other recipes that sounded wonderful, and they were good, but NOTHING beats this Bambi Burger. So, get ready. I have not only the recipe for you, but some tips and techniques I learned about making a great burger from listening to Bobby Flay, the burger master.
First: I must tell you that my hat is off to Ina Garten, the Barefoot Contessa, because one of her recipes was my major inspiration. I do love me some Ina!
Second: about the name "Bambi Burgers". Please, call them Venison Burgers if it will make you or your kids feel better. ("Mother? Mother???") My sense of humor can be a little dark. But my love for alliteration knows no bounds.
Or call them Yummy Burgers if you have friends who ~think~ they don't like venison. (What they don't like is actually venison prepared poorly. And that's easy to do. It's easily overcooked. That causes it to taste kind of gamey. But you're not going to do that. Because now you know what causes that flavor!)
Tips for Making Bambi Burgers:
Venison is a deliciously low fat/high protein meat. But a good hamburger is made with a meat that is higher in fat than we might usually cook with: an 80/20 ratio of lean meat to fat. That's because fat = flavor and juiciness in a burger. So here's how I add fat and flavor to my ground venison. 1 strip of thick cut, minced bacon per pound of venison. Our venison comes to us from our processor in 2 lb. rolls, so I stack up two strips of thick cut bacon and mince them finely with my chef's knife. (The colder they are, the easier it is to mince them, so if you want, you can pop those two strips in the freezer for a second to firm them up. Although I rarely do. 🙂 )
I add the minced bacon to the ground venison. The bacon adds a wonderful smokiness, as well as fat.
After that, I drizzle the meat with 2 T. of olive oil. (So, 1 T. per pound of venison) Because venison is really super lean, and it needs that drizzle.
To add even more flavor, I add a tablespoonful of Dijon mustard, and a liberal amount of kosher salt. Don't be shy. Proteins need a lot of salt. And some freshly ground pepper.
I use a ring mold to form my burgers. That way they're all a uniform size (which makes the job of the one operating the grill a whole lot easier). Choose a ring mold that is about the size of your bun. Meat/bun ratio is really important in a great burger. You don't want too much of either. About equal height of burger and bun. Don't compress the meat/mess with the patty too much when you're forming them. Less is more in this instance.
(My favorite bun is from my local bakery, Provence, who makes the very best bun I've ever had. But Provence isn't a chain. So, in terms of a bun that is nationally available, I love Pepperidge Farm Sesame Seed buns.)
And after you've formed the burgers, take your thumb and make a depression in the center of each patty. Why? You know how burgers always bulge a bit in the center when you grill them? This prevents that bulge! And causes the griller to be less tempted to squish them down on the grill (and thus lose a lot of juicy goodness).
You can also salt the exterior of the burger a bit if you wish, because this will help a crust to form while they're being grilled, which is also a lovely quality in a burger. I usually do.
Tips for the Caramelized Onions:
Caramelizing onions simply means bringing out their natural sugars by first sweating them, and then browning them.
When I'm making this meal, I always begin my cooking process it by first getting my onions going. They take about a half an hour. I can then mix up and form the burgers while the onions are cooking.
I begin by slicing and then sweating my onions. (No, that's not a euphemism for anything.) "Sweating my onions" simply means cooking them and the chopped fresh thyme in some fat (in this case a combination of butter for flavor and olive oil for its higher burning temperature) with a lid on them. It's kind of like steaming them, because as the water cooks out of the onions, the lid traps that steam and keeps it in the pan, softening and cooking the onion in a way that doesn't allow it to brown…yet. After 10 minutes of sweating, you're ready to take off their lid, and let the browning process begin.
The browning process, which is actually scientifically called "the Maillard effect", is what brings on the caramelization of the onions. Browning = more sweetness. Too much browning = burnt bitterness, and tears of regret. After about 15 – 20 minutes on medium low, finish your sweet brown onions with a hit of sherry vinegar. Yes, sherry vinegar is worth searching out. I find mine at Whole Foods, although in the olden days I used to have to go to Williams-Sonoma. I keep waiting for my Kroger to catch on and start carrying sherry vinegar. The acid of the sherry vinegar will provide a welcome balance to the sweetness of the onions, and the fat of the burger.
When that sherry vinegar hits that hot pan, if you inhale it through your nose, prepare to have your sinuses drilled through in a most unforgettable way. Some people like that. Of course, some people like receiving sharp pointed sticks in their eyes. So…you've been warned. 😉
(If you don't have fresh thyme for your onions, you can add dried thyme after you've sweated the onions. It requires less cooking than the fresh. Dried thyme can burn if it cooks too long, and you don't want that.)
The Recipes for Bambi Burgers with Caramelized Onions
Yield: 6 servings
Bambi Burgers with Caramelized Onions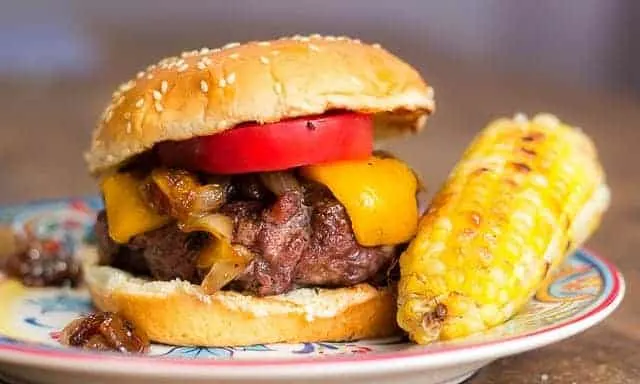 The best burger ever. You can use this recipe for ground venison, ground elk, and even lean ground beef!
Ingredients
For the Burgers:
2 pounds ground venison, elk, or low fat beef
2 slices uncooked bacon, minced (cut up into teeny pieces)
1 tablespoon Dijon mustard
2 tablespoons good olive oil, plus extra for brushing the grill
1 teaspoon kosher salt
1 teaspoon freshly ground black pepper
For the Caramelized Onions:
2 tablespoons good olive oil
2 tablespoons unsalted butter
2 pounds yellow onions, peeled and sliced in half-rounds
1/2 teaspoon fresh thyme leaves
2 tablespoons sherry wine vinegar (you could substitute balsamic)
1 teaspoon kosher salt
1/2 teaspoon freshly ground black pepper
Instructions
For the Burgers: Build a charcoal fire or heat a gas grill.
Place the meat in a large bowl and add the mustard, olive oil, salt, and pepper. Mix gently with a fork to combine, taking care not to compress the ingredients. Shape the meat into 6 (3 1/2-inch) patties of equal size and thickness.
When the grill is medium-hot, brush the grill grate with oil to keep the burgers from sticking. Place the burgers on the grill and cook for 4 minutes. Using a big spatula, turn the burgers and cook for another 3 to 4 minutes, until medium-rare or more, or cook longer if you prefer hamburgers more well done.
I like to toast my hamburger buns on the grill briefly, and then top each burger and then with a heaping tablespoon of caramelized onions, and maybe a squirt of barbecue sauce. A slice of cheese would not go amiss: we like Cabot cheddar, or smoked Gouda. Serve hot.
For the Caramelized Onions: Heat the olive oil and butter in a large shallow pot, add the onions and thyme and toss with the oil. Place the lid on top and cook over medium-low heat for about 10 minutes to sweat the onions. Remove the lid and continue to cook over medium-low heat, stirring occasionally, for 25 to 30 minutes, until the onions are caramelized and golden brown. If the onions are cooking too fast, lower the heat. Add the vinegar, salt, and pepper and cook for 2 more minutes, scraping the brown bits from the pan. Season to taste (they should be very highly seasoned)
Notes
Definitely use any additional toppings you love most, as well. Sometimes we use tomatoes and lettuce. Sometimes barbecue sauce. Sometimes sautéd mushrooms. Sometimes cheese.
Recommended Products
As an Amazon Associate and member of other affiliate programs, I earn from qualifying purchases.
If you cook with venison, you might also want to check out my recipe for
Spaghetti with the most amazing Venison Meatballs
. Oh, my gosh, those meatballs are to DIE for! If you've ever wanted to learn how to make
venison jerky
that was delicious, you've also come to the right place! OK, and just one more: this one is extra special to me, because it reminds me of what my mom used to cook whenever we had dinner guests whom she wanted to impress:
Venison Stroganoff, on White and Wild Rice.
One more image, and I'd be grateful if you'd share this one, by pinning it on Pinterest.