This post contains links that, if you click on them and make a purchase, will earn me money. Regardless, I only recommend products or services that I believe will be good for my readers. Thanks for helping me continue to produce great content!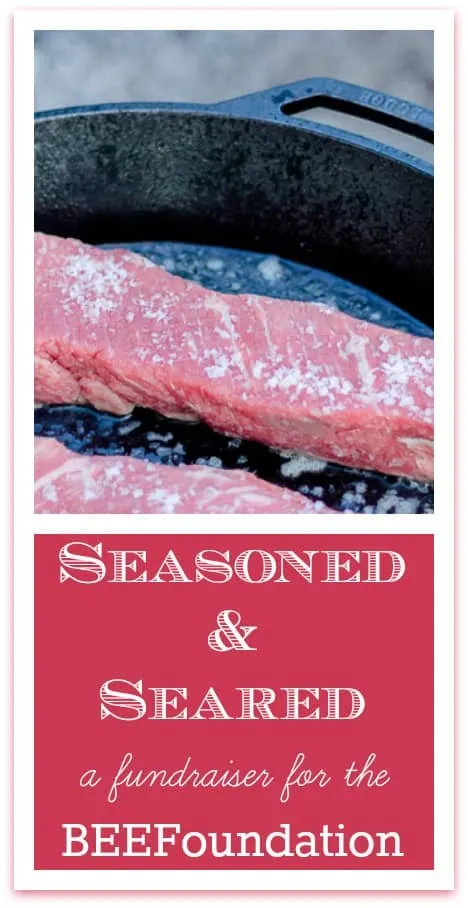 A few days ago, I had the honor to attend a special evening entitled Seasoned and Seared, that served as a fundraiser for the BEEFoundation. The BEEFoundation is a nonprofit organization that provides education and professional development opportunities for students (like the Future Farmers of America, and 4H groups), and beef producers. As times change, best practices in agriculture change as well, and beef producers need the opportunity to learn new techniques, and technologies. The BEEFoundation also educates consumers in regard to the importance of beef production in American agriculture. The BEEFoundation's goal is to ensure farming's legacy for future generations.
The fundraiser was a delightfully unique culinary experience, featuring Certified Angus beef dishes from Nashville chefs, and was held in the Green Door Gourmet's Grand Barn in Nashville. The dinner celebrated beef, one of TN's top agricultural commodities. The BEEFoundation partnered with Lodge Cast Iron®, to host Season & Seared. Lodge Cast Iron has been made in TN since 1896, and is known worldwide as the gold standard of seasoned cast iron.
I thought I'd share with you some pics from the evening, starting outside the Grand Barn at Green Door Gourmet, where we had appetizers, and where the food for the evening was grilled, and then moving inside. Because that's pretty much the way I experienced the evening.
On a side note, I adore Lodge Cast Iron Cookware, personally. I use it on an almost a daily basis to create the recipes I cook for my family, and for this blog. I was thrilled to learn that not only is it a Tennessee business, but that it is also a business that is family-owned.
Well known Nashville chefs Steven Chandler of Kayne Prime, Jay Mitchell of Tennessee Brew Works, Eric Zizka of Oak Steakhouse, Andrew Whitney of Virago, and Richard Jones of Green Door Gourmet were our chefs for the evening. Each of the chefs used Certified Angus Beef® to create their dishes. Most of the chef's creations were cooked in Lodge Skillets or on Lodge grill pans and platters, outdoors, over an open pit fire. The pit was constructed of cement blocks, just outside the barn. Chef Jones used Lodge's Cast Iron Sportsman's Grill to grill our appetizers.
The fresh organic produce was provided by Green Door Gourmet, and the craft brews that were paired with each course were provided by Tennessee Brew Works. I want to give a huge shoutout of thanks to both of those fine facilities. They are SO worth seeking out!
Funds were raised following the meal through a silent auction, wherein many of the dinner guests both donated prizes, and bid on prizes themselves. The men running the auction were the real deal, too! Have you ever heard an old-time auctioneer do their thing? It's dazzling! Just don't take a moment to stretch during the auction, or you're going to ride home the proud owner of whatever they were selling at that particular moment.
I'd like to thank the BEEFoundation for inviting me to be a part of their very special evening, and I'm excited about the money that was raised to help educate future farmers, as well as our hard-working farmers of today, and consumers. I LOVE FARM FAMILIES, and anything I can do to support and encourage them to keep on keeping on, I'm there!
Another special thanks to Lodge Cast Iron®, for their beautiful products, and for partnering with the BEEFoundation! (Here's just one recipe of mine, where I featured their beautiful enameled cast iron Dutch Oven. What a gorgeous work horse it is! Carnitas Made in my Lodge Enameled Cast Iron Dutch Oven.
Pretend like I made the carnitas out of beef, OK?