This post contains links that, if you click on them and make a purchase, will earn me money. Regardless, I only recommend products or services that I believe will be good for my readers. Thanks for helping me continue to produce great content!
This post was sponsored by Smithfield as part of an Influencer Activation for Influence Central and all opinions expressed in my post are my own.
This recipe for Grilled Ribs with Bodacious Barbecue Sauce comes just in time for your Labor Day Grilling pleasure. Smithfield® wants your family and mine to enjoy the holiday weekend to the utmost: so they invited me to share this recipe with you. #SmithfieldGetGrilling
Whether I'm having company over for a holiday, or just doing a smaller family cookout, I'm a total rib fan. My mom, however, never grilled ribs when I was growing up. And since we almost never ate out, I grew up woefully ignorant of how great ribs can be. But from the day I moved to the South, and tried my first rack of ribs, I was hooked!
I was hooked on the flavor, for sure, but I was quite intimidated by what, to me, was an unknown cooking process. Sure, I could buy delicious ribs when I was at a restaurant, or a roadside pit barbecue joint, but I doubted my own ability to produce ribs that were exquisitely juicy, tender and delicious at home.
If you've ever thought grilled ribs might be too complicated for you, you've come to the right place. The process is so much easier than you'd ever think! My recipe for Bodacious Balsamic BBQ sauce will make people think you're a BBQ Pitmaster! And the Smithfield website has all the tips and recipes you could ever need, if you feel like you'd like a little extra assistance.
Your first step in making great grilled ribs at home is to BUY a great rack of ribs. Smithfield Extra Tender Fresh Pork Ribs are perfect for your Labor Day gathering. They contain no artificial ingredients and are as juicy and tender as possible, so no matter what level of experience you have in the kitchen or behind the grill, your pork is sure to impress. Smithfield Extra Tender Fresh Pork Ribs are Pitmaster Preferred: look for that "Pitmaster Preferred" stamp on every package of ribs.
We purchased our Smithfield Extra Tender Fresh Pork St. Louis Style Spareribs at Food Lion, and right now, you can take advantage of a $1.00 Off Food Lion coupon on Smithfield Extra Tender Ribs. I'd encourage you to purchase your Smithfield Extra Tender Fresh Pork ribs at your local Food Lion, too, for your Labor Day Get-Togethers. Here's a link to the Food Lion Coupon Page.
Once you've procured your ribs from Food Lion, you have GOT to try my….there's no other word for it….BODACIOUSLY DELICIOUS (and super easy to make) Balsamic BBQ Sauce. It is, in fact, so good, that my husband wants to try it next with our smoked pork butt, rather than using our old standby sauce.
My husband and I love grilling together. I guess that makes us both Pitmasters! I handle most of the kitchen prep work, like making and then applying a dry rub, roasting the ribs in the oven, and making the barbecue sauce, and he mans the grill.
How I Came Up with Bodacious Balsamic BBQ Sauce
I've been reading a cookbook about vinegars, that talks about the importance of balancing all the flavors in our dishes. Acids (like vinegars) really help balance the flavor in a meat dish that is rich, like ribs! A recipe I saw in that cookbook inspired me to develop my own somewhat similar recipe, made with balsamic vinegar and apple juice. I think my recipe for BBQ sauce has just the right amount of sweetness, tartness, and heat. It also has just enough acid from the balsamic vinegar to perfectly balance the flavor of the ribs we grilled.
The Process for Grilled Ribs
1. Remove the Outer Membrane
You can do this by hand. Scrape a corner with your thumbnail to get it started and pull the rest free from the ribs.
2. Apply Spices (also called a Dry Rub or Spice Rub)
Season ribs as desired – pick your favorite spice rub and apply liberally. Here's a link to a great recipe for our favorite dry rub, Slap Yo' Mama Butt Rub.
3. Cook (Oven & Grill)
Heat oven to 350ºF. Wrap prepped ribs in foil. Place them on a large shallow baking sheet. Roast for almost 2 hours, or until they reach an internal temp of 190ºF. Then remove the foil, and place the ribs on the grill over medium heat for 15–20 minutes, turning frequently and brushing them with Bodacious Balsamic BBQ sauce. Do keep an eye on them, and don't let them burn: the sugars in the BBQ sauce will make them prone to it.
The Recipe for Bodacious Balsamic BBQ Sauce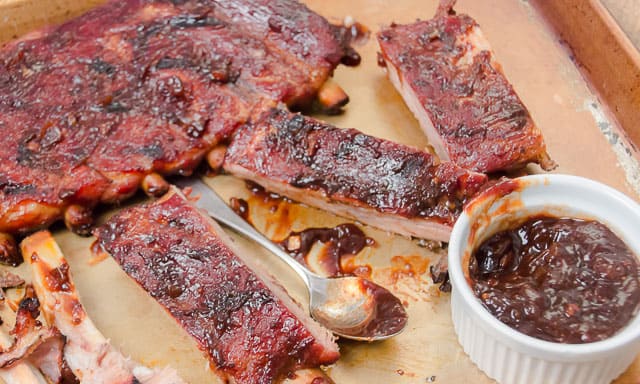 Bodacious Balsamic Barbecue Sauce
2017-08-29 15:29:57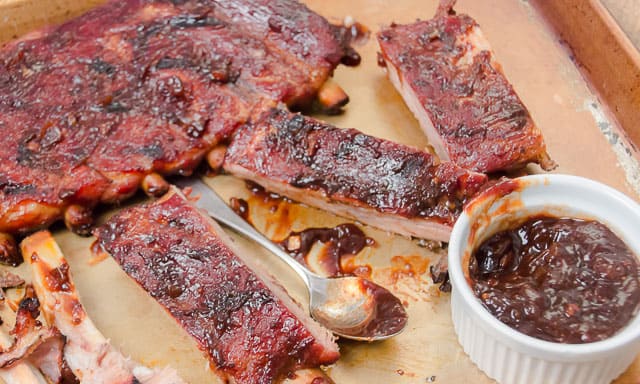 This recipe for Grilled Ribs with Bodacious Balsamic BBQ Sauce is easy and bodaciously delicious!
Ingredients
1 c. ketchup
1 1/2 c. apple juice
1/2 c. balsamic vinegar
1 medium red onion, diced
1 clove garlic, minced
1 T. brown sugar
2 T. whole grain mustard
1 t. chipotle hot sauce
Instructions
Whisk all the ingredients together in a medium sauce pan. Bring to a boil over medium high heat. Reduce to simmer over medium low heat. Allow sauce to simmer, stirring occasionally, until it reaches a spreading consistency that you are happy with: anywhere from 1-3 hours.
Apply sauce to the ribs while they're finishing on the grill.
Adapted from Acid Trip...but altered a lot
Adapted from Acid Trip...but altered a lot
That Susan Williams https://www.thatsusanwilliams.com/