This post contains links that, if you click on them and make a purchase, will earn me money. As an Amazon Associate, I earn from qualifying purchases. . Regardless, I only recommend products or services that I believe will be good for my readers. Thanks for helping me continue to produce great content!
This easy recipe for Spiced Pumpkin Bread has all the beautiful smells of the fall baking season! As the days grow shorter, and the nights grow colder, there's just something about fall weather that calls us back to the flavors that speak "comfort" to our souls. Year after year, my daughter begs me to make this quick, easy fall treat: spiced pumpkin bread.
If you decide to give this recipe a try, when those sweet and spicy aromas begin drifting out of *your* oven, you'll understand why my daughter begs!
And when you experience how easy this recipe is to throw together, it will become crystal clear to you why it's so very easy for me to say "yes" to her request.
What is a Quick Bread?
Spiced Pumpkin Bread is a quick bread, along the lines of banana bread, so, there's no yeast. It gets its lift from the baking soda and baking powder. Just mix up the wet ingredients, and then add the dry ingredients, in two additions. It's important not to over-mix all the ingredients once you've added the dry ones. NOT over-mixing will give you a moist, tender quick bread.
Why Do You Toast Your Walnuts?
I toast my walnuts lightly in a sauté pan on top of the stove before I add them to the bread, as toasting them brings out their oils, which naturally heightens their flavor.
Why Do You Recommend a Microplane?
If at all possible, buy whole nutmeg kernels of nutmeg, and grate the nutmeg fresh, yourself, on a Microplane grater/zester. Whole kernels of nutmeg resemble an acorn in appearance, and you can find them in the bulk section of your grocery store. Freshly ground nutmeg that you've ground yourself is gloriously flavorful. The already ground stuff? Much more reminiscent of cigarette ash.
This Recipe Makes Two Loaves
One thing I really love about this recipe is that it makes two loaves: we enjoy one after it's baked, while the aromas are still wafting through the house. But we freeze the other one for the busy Thanksgiving/Christmas holidays that are approaching, when we usually have company coming, and want a little something special for breakfast. I especially enjoy it the morning after it was baked: I stick a slice in the toaster, spread it with butter, and enjoy it with a warm cup of coffee or tea.
It's also the kind of recipe that is easy enough that you could turn this baking project over to any aspiring bakers you might have presently residing at your house….even if that aspiring baker is YOU!
And now, a little Pumpkin Poetry, that just came to me:
Ode to Two Loaves of Spiced Pumpkin Bread
Tis' the season of the pumpkin
Fa la la la la, la la la la
Try this now, don't be a lumpkin
Fa la la la la, la la la la
You'll be smelling fall aromas
Fa la la, fa la la, la la la
Wafting through the halls of home-a
Fa la la la la, yum yum yum yum
If Pumpkin is your thing, I have lots of other great pumpkin recipes, including Pumpkin Soup with Apple Cranberry Relish and Spicy Pepitas, Bourbon Pumpkin Cheesecake with Bourbon Sour Cream Glaze and the most delicious Fluffiest Pumpkin Pie you've ever had. Or, if you're looking for a great holiday dessert, with maybe a little more protein, you might want to try this Holiday breakfast Casserole with Spinach and Alpine Cheddar Cheese. It's perfect for Thanksgiving or Christmas morning.
The Recipe for Spiced Pumpkin Bread:
Yield: 2 loaves
Spiced Pumpkin Bread Recipe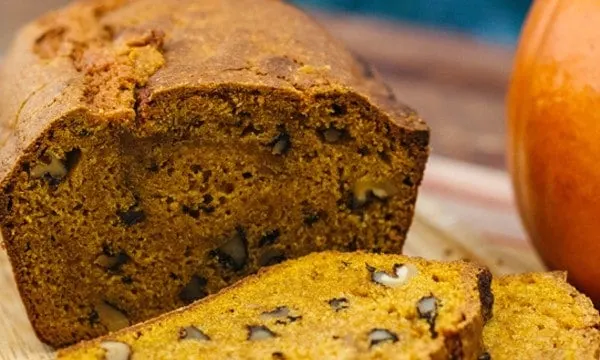 With an aroma that is enticingly delicious, warm, flavorful Spiced Pumpkin Bread will make you give thanks that it's fall.
Cook Time
1 hour
10 minutes
Total Time
1 hour
20 minutes
Ingredients
3 c. sugar
1 c. vegetable oil
3 large eggs
1 15 oz. can solid pack pumpkin (not pumpkin pie mix)
3 c. all-purpose flour
1/4 t. ground cloves
1 t. ground cinnamon
1/2 t. ground nutmeg
1 t. baking soda
1/2 t. salt
1/2 t. baking powder
1 c. coarsely chopped walnuts (optional)
Instructions
Toast chopped walnuts in sauté pan on top of stove over medium heat, watching them carefully, and stirring them occasionally. It takes me about 5 minutes to begin smelling the aroma, which lets me know they're done. When they are just beginning to toast, dumping them out quickly onto a saucer will slow the browning process down dramatically. (You don't want to burn them, which can happen in a heart beat: that's why you watch and sniff them carefully.)
Preheat oven to 350º.
Prepare loaf pans by either using a baking cooking spray, or by wiping them down with shortening (or butter), and then coating them with flour ( about a tablespoon full of flour, shaken around the pan until all sides are coated). This will help the loaves slide out of the pan, and onto your cooling rack.
Beat sugar and oil in a large mixing bowl to blend. Mix in eggs and pumpkin. In another bowl, sift together the flour, cloves, cinnamon, nutmeg, baking soda, salt and baking powder. Stir into pumpkin mixture in two additions. Fold in toasted walnuts.
Divide batter equally between prepared pans. Bake until tester inserted into center comes out clean, about 1 hour and 10 minutes, depending on your oven, and they type of loaf pan you used. (Glass loaf pans tend to take longer than metal loaf pans, for example.) Using a sharp knife, loosen bread from the sides of the loaf pans. Turn loaves out onto cooling racks, and cool completely.

Notes
Since it makes two loaves, if you like, you can freeze one loaf, and save it for later.
Recommended Products
As an Amazon Associate and member of other affiliate programs, I earn from qualifying purchases.
Nutrition Information:
Yield:
24
Serving Size:
1
Amount Per Serving:
Calories:

278
Total Fat:

13g
Saturated Fat:

1g
Trans Fat:

0g
Unsaturated Fat:

11g
Cholesterol:

23mg
Sodium:

121mg
Carbohydrates:

38g
Fiber:

1g
Sugar:

25g
Protein:

3g
Pumpkin Recipes You'll Love
Over the years, I've come up with quite a few yummy recipes that involve pumpkin. I gathered them all together, just for you!