I simply *have* to share this Holiday Breakfast Casserole with Spinach and Alpine Cheddar with you, before Christmas, because…well…and it pains me to say this, but….
~leans forward to whisper~
"There are a lot of crappy breakfast casserole recipes floating around out there."
(A quick aside to my intimate friends of my Fabulous Friday Friends group:"I'm not talking about YOURS." )
I've had some Breakfast Casserole Swill in my days. Rubbery, greasy sausage, bobbing in a pool of incompletely cooked and slightly curdled eggs, with some, 'Murican cheese all wadded up and squished together with cheap, store-bought, white trash bread.
~Uuuuurrrrrrrp~
You know…you've had it too! It leaves the taste of heartburn and regret with you all day long, doesn't it?
Friends, we can do better. We can do much, much, much – oh – SO much better!
And I'm just the gal to hook you up with the recipe of your dreams!
This casserole reduced my Friday Friends Group to silence, punctuated by "Mmmmms" and sighs, and even a few groans of pleasure. Yes….it's THAT good.
I'm calling for my favorite Cabot Cheese in this, Alpine Cheddar, because it tastes so much like Gruyère. But you can use Gruyere, or fontina, or havarti, or any lovely melting cheese you like. I like Alpine cheddar because it's a little nutty, with a yodel.
Much like myself.
Make this recipe the night before your holiday breakfast or brunch, and take it out of the fridge and preheat your oven. You'll have the breakfast of your dreams in an hour, and the only sadness and regret you'll taste is that you didn't make a second one.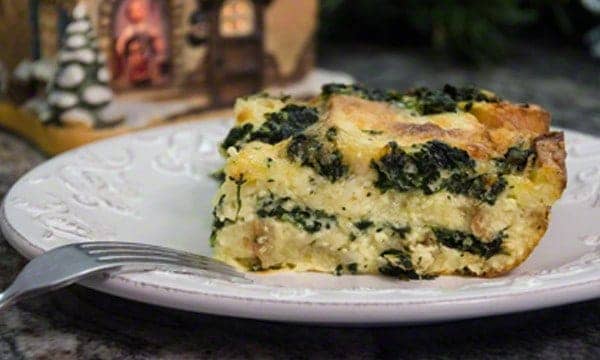 Holiday Breakfast Casserole with Cabot Alpine Cheddar
2016-12-22 09:56:59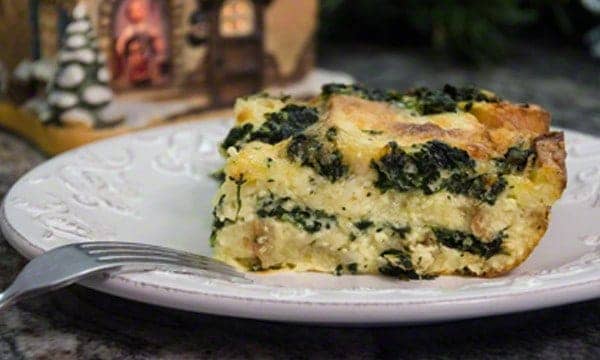 Holiday Breakfast Casserole with Alpine Cheddar is the perfect breakfast or brunch casserole when company's coming, because it's delicious, and is assembled the night before.
Ingredients
12-14 oz. baguette (I used one of the long baguettes from my Costco bakery), sliced into 1/2" thick slices
15 oz. bag of frozen chopped spinach, thawed, and with water squeezed out (I used paper towels to help me squeeze out the water)
9 and 1/2 T. butter
2 large shallots, minced, (you need about 1 c. of minced shallots - mine were really large)
sea salt, and freshly ground black pepper
1 cup medium-dry white wine, such as Sauvignon Blanc
12 oz. Cabot Alpine Cheddar (you could use Gruyère, or white cheddar, or havarti - whatever you like)
12 eggs
3 c. half and half
Instructions
Adjust oven rack to middle position and heat oven to 225 degrees. Arrange bread in single layer on large baking sheet and bake until dry and crisp, about 40 minutes, turning slices over halfway through drying time. (Alternatively, leave slices out overnight to dry.) When cooled, butter slices on one side with 4 tablespoons butter; set aside.
Heat 4 tablespoons butter in medium nonstick skillet over medium heat. Sauté shallots until fragrant and translucent, about 3 minutes; add spinach and salt and pepper to taste and cook, stirring occasionally, until spinach and shallots are combined, about 2 minutes. Transfer to medium bowl; set aside. Add wine to skillet, increase heat to medium-high, and simmer until reduced to 1/2 cup, 2 to 3 minutes; set aside.
Butter 9 x 13" baking dish with 1 and 1/2 T. butter; arrange half the buttered bread slices, buttered-side up, in single layer in dish. Sprinkle half of spinach mixture, then half of grated cheese evenly over bread slices. Arrange remaining bread slices in single layer over cheese; sprinkle remaining spinach mixture and remaining 1/2 of cheese evenly over bread. Whisk eggs in medium bowl until combined; whisk in reduced wine, half-and-half, 1 teaspoon salt, and pepper to taste. Pour egg mixture evenly over bread layers; cover surface flush with plastic wrap, weigh down (see note, below), and refrigerate at least 1 hour or up to overnight. I refrigerated mine overnight.
Remove dish from refrigerator and let stand at room temperature 20 minutes. Meanwhile, adjust oven rack to middle position and heat oven to 325 degrees. Uncover strata and bake until both edges and center are puffed and edges have pulled away slightly from sides of dish, 60 minutes. Cool on wire rack 5 minutes; serve.
Notes
To weigh down my assembled strata, I used a 7 lb. bag of confectioner's sugar, which is surely at the upper end of any weight you might need, but it worked perfectly for me. Just be sure your 9 x 13 pan is completely sealed with plastic wrap before you put your weight on top. You could also use a couple of 2 lb. bags of brown sugar, for example, or a couple of gallon-sized zipper-lock bags filled with about 2 pounds of sugar or rice as weights.
Adapted from Cook's Illustrated
That Susan Williams https://www.thatsusanwilliams.com/
Yum