This post contains links that, if you click on them and make a purchase, will earn me money. As an Amazon Associate, I earn from qualifying purchases. . Regardless, I only recommend products or services that I believe will be good for my readers. Thanks for helping me continue to produce great content!
When Cabot Cheese told me they were partnering with King Arthur Flour in a #QuicheFeast, I knew I had to be a part, and what happened next was a BLT Quiche!
This recipe I developed for BLT Quiche is suitable for a holiday breakfast, when company's coming, a lunch with friends, or a light dinner, paired with a salad. I think you're going to love it, just like we did! It's lovely to look at, and lovelier still to eat.
My Love Affair With Quiche
The first time I ever asked a guy out, in 1979 (were you even ALIVE then???), I took him out for dinner and ordered QUICHE. I didn't even know what quiche was! But the Food Revolution was taking off, and I wanted to be sophisticated, and I had a huge crush on this guy, and I really wanted to impress him. Quiche it was! I was a bit underwhelmed when they brought me scrambled eggs in a pie crust, but at least I'd finally gone on a date with the guy I was sweet on!
The relationship with the guy didn't last, but my love for quiche has endured, and grown stronger. Mostly because…cheese. My most favorite European cheese, Gruyère, is known for its use in Quiche Lorraine. But I thought it might be fun to take my favorite Cabot cheese, Alpine Cheddar, and see what kind of quiche recipe I could develop.
Because I'm a member of the Cabot Cheese Board, I did receive a package of wonderful cheese from them, that also contained some flour from King Arthur, but I wrote this post because I adore both companies' products, and it's my pleasure to share my recipe.
What I came up with takes a bit of time, but I promise, this one's worth doing! Here's my contribution to Quiche Feast.
The Recipe for my BLT Quiche:
Yield: 6 servings
BLT Quiche: My Contribution to #QuicheFeast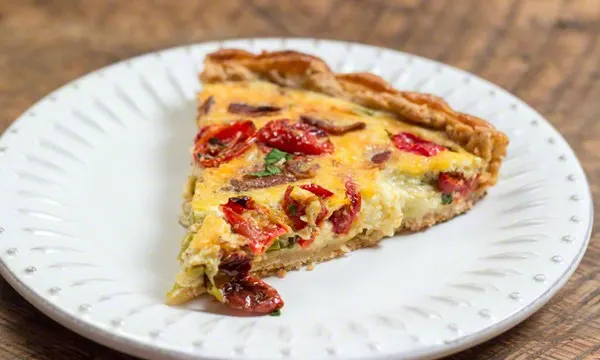 A delicious quiche, made of bacon, LEEKS, and roasted tomatoes, in a crisp, buttery crust. There's no lettuce in this BLT: the "L" stands for leeks.
Prep Time
1 hour
35 minutes
Total Time
2 hours
20 minutes
Ingredients
FOR THE CRUST
. 1 3/4 c. all-purpose flour (8 3/4 oz.)
. 1/2 t. salt
. 12 T. unsalted butter, cut into 1/2" pieces, and chilled
. 3 T. sour cream
. 4-6 T. ice water
. 1 egg white, lightly beaten
FOR THE CUSTARD FILLING
. 1 pint cherry tomatoes, halved, or quartered if they're large
. 1 T. olive oil
. sea salt
. pepper
. 2 whole cloves of garlic
. 4 slices bacon
. 3 leeks, sliced horizontally, and then into 1/2" slices, well cleaned
. 1 T. cornstarch
. 1 c. milk
. 4 eggs, plus 1 egg yolk
. 1 c. heavy cream
. 1/2 t. salt
. 1/4 t. pepper
. 1/8 t. freshly ground nutmeg
. 1/8 t. cayenne pepper
. 6 oz. Cabot Alpine Cheddar Cheese, (you can substitute Gruyère) grated
Instructions
For the crust:
Process flour and salt in a food processor until combined, about 3 seconds. Add butter and pulse until butter is size of large peas, about 10 pulses. (It is important from this point on not to run, but pulse the food processor. Otherwise, the fat will melt, water will help the process of gluten development, and your crust will be tough.)
Combine sour cream and 1/4 c. ice water in small bowl. Add half of sour cream mixture to flour mixture. Pulse 3 times. Repeat with remaining sour cream meixture. Pinch dough with fingers; if dough does not hold together, add 1 to 2 T. more ice water, and pulse until dough forms large clumps, with no dry flour.
Turn dough out onto well-floured wax paper, and flatten into 6" disk. Wrap disk in plastic wrap and refrigerate until firm, but not hard (1-2 hours). (Dough can be refrigerated at this point up to 1 day, but let it stand at room temperature for about 15 minutes if you chill it longer than a couple of hours.)
Roll out dough on generously floured wax paper, placing a sheet of plastic wrap between the pastry and the rolling pin. This allows you to see what you're doing, but keeps the dough from adhering to the pin.
My pan had a diameter of 11 1/2", and a depth of 1 and 1/2 inches, so I rolled my pastry to a diameter of 13". Roll your pastry so that you allot for the diameter, and the depth of your tart pan's walls, plus enough for 1" overhang. Any excess pastry scraps should be refrigerated, and saved for patching any cracks that occur during your pre-bake. (I had none, but you never know.)
Lift the edge of the waxed paper, and loosely roll your pastry around the rolling pin. Lift and gently place inside tart pan, and remove plastic. Patch any cracks or holes that need patching, either by pressing down near cracks, or by using reserved scraps. Refrigerate dough-lined pan until dough is firm, about 30 minutes. Then freeze pan for 20 minutes.
Adjust oven rack to lower middle position and heat oven to 375º. Line dough with foil or parchment paper and fill with pie weights. Bake until exposed edges of dough are beginning to brown but bottom is still light in color, about 30 minutes. Carefully remove foil and pie weights. If any new holes or cracks have formed in dough, patch with reserved scraps. Return shell to oven and bake until bottom is golden brown, 15 minutes longer.Remove shell from oven, and brush interior with beaten egg white. Reduce oven temperature to 350º
For the custard filling:
While the pie pastry is chilling, begin working on your filling.
Preheat oven to 400º.
Cover a rimmed baking sheet with foil. Place cherry tomatoes on baking sheet.
Drizzle cherry tomatoes with olive oil, salt, and pepper. Throw a couple of whole garlic cloves on the sheet as well, while you're at it. Roast the tomatoes at 400º for about 20 minutes. They should be wrinkled, and a little caramelized on the edges. The garlic should be softened.
Brown the bacon, and drain it on a paper towel. Crumble into bite sized chunks. Pour off all but 2 T. of the bacon grease from the pan in which you browned the bacon. Sauté the leeks for about 5 or 6 minutes, until they are softened and beginning to brown. Slice the garlic cloves that you roasted with the cherry tomatoes, and throw them in with the leeks for the last minute that you cook the leeks.
Whisk cornstarch with 3 T. of the milk in a large bowl to dissolve cornstarch. Then whisk in remaining milk, eggs, egg yolk, cream, salt, pepper, nutmeg, and cayenne, until smooth.
Scatter leeks, bacon, tomatoes, and cheese over baked pastry shell. Gently pour custard mixture over filling.
Bake until top of quiche is lightly browned, about 45 minutes.
Notes
This recipe uses a total of 4 eggs: one egg is separated, and the white is used for the crust, while the yolk is used for the filling. I use dried beans for pie weights. I keep a foil packet of about 3 c. of beans in a ziplock bag, labeled Pie Weights, and reuse the same beans over and over.
You could certainly save a lot of time by using a store bought pie crust, but this crust is buttery, and crisp, and so, so worth it.
Recommended Products
As an Amazon Associate and member of other affiliate programs, I earn from qualifying purchases.
If you're looking for great recipes to serve your company for breakfast, I have a couple more you might consider. My friends say this Holiday Breakfast Casserole is their favorite. Or if you need something a little lighter, consider my Homemade Granola. It is the BOMB!!!