This post contains links that, if you click on them and make a purchase, will earn me money. As an Amazon Associate, I earn from qualifying purchases. . Regardless, I only recommend products or services that I believe will be good for my readers. Thanks for helping me continue to produce great content!
This recipe for Homemade Granola is the best, bar none! How can I say that so confidently? I can, because, I want to open up your mind to the thought, in case you haven't already had it, that you, as the homemade granola maker, can make a granola recipe with all the stuff YOU love, and accidentally on purpose leave out the stuff you always resent finding in there, anyway.
Making granola is easy, and I have an important tip that will make your homemade granola even MORE delectable than homemade granola usually is!
In the interests of science, we did our own taste test (via stopping and tasting a Costco granola sample, after having recently finished a bowl of granola before we left for Costco; Hey, it was a golden opportunity for free research!) of homemade granola vs. commercially prepared granola, and our homemade granola was so much more delicious than what's available commercially. And though I don't keep a batch of homemade granola sitting around the house constantly, when I have some, I find I'm always eager and delighted to actually eat breakfast.
How I Fell in Love with Homemade Granola, or Birchermüesli
Most citizens of the USA, when they think of granola, think of the great state of California. But as for me? I think of Switzerland.
When I lived in Switzerland, when I was in my 20's, I fell in love with granola, topped with yogurt: a dish that is locally called: "birchermüesli". Birchermüesli was a breakfast recipe thought up by, and named after, Dr. Maximilian Oskar Bircher-Benner, who worked in Zurich, around 1900. (Umm…I feel a need to say that that was somewhat BEFORE my time in Switzerland.)
Back then, everyone thought that meat was the penultimate food, when it came to nutrition. But Dr. Bircher believed that vegetables and fruits, then thought of as the food of poor people, was, in his words, the "food of sunlight". Think of Dr. Bircher as one of the original fruits and nuts of the 20th century.
I'm not going to tell you he was 100% right on, right on, right on (in the words of Matthew McConnaughey), but neither do I think he was wrong, either. In any case, he was CERTAINLY on to something delicious.
In Switzerland, my roommates and I also had our own yogurt maker. We were unwittingly treading dangerously close to becoming crunchy.
The Swiss would sometimes put yogurt on their granola the night before, and wake up to their own bowl of birchermüesli. Or, they might buy a plastic cup of somewhat soaked/mushy granola in the store, and take it with them on a bracingly brisk hike through the Swiss alps. You think I'm kidding. I'm not. The Swiss are notoriously rosy cheeked. I blame the birchermüesli, and the frigid Alpine air.
I came to love the tang of that homemade yogurt, but I never soaked my granola in it overnight. I topped my granola with yogurt first thing in the morning. I find the crunch of the oats and the nuts extremely satisfying. Think of the sound of a horse, chomping oats. Think of me eating my morning birchermüesli. Remarkably close, they are. Those of you with sensory issues, who are now squirming, feel free to refuse an invitation to my house for a breakfast of birchermüesli, won't you?
When I came home to the States, granola wasn't as ubiquitous as it is today. (After all, I didn't live in California.) But I came up with own recipe, probably from the Moosewood Cookbook. Years later, I learned a technique from Cook's Illustrated that I never forgot, that helped me make the flavor, and the texture of my granola, positively perfect. There are a couple of steps, but they're all simple, and worth it.
An Overview of How I Make Homemade Granola
Because the nuts, and the oats coated in sweetener and butter, brown at different temperatures, I brown them separately. I brown whole nuts first. My favorites are pecans and almonds, so they are what I use. You can omit nuts, or use walnuts, or macadamia nuts, or hazelnuts, or whatever you like. After they cool a few minutes, I put them on a cutting board and run my chef's knife through them a few times, chopping them coarsely.
Then I mix the oats and the sesame seeds with honey, and butter. But YOU, if you wanted to, could use coconut oil for your fat. Or you could use agave or maple syrup for your sweetener. Or you could add pepitas or flax seed for your seeds. Use whatever you like.
Here's something I DON'T do, but YOU could, if you'd like to: you could add spice! You could add cinnamon, or cardamom, or even pumpkin spice! Sometimes, less is more, and my granola recipe makes me happy, without spice. But you do you.
Just don't come near me with coconut, and nobody gets hurt.
My Big Homemade Granola Tip:
Here's the tip/technique I promised to teach you. Once you've poured out your oat, seed, fat and sweetener onto your rimmed baking sheet, take a big flat sided spatula/turner, and squish it all down flat onto the baking sheet.
Here's what that will do for you: everything will bake into almost like a bar cookie. When you take it out of the oven, and you let it cool, you can break it up into whatever size chunks you like. AND WHO DOESN'T LOVE SLIGHTLY SWEET CRUNCHY CHUNKS OF ALL THEIR FAVORITE INGREDIENTS??? I crave the homemade granola chunks. If it's all loose flakes, well, I'm just disappointed. Aren't you?
So after my sheet of granola is broken up, I mix in the chopped nuts, and the dried fruit. I like dried cherries more than the law allows, and I'm somewhat fond of dates, so they're what I use. But you can use raisins, or currants, or dried apricots, or dried pineapple, or whatever dried fruit YOU like. (You could even add fresh fruit like apples, blueberries or strawberries, to your bowl right before you add the yogurt, or milk, or almond milk, or whatever you want to top your granola with. It's YOUR homemade granola.
I store this gorgeous granola in one of my brand new Mason Jar canisters that I'm so crazy about! It's too pretty not to show off on the counter, I think.
*That* Susan Williams' Homemade Granola Recipe
Yield: 8 Servings
Homemade Granola with My Favorite Stuff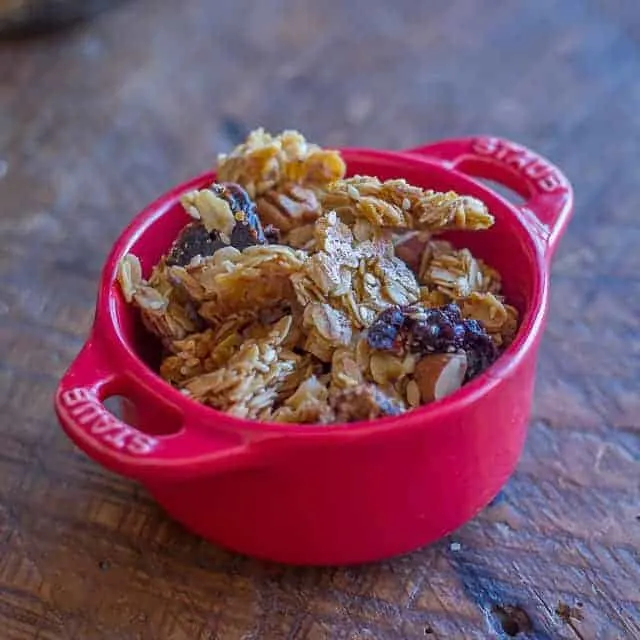 Homemade Granola, with all my favorite stuff!
Ingredients
3/4 cups pecans
1/2 cup natural almonds
4 cups old-fashioned rolled oats
1/4 cup sesame seeds (optional)
1 stick (8 tablespoons) unsalted butter
1/3 cup pure maple syrup, cane syrup or honey, at room temperature
1/4 teaspoon fine sea salt
1/2 cup chopped, pitted dates
1/2 cup dried cherries
Instructions
Preheat the oven to 375°F. Line a large shallow baking sheet with foil. Spread the pecans and almonds on the sheet and roast for 8 to 10 minutes, until lightly toasted. Transfer the nuts to a board, let cool and chop the nuts. Set aside.
Reduce the oven temperature to 300°F. Pour the oats and sesame seeds in a mound on the same baking sheet. Melt the butter in a small bowl in the microwave; stir in the honey and salt and drizzle on top of the oats. Stir well with a rubber spatula and then spread out the oats in an even layer. Use a large flat spatula/turner to press the ingredients down, into a flat layer.
Bake the oats for about 30 minutes, until the oats are lightly colored, keeping a close eye on things. When you start to smell good things, they're probably close to done. Let cool; the mixture will crisp as it cools. Break the large "granola cookie" you've made into whatever size granola chunks you desire. Add the dates, dried cherries, and reserved nuts and toss.
Notes
•Store the granola in covered glass jars at room temperature for up to one month.
•Time saver: You could make two batches of granola by doubling the ingredients and using two baking sheets—one in the upper third and one in the lower third of the oven. I'd switch their places halfway through the cooking time, if you try this.
Recommended Products
As an Amazon Associate and member of other affiliate programs, I earn from qualifying purchases.
Nutrition Information:
Yield:
8
Serving Size:
1
Amount Per Serving:
Calories:

506
Total Fat:

28g
Saturated Fat:

9g
Trans Fat:

0g
Unsaturated Fat:

17g
Cholesterol:

30mg
Sodium:

118mg
Carbohydrates:

60g
Fiber:

8g
Sugar:

26g
Protein:

9g
Here's another great breakfast to share with company: my holiday breakfast casserole, with spinach and Gruyère.