This post contains links that, if you click on them and make a purchase, will earn me money. As an Amazon Associate, I earn from qualifying purchases. . Regardless, I only recommend products or services that I believe will be good for my readers. Thanks for helping me continue to produce great content!
You won't believe the flavor that the combination of soy sauce and butter bring to sautéed mushrooms in this vegetarian recipe for Luscious Mushrooms with Creamy Polenta! I made this dish for my husband and myself one night, and it was love at first bite! It was so good, in fact, that we immediately decided we had to invite friends over to share it with them. It's a perfect dish to warm you up on a chilly evening. Talk about comfort food!!!
Mushrooms are often used as a kind of "meat substitute" in vegetarian recipes, for the simple reason that they contain that fifth taste that's been identified, and labeled "umami". Umami is a Japanese word that means, literally, "delicious", and is best understood in English as a "pleasant savory taste". It's that flavor you taste in broths and meats. Scientists have identified that it comes from the amino acid glutamate.
Mushrooms are one vegetable that contain that umami flavor. The mushroom that contains the highest amount of umami is the dried shiitake mushroom, and you'll notice that that is one of the ingredients in this recipe. Soy sauce is a condiment that contains umami, and the addition of soy, even though it's only one tablespoon, is just enough to make the flavor of these mushrooms divine.
I'm telling you, it's alchemy! Flavor gold!
I found this recipe in the NY Times cooking section, but it's such a humble little recipe, it might easily be passed over. I'm sharing it with you, in hopes that you'll try it and love it as much as we do. If you're wanting to try to eat meatless a few more nights a week, don't pass this recipe up! I served it with my own creamy, cheesy polenta recipe, that you can make on either the stove top, or in a pressure cooker/instant pot. I LOVE my Instant Pot recipe for polenta! It's so EASY, and hands-off. Not a chance of a volcanic lava-induced burn, from the polenta sputtering as it simmers.
How the Luscious Mushrooms Are Made:
Here's how the Luscious Mushrooms are made.
Yield: 4 servings
Luscious Mushrooms with Creamy Polenta Recipe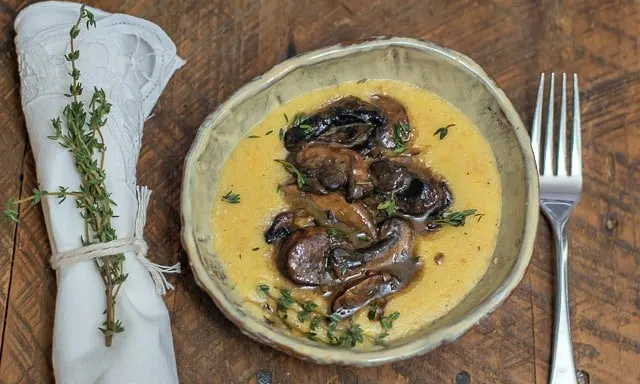 Luscious Mushrooms with Creamy Polenta is a delicious sautéed mushroom recipe, perfect as a vegetarian weeknight meal. The combination of soy, cream, and butter is magical!
Ingredients
1/2 oz. dried shiitake mushrooms
5 T. butter
1 clove garlic, peeled and minced
8 oz. fresh mushrooms, sliced
1 teaspoon fresh thyme leaves
1 tablespoon soy sauce
1 tablespoon heavy cream
freshly ground black pepper
Instructions
Break the dried mushrooms up into small, bite sized pieces. Put the dried mushrooms in a small glass measuring cup, and cover them with about 1/2 c. of boiling water. Allow them to steep for 20 minutes. Remove the mushrooms from the mushroom broth they've made, and pat them dry. RESERVE THE MUSHROOM BROTH! (You're going to use it!)
Melt 2 tablespoons of the butter in a sauté pan over high heat until it has melted. Add the garlic and cook until it starts to sizzle, about 30 seconds. (Don't let it brown).
Add the fresh AND reconstituted mushrooms and thyme to the pan. Sauté 3 to 4 minutes, turning until browned. Add about 1/4 c. of the mushroom broth to deglaze the pan. Use a wooden spoon to scrape up any browned bits from the bottom of the pan. Allow the broth to reduce by half, the turn the meat to medium-low. Add the remaining 3 tablespoons of butter, and then the soy sauce, and cream. Allow the mixture to cook until it thickens a little. Taste for seasoning, and add black pepper, if desired.
Spoon mushrooms over creamy, cheesy polenta, and sprinkle with some fresh thyme. Serve immediately.
Notes
The recipe for my Creamy Polenta, made in an Instant pot/pressure cooker, is here.
The recipe for making it on the stove top, is here.
I've put this recipe's cooking time at 1 hour, because I've included the time it takes to make the polenta. But the mushrooms are sautéed in a snap.
Recommended Products
As an Amazon Associate and member of other affiliate programs, I earn from qualifying purchases.