This post contains links that, if you click on them and make a purchase, will earn me money. As an Amazon Associate, I earn from qualifying purchases. . Regardless, I only recommend products or services that I believe will be good for my readers. Thanks for helping me continue to produce great content!
This recipe for Smoky Chipotle Barbecue and Bacon Baked Beans is so EASY, and so delicious, that I almost named them Susan's Magical Baked Beans. The amount of flavor that's in them IS magical, however, considering that so little effort is involved in making them.
How These Baked Beans Got Their Name
I didn't name them "Susan's Magical Beans" (a semi-veiled reference to Jack in the Beanstalk's Magical Beans) because I was afraid that someone might think I was referencing something else – that old poem of childhood: "Beans, beans, the magical fruit, the more you eat, the more you toot". Because, while that title pleased my inner 12 year old, I didn't want anyone to think this recipe might cause excess tootage. It doesn't.
Which is also why I didn't name them "NOT Blazing Saddles Baked Beans". So many younger readers might not get the old Mel Brooks' movie reference, from the famous campfire scene. These are NOT those beans.
But they ARE the beans you're looking for. (Star Wars reference.)
I stumbled across this recipe in a paperback cookbook that was sent to me "free", with my subscription to Southern Living Cookbooks. (And while I hate to be a whiner, just TRY to cancel an annual subscription to their cookbooks. They're better than the Columbia Record Club, of days gone by, or today's NSA at tracking people down. You almost have to die to get out continuing to get their annual cookbooks.) This cookbook was called Outdoor Cookbook. But I've never cooked these beans outdoors.
The Dish to Take When They Ask You to Bring a Side Dish to a BBQ
Still and all, these ARE "The Beans to Take When They Ask You To Bring a Side Dish to an Outdoor Potluck." (That's another name they almost got named. (And that's a reference to my famous "The Salad To Bring When They Ask You To Bring A Salad.)
In truth, I've changed this recipe so much through the years – it was originally called Barbecue Beans – but they never spend a second on the grill, and there's no barbecue sauce, per se, in them, that they do deserve to be called Susan's Baked Beans. But I wanted a name that would tell people immediately what flavors they could anticipate from this recipe.
The Ingredients of These Baked Beans Are Important
I always say that the most important aspect of becoming a really good cook, is starting with really excellent ingredients. So, I'm a little fussy about a couple or three ingredients. Don't skimp, and then whine to me that this recipe wasn't anything special. Start with the best, and you'll end up with the best.
The Baked Beans
Prepare to be shocked. I use canned beans in this recipe. I've used lots of varieties of baked beans, from store brands, to cooking my own dried navy beans, but I think you'll get the best result with Bush's Original Baked Beans. (Don't use any other variety, even of Bush's, because they're often too sweet, and when they assure you that there's bacon in there, well, let's just say it's an insufficient amount, and will be unsatisfying, and your result won't be the same. Pay attention now: what I just told you is an important tip!
The Bacon
I use my husband's home-cured bacon. Stop rolling your eyes. If you happen to have bacon you smoke yourself, pat yourself on the back and revel in your superiority. If you don't, buy the best bacon you can. I prefer Benton's above all, but that's TOO high off the hog for most of us. So, when I want a regular grocery store high quality bacon, I buy Wright's thick sliced. Look, they're not sponsoring this post…nor is Bush's, come to think of it. But they should. Both of them. Wright's makes a highly respectable bacon, and when it's on sale, it's worth snagging some.
The Smoky Chipotle Chile Powder
The original recipe called for run of the mill chile powder, and while, it's OK, the Smoky Chipotle Chile Powder is sublime. So find some, and buy it. It packs some heat, more than your average chile powder, so don't say I didn't warn you. If you can't find that, you could get the same heat/flavor by mincing up a canned chipotle pepper in adobo sauce, and adding that, or, I suppose, from adding several drops of Tabasco Chipotle Pepper Sauce. So…there's some wiggle room for substitution in this ingredient, I think. But the smoky flavor of the beans is a big part of what makes them unique, so don't miss out on it.
The Recipe For Smoky Chipotle BBQ & Bacon Baked Beans
Yield: 8 servings
Smoky Chipotle Barbecue & Bacon Baked Beans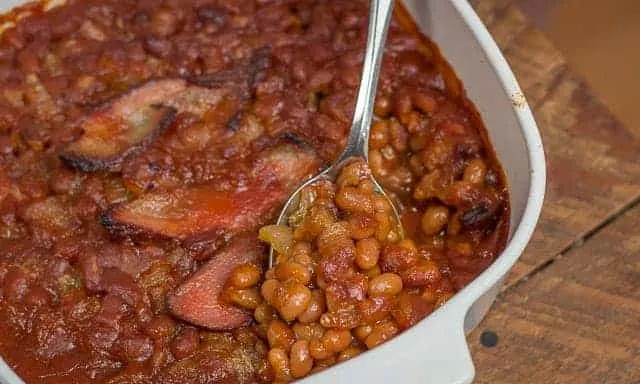 Magically delicious, with minimal effort, these baked beans pack a huge flavor punch. They're the best baked beans I've ever had.
Total Time
1 hour
15 minutes
Ingredients
4 slices of thick sliced bacon, sliced in half
1 medium onion, chopped
1 (1 lb. 12 oz.) can Bush's Original Baked Beans
1/4 c. catsup
1/2 t. chipotle chile powder
1/2 t. dried mustard
1/2 t. garlic powder
Instructions
Preheat the oven to 350º.
Sauté the half strips of bacon until most of the fat is rendered, but it's not yet crunchy. Drain on paper towels.
Sauté the chopped onion in the rendered bacon fat.
While the onions are becoming translucent, chop up 2 of the slices of bacon, into roughly half inch pieces.
Reserve the rest of the bacon, to lay on top of the beans.
In a baking dish, empty the can of beans, the catsup, the chile powder, dried mustard and garlic powder. When the onions are translucent, add them, and all that yummy bacon fat, and the chopped up bacon. Stir. When everything is well incorporated, lay the remaining 4 half strips of bacon on top, for garnish, and bake for 1 hour.
Recommended Products
As an Amazon Associate and member of other affiliate programs, I earn from qualifying purchases.
Nutrition Information:
Yield:
8 servings
Serving Size:
1
Amount Per Serving:
Calories:

39
Total Fat:

1g
Saturated Fat:

0g
Trans Fat:

0g
Unsaturated Fat:

0g
Cholesterol:

1mg
Sodium:

166mg
Carbohydrates:

7g
Fiber:

1g
Sugar:

4g
Protein:

2g
Do me a favor and share, share, share this recipe! Pinterest is an excellent place to store recipes I want to try, I've found. Well, really, do yourself, and your family and friends a favor. Because these beans are luscious, and I don't want you to miss out!
Other Dishes that Would Be Great at a BBQ
Whether you're hosting, or attending somene else's get together, here are some dishes I LOVE that would be great at a potluck or a BBQ.