This post contains links that, if you click on them and make a purchase, will earn me money. Regardless, I only recommend products or services that I believe will be good for my readers. Thanks for helping me continue to produce great content!
Fried Green Tomato: Appetizer, or Sandwich?
There's nothing that's more classically southern, than a fried green tomato. Fried green tomatoes are delicious all by themselves, but they get even yummier served with a delicious remoulade dipping sauce. They're good as a side dish, or even as an appetizer.
But, if you're feeling slightly adventurous, why not try them in a sandwich? How about a Fried Green Tomato BLT recipe that I found here?
So, in effect, this recipe is actually three recipes, and you can stop at any point you'd like.The fried green tomatoes are great, all by themselves. The remoulade sauce makes them even better. The sandwich turns the tomato slices and remoulade sauce into a delicious meal.
Green Tomatoes are Just Unripened Tomatoes
Fried green tomatoes are a southern tradition that has gained popularity as an appetizer in restaurants, but really, the idea probably came about because one September, when the days were growing shorter, and the tomato plants were shutting down for the season, someone noticed the last of the tomatoes were still green. Necessity being the mother of invention, that frugal cook sliced those unripened hard green orbs, dipped them in flour, egg, and cornmeal or breadcrumbs, and fried them up. Everyone remembered the treat the following year, and picked those tomatoes early, on purpose. And thus, a tradition was born.
If you've ever wanted to try the Southern specialty known as Fried Green Tomatoes, please, you don't want to miss this recipe! Pin it to Pinterest, or share it on Facebook with someone you love, who'll fix them for you!!! If you're interested in some other summer sandwiches, I've got you covered!
You might want to try the amazingly beautiful and delicious Grilled Eggplant, Red Pepper and Fresh Mozzarella on Ciabatta . But there's also my Grown-Up Grilled Cheese. It's not to be missed, with brie, and apple butter, for crying out loud!
The Recipe for a Fried Green Tomato BLT Sandwich
Yield: 4 servings
Fried Green Tomato BLT Sandwich Recipe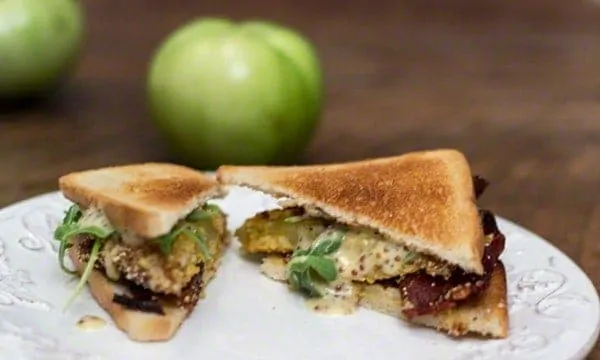 3 Recipes in 1! A recipe for Fried Green Tomatoes, a delicious Spicy Remoulade, and a Fried Green Tomato BLT Sandwich.
Ingredients
For the Fried Green Tomatoes:
. 4 tomatoes, sliced 1/4" thick
. sea salt and freshly ground black pepper
. 3/4 c. all purpose flour
. 1 T. garlic powder
. 4 eggs
. 2 T. milk
. 1 1/2 c. cornmeal
. pinch of cayenne pepper
. 1/2 t. smoked paprika
. canola oil for frying (1/2" deep in your skillet)
Ingredients for the Remoulade Sauce
. 1 c. mayonnaise
. 1/2 t. chipotle chile powder
. 1 T. stoneground mustard
. 1 T. lemon juice
. 1/2 t. freshly chopped chives
Ingredients for the Sandwich
. 8 slices of sandwich bread, toasted
. arugula
. 8 slices of bacon, cooked until crisp
. Fried Green Tomatoes
. Remoulade Sauce
Instructions
For the Remoulade Sauce:
Make it first, to give the flavors time to meld. Combine all remoulade ingredients, and allow it to chill in the refrigerator, until the sandwiches are ready to be assembled.
For the Fried Green Tomatoes:
Season the tomatoes with salt and pepper, and set them on a rack over a baking sheet. This will give the salt several minutes to draw out any excess liquid from the tomatoes before you fry them.
You will need 3 separate shallow bowls to set up your frying station.
In the first bowl, mix the flour with the garlic powder.
In the second bowl, lightly beat the eggs with the milk.
In the third bowl, mix the cornmeal with the cayenne and smoked paprika.
Set up your bowls in this order: first, the bowl of flour. Second, the egg wash. Third, the seasoned cornmeal.
Dredge each tomato slice through the flour mixture, then through the egg mixture, and finally through the cornmeal mixture.
Heat oil in a skillet until it shimmers.
Add only a few slices of battered tomatoes at a time into the skillet of canola oil. Cook for approximately 2 - 3 minutes per side.
Drain on paper towels.
To Assemble Sandwiches
Spread each side of toast with remoulade sauce. Top one side with tomatoes, a few strips of bacon, and some arugula.

Recommended Products
As an Amazon Associate and member of other affiliate programs, I earn from qualifying purchases.
Nutrition Information:
Yield:
4
Serving Size:
1
Amount Per Serving:
Calories:

1171
Total Fat:

70g
Saturated Fat:

13g
Trans Fat:

0g
Unsaturated Fat:

54g
Cholesterol:

235mg
Sodium:

1506mg
Carbohydrates:

106g
Fiber:

9g
Sugar:

9g
Protein:

31g