This post contains links that, if you click on them and make a purchase, will earn me money. As an Amazon Associate, I earn from qualifying purchases. . Regardless, I only recommend products or services that I believe will be good for my readers. Thanks for helping me continue to produce great content!
Spicy Pasta Salad with Smoked Gouda, Tomatoes and Basil is the perfect side dish for almost anything you're grilling!
Recipes for Grill Week
Welcome back to Grill Week in the Boonies. I have another fantastic side dish, Spicy Pasta Salad with Smoked Gouda, Tomatoes, and Basil that I've discovered this summer, that I think you are REALLY going to love.
I have gained a newfound admiration for The Pioneer Woman's recipes, ever since I tried her Grilled Corn Guacamole. So around Memorial Day, I was reading her blog, and saw that she was planning to serve this Spicy Pasta Salad with her Memorial Day picnic, along with the Grilled Corn Guacamole, because she considered them to be some of the best of the best of her picnic recipes. This perked my ears up, and I called my husband who was in town, and asked him to pick up some Smoked Gouda at the store: the rest of the ingredients, I already had.
The secret to this recipe, in my opinion, the thing that makes it so stinking good, is the smoky flavor that comes from the chipotle pepper in adobo sauce, and the smoky creaminess that comes from the Smoked Gouda. DO NOT CHEAT ON THESE INGREDIENTS by substituting other things. But let me give you a tip, or two, (or four) from my experience, after making this recipe (to rave reviews!) a couple of times.
Tips to Make Spicy Pasta Salad Even Easier and More Delicious:
Tip One: Smokiness is What Makes This Pasta Salad Different From All Other Pasta Salads
Buy some pre-sliced Smoked Gouda from Trader Joe's, if you have a TJ's near you. It will save you a little slicing time. I tried it both ways: from a chunk (this was Boar's Head Smoked Gouda, purchased from the deli at Kroger), and from the package of pre-sliced Smoked Gouda, purchased from Trader Joe's). I expected to like the chunk of Boar's Head cheese that I diced myself, better. But, surprisingly to me, the Trader Joe's cheese had a better flavor AND was more convenient. Win-Win!
Trivia: did you know that Gouda, which is a Dutch cheese, is actually pronounced "Howda" – with the "H" being kind of a guttural "H", in the back of the throat? True! I learned that in the Netherlands! Don't expect many people in the US to know that, however, especially not the guy working at the Kroger Deli.
Tip Two: Be Generous with the Dressing.
Creamy is better. Don't skimp on the dressing. My first batch had more dressing on it per noodle, because I measured 12 ounces of macaroni. It was "wetter", and we liked it better. My second batch, I went ahead and cooked the whole box of elbow macaroni (a box usually has 1 pound, or 16 oz. of pasta: that's 1/3 again as much pasta). There was a noticeable difference. The salad was much dryer, and that wasn't deemed a good thing, by any of us. So pay attention to how much pasta you're using.
Tip Three: What to Do With Those Leftover Chipotle Peppers
If you buy a can of chipotle peppers in adobo sauce (they're usually found in the Mexican food section of grocery stores), you can spread out a sheet of parchment paper on a cookie sheet, lay the peppers you WON'T be using in this recipe on the parchment paper so that they don't touch, and freeze the pan for an hour or two, and then pop the frozen peppers in a Ziplock in the freezer, and you will always have that wonderful smoky flavor available to you to pop in a soup or whatever recipe needs a little smoky heat. They're easy to chop up, too, when they're mostly frozen, so you don't really need to thaw them, either.
Tip Four: You Can Always Add More Chipotle If You Need To, But You Can't Take it Out Once It's In There
The more seeds in your chipotle pepper, the more heat will be in your dish. So, if you are a heat weenie, you might want to scrape out a few of the chipotle pepper's seeds when you are chopping it up. Our second batch of pasta salad had a little too much heat, because the pepper I chopped up for that batch was really large. So think about that as you're preparing the dressing. You can always add in more heat if there's not enough, but it's harder to take out the heat once it's in there. You'd have to add a lot more mayo and milk to compensate.
Here's the recipe, I've modified it only slightly. The Pioneer Woman's recipe called for Mostaccioli, which is a pasta that looks like little penne noodles. I didn't have any, so I used elbow macaroni. You really can use whatever type you have, as long as you keep the weight of the pasta proportionate.
I did make a vow to myself to keep this recipe close at hand, for grilling out all summer long, because it is a WINNER of a recipe!
Bon appétit!
Bon appétit!
Be a doll, and pin this on Pinterest, so you'll have it when you need it!
The Recipe for Pioneer Woman's
Spicy Pasta Salad with Smoked Gouda, Tomatoes, and Basil
Yield: 6 servings
Pioneer Woman's Spicy Pasta Salad with Smoked Gouda, Tomatoes and Basil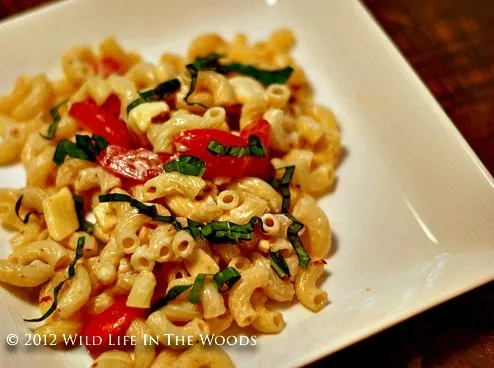 Spicy Pasta Salad with Smoked Gouda, Tomatoes and Basil is the perfect side dish for anything you're grilling!
Total Time
2 hours
25 minutes
Ingredients
12 ounces of elbow macaroni
1/2 c. mayonnaise
1/4 c. milk
4 tablespoons white vinegar
1 minced chipotle pepper in adobo sauce
1/2 teaspoon salt
Freshly ground black pepper, to taste
10 oz. grape tomatoes, halved
1/2 c. diced Smoked Gouda cheese
24 whole basil leaves, chiffonaded (stacked on top of each other, rolled up, and sliced thinly)
Instructions
Cook pasta in a big kettle of boiling, salted water (salty like the ocean) for the minutes specified on the package. Drain and rinse in cold water until no longer hot. Set aside
Mix mayonnaise, milk, vinegar, salt, pepper, and chopped adobo in a small bowl.
In a large bowl, stir together pasta, dressing, halved tomatoes, and cubed Gouda. Taste for seasoning, and adjust. Stir in the basil at the end.
Refrigerate for a couple of hours before serving.


Notes
I think this would be even prettier and more flavorful if you added in some chopped red onion and some chopped orange bell pepper.
Recommended Products
As an Amazon Associate and member of other affiliate programs, I earn from qualifying purchases.
Nutrition Information:
Yield:
6
Serving Size:
1
Amount Per Serving:
Calories:

265
Total Fat:

17g
Saturated Fat:

4g
Trans Fat:

0g
Unsaturated Fat:

13g
Cholesterol:

19mg
Sodium:

380mg
Carbohydrates:

21g
Fiber:

2g
Sugar:

2g
Protein:

7g
What do you like to serve as a side when you grill out?