This post contains links that, if you click on them and make a purchase, will earn me money. Regardless, I only recommend products or services that I believe will be good for my readers. Thanks for helping me continue to produce great content!
During the winter months, although we don't pick up a vegetable share from our CSA at the Farmer's Market, we still go there anyway, just to pick up some Wild Alaskan Salmon fillets, and salmon burger. We've discovered that the salmon our provider labels as salmon "burger" (which is not ground, but actually composed of large-ish chunks of salmon, packaged together) makes one of our most favorite meals: Wild Salmon Burgers with Lemon and Capers.
As yummy as I knew these burgers would be, I decided to try to come up with a condiment that would make them extraordinarily delicious. I didn't want a plain old tartar sauce: frankly, I don't even care for most tartar sauces I've tasted. Maybe that's because a lot of them come straight out of a jar.
I do like remoulade, but a remoulade can be *too* flavor heavy, and I didn't want to overwhelm the delicate flavor of the wild salmon itself.
Is Wild Salmon Better Than Farm Raised Salmon?
Speaking of the flavor of the salmon, I'm going to make one slight digression here, to say that while you *can* use farm raised salmon for this recipe, I just can't imagine why you'd settle for that. Farm raised salmon is OK if that's all that's left in this world, but the difference between the taste of farm-raised salmon and WILD caught salmon is like the difference between a black and white movie, and one that suddenly becomes TECHNICOLOR: like when Dorothy lands in Oz. The flavor is so much more vibrant.
Heavens, you can tell just by looking at the bright color of wild salmon that those fish were HAPPIER when they were alive. (Or at least, they were in my imagination.) So, if you haven't sprung your wallet open wide enough to try wild salmon before, this is the time to lever that sucker open, and pay the piper. (Or the fishmonger.) Believe me, you'll be writing me a letter of thanks! It's worth it. And in this recipe, the panko and the shallots make that meat stretch a little further. So, TRY WILD SALMON! (And they're not even paying me to say this: it's just what I KNOW to be true!)
What Kind of Topping Goes Best on a Salmon Burger?
Anyway, back to the mayo, I love the flavor of toasted sesame oil, but a little bit goes a long way. So I mixed a teaspoon of that into some mayo, added some finely minced garlic, some parsley for freshness, and I thought maybe some chives or green onions would add even more flavor that I'd like. And voilà, that mayo was spectacular! It was the perfect touch for the top of the wild salmon burger.
The Recipe for Wild Salmon Burgers with Lemon, Capers, and Toasted Sesame Mayonnaise
Yield: 4 burgers
Wild Salmon Burgers with Lemon, Capers, and Toasted Sesame Mayonnaise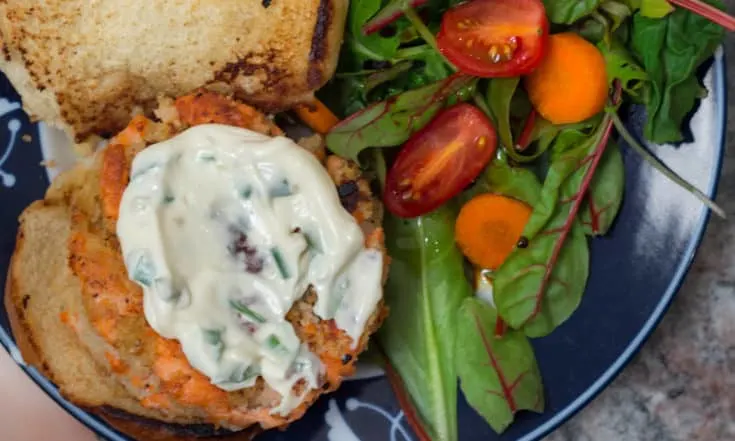 This is one of my favorite ways to eat salmon. My mouth has completely filled with saliva just writing this recipe. Salmon "burger" is like big chunks of salmon too good to not sell, but too small for a "steak".
Ingredients
5 tablespoons (or more) olive oil
1/2 cup chopped shallots (about 3 large)
1/2 cup dry white wine
1/4 cup fresh lemon juice
2 T. capers, drained
1 1/2 pounds chilled salmon "burger"
1 1/2 cups panko
1 large egg, beaten to blend
2 T. chopped fresh parsley
1 t. teaspoons sea salt
1/2 teaspoon freshly ground black pepper
6 hamburger buns, split, lightly buttered, toasted
Toasted Sesame Mayonnaise:
1/2 c. mayonnaise
1 t. toasted sesame oil
1 clove finely minced garlic
1/4 cup chopped fresh parsley
1 chopped green onion
Instructions
Heat 4 tablespoons olive oil in heavy medium skillet over medium heat. Add shallots and sauté until translucent, about 3 minutes. Increase heat to medium-high. Add white wine, lemon juice and drained capers and cook until almost all liquid evaporates, about 12 minutes. Transfer shallot mixture to large bowl. Refrigerate until shallot mixture is well chilled.
While shallot mixture is chilling, make the toasted sesame mayonnaise. Combine mayonnaise, toasted sesame oil, minced garlic, parsley, and chopped green onion. Refrigerate. This will allow flavors to mingle.
Add ground salmon to cooled shallot mixture. Mix in panko, beaten eggs, sea salt and freshly ground pepper. Form salmon mixture into 6 patties, dividing equally. (Patties can be made ahead and chilled for a few hours, if that will help your schedule.)
Heat 1 tablespoon olive oil in heavy large skillet over medium-high heat. Working in batches, add salmon patties to skillet and cook until patties are golden brown and cooked through, about 2 minutes per side, adding more oil to skillet as needed. Serve salmon burgers on toasted hamburger buns with toasted sesame mayonnaise.
Recommended Products
As an Amazon Associate and member of other affiliate programs, I earn from qualifying purchases.
I have other recipes for salmon, because we have such a great source for salmon, and because it's probably one of the healthiest foods on the planet. We like to have it at least a couple of times a month. If you'd like to check some of them out, try this one for Wild Salmon with Charred Scallion Sauce. Also delicious, and a little more relaxed, are my quick and easy Salmon Fish Tacos with Spicy Slaw.
Believe it or not, whenever the kids are going to be gone, this has become our "Date Night" meal: we love it that much! I haven't had a better burger anywhere in Nashville: no lie! I hope you'll share this recipe on Facebook, or tweet it on Twitter, or pin it on Pinterest, or stumble it on Stumble Upon. This burger is too good to keep to yourself!