This post contains links that, if you click on them and make a purchase, will earn me money. Regardless, I only recommend products or services that I believe will be good for my readers. Thanks for helping me continue to produce great content!
Raspberry Shortbread Cookies are the cookies that won me the title of Cookie Contest Queen. And you'll find, at the bottom of this post, the recipe for the amazing Raspberry Shortbread Cookie: it's the cookie my family demands, year after year.
An Embarrassing Story Involving These Christmas Cookies
I can't believe I haven't told this story on myself yet.
No, honestly, I really can't believe it.
For today's post, I will once again take off the mask, and reveal a bit more about the depths of my own depravity. Whatever. You might as well know. It's not like most of you haven't figured it out, anyway. I occasionally struggle a wee bit with the whole pride issue. (Please, if you know me, STOP clutching your guts and laughing hysterically. I am gifted and talented in the art of understatement. I know this.)
But I make mention of this character deficit in myself with the almost certain knowledge that most of you share my struggle. So with that tiny, tattered bit of consolation, I attempt to comfort myself.
How Raspberry Shortbread Cookies Made Me Cookie Queen
It all started when my dear husband, the Big Bison, drug me out here to the Boonies to live amongst the wildlife about 4 years ago. We were kinda diggin' the idea of small town life, and so when we saw in our teeny local newspaper that there would be a cookie contest in conjunction with the lighting of the Christmas tree at the local library, we thought, "What fun! We can join in with the citizens of our new small town home town, and welcome in the holiday season!!!"
Now, I've won a pie contest or two or three in my time, and so obviously, I know how to work my oven. So, I thought, "Maybe I should bake cookies, and see how I fare in this contest! It's bound to be a fairly small pool of contestants. I might stand a chance of winning or placing, and it would be a fun way to meet some neighbors, too." So, I baked my cookies the morning of the contest, rushed them the 15 minute drive down the hill to town and dropped them off by the 3:00 PM deadline.
While dropping them off, I took a look at the cookies dropped off by another contestant. These cookies looked like they were straight out of a bakery. Perfect in every detail, and expertly decorated. Mine tasted good, I knew, but I wasn't sure they had the visual appeal of these other beautiful cookies. It might come down to taste vs. appearance, and if hers tasted as good as they looked, I was a sure loser, I thought. Wondering what my chances might actually be, I drove up the hill to fix dinner for my family. The lighting of the tree ceremony started at 7:00 that night, and it was my understanding that it would be accompanied by the community choir singing carols, and the announcement of the winner of the cookie contest.
It was a miserably cold and drizzly night, and we drove down the hill for the event, but arrived about 7:05. The Charlie Brown Christmas tree in front of our little bitty log cabin of a library stood shivering in the cold, wet mist, already lit, so we had missed the tree lighting portion of the evening's festivities….bummer. But I mean, really, it was kind of a sad little tree, so there wasn't much "Wow" factor involved in the loss of watching a string of lights get plugged in.
All the folks who had turned out for the event, (my guess would be around a hundred or a hundred and fifty) were huddled on the porch of the log cabin library, blowing smoke from their noses and mouths and feeling their hair frizz or flatten, depending on their own hair issues. The choir was finishing, "We Wish You a Merry Christmas", so it seemed to me that this had been a pretty much "take no prisoners" kind of ceremony. It was all over except the cookie munchin', in other words, and people were lining up to do just that.
They invited the crowd to line up and partake from the platters of cookies on the tables on the porch, and everyone was filling their plates and napkins as fast as they could. Because we were at the end of the line, all my cookies were long gone by the time my kids got there, but that was OK, I could make more at home. Still, no one was saying anything about who had won the contest. I ran into a neighbor I knew who greeted me warmly and said how glad she was that I had come for the little party. I thanked her, and asked her, "Um…have they already announced who won the cookie contest?" She nodded and said yes, she believed they had, but she hadn't heard the name. I asked her if she would mind going inside and asking the librarian who had won, and she said, "Sure! No problem! Hang on just a minute!" She made her way through the cookie crunching crowd, and into the library, where I saw her lean over the desk and speak to the librarian. She turned around, looked for me, and raised both arms in a victory salute, like Richard Nixon leaving Washington, D.C. for the last time before boarding Air Force One after the Watergate debacle. (This simile was chosen for foreshadowing purposes, and to instill a dread feeling of foreboding. Remember that.)
Yes, indeed. I had won the contest. I was the reigning Cookie Queen of my little 'burg. My body clothed itself in chill bumps. The individual hairs of my remarkably frizzy head of hair (it was unbelievably misty and wet outside) puffed themselves up a little bit more, in follicular pride. I straightened my spine, (since I couldn't at that moment straighten my hair) and said, "Well! I won the cookie contest!" and wrapped myself in the joyous deliciousness of the moment.
But wait…there's more….
We had errands to run in town that night, and so we hurried on our way. The next morning, the phone rang, and it was the librarian: "Susan! I was wondering if you would like to come down to the library and pick up your prize? We have a couple of things for you to choose from." "OK! Sure! I can come right down!" I responded.
"Hunh…"I thought, as I got ready to leave and drive to the library. "A couple of things to choose from. That's odd. Oh, well. Who knew there was a prize??? How fun is that!"
I entered the library and began to chat with the librarian. She said, "Congratulations, and welcome to —–ville!" (our town's name). I thanked her, and laughed and said, "Wow! Is this some kind of joke you play on new people who move to your town to help us feel welcome?" She smiled at me, a kind of funny little smile, and said, "You know, you get your name put on this plaque that hangs here in the library." And I thought, whoa! How cool is that!!! I'm immortalized for posterity someplace! And then I said, "You know, I saw that other beautiful platter of cookies when I walked in, and I really wasn't sure my cookies could compete with cookies as nice as those."
"Oh, yes," she said. "Those would be Mary Jo's." (The names have been changed here to protect the talented, but you get my drift.) "Yes, she has won the contest every year for five or six years now." My chest, at this point, continues to swell with pride, as she continued her story. "Yes, she has won so many years in a row, that everyone else has dropped out – no one else even enters the contest anymore. But Mary Jo started working at the library this year, so she recused herself from participating."
Silence fell in the room, as I began to consider the implications of what she was saying, combined with the somewhat surprising fact that I had been offered a choice of prizes.
"So…..are you saying that I am the only person who entered the contest???"
She smiled brightly at me, and nodded her head.
That sucking sound you hear is the wind, being sucked out of my ego's sails.
And on that note…
The AWARD WINNING RECIPE for Raspberry Shortbread Cookies
This recipe comes from the 1999 edition of the Southern Living Cookbook, and despite my story, it really is a winner.
P.S. Two years later, I decided to enter the contest again. And THAT time, from a whole host of other participants, I won again. My name is now inscribed TWICE for posterity on the —–ville library Cookie Contest Plaque. Victory is mine!!!!!
Yield: 72 cookies
Raspberry Shortbread Cookies: The Recipe that Made Me the Cookie Contest Queen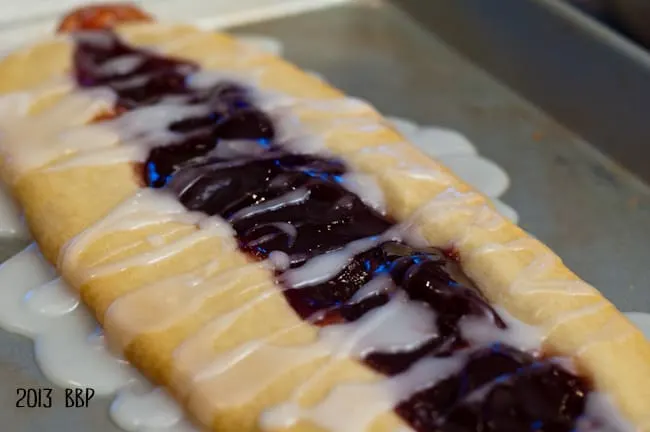 The cookie that is so amazing, my family demands it, year after year. The cookie so amazing, it gave me the VAUNTED TITLE of Cookie Contest Queen.
Ingredients
1 cup butter, softened
2/3 cup sugar
2 1/2 cups all-purpose flour
1 (10-ounce) jar seedless raspberry jam, divided
1 1/2 cups powdered sugar
3 1/2 tablespoons water
1/2 teaspoon almond extract
Instructions
Beat butter and sugar at medium speed with an electric mixer until light and fluffy. Gradually add flour, beating at low speed until blended. Divide dough into 6 equal portions; roll each portion into a 12- x 1-inch strip. Place strips on lightly greased baking sheets.
Make a 1/2-inch-wide by 1/4-inch-deep indentation down center of each strip using the handle of a wooden spoon. Spoon half of jam evenly into indentations.
Bake at 350° for 15 minutes. Remove from oven; spoon remaining jam into indentations. Bake 5 more minutes or until lightly browned.
Whisk together powdered sugar, water, and extract; drizzle over warm shortbread. Cut each strip diagonally into 1-inch slices. Cool in pans on wire racks.


Recommended Products
As an Amazon Associate and member of other affiliate programs, I earn from qualifying purchases.
Nutrition Information:
Yield:
36
Serving Size:
1
Amount Per Serving:
Calories:

111
Total Fat:

5g
Saturated Fat:

3g
Trans Fat:

0g
Unsaturated Fat:

2g
Cholesterol:

14mg
Sodium:

41mg
Carbohydrates:

15g
Fiber:

0g
Sugar:

8g
Protein:

1g
I have some other cookie recipes that are just marvelous! So be sure and check out the
Browned Butter Dark Brown Sugar Cookies,
as well as the
Curry Coriander Shortbread
. And for the chocolate lovers among us, my
Frosted Malt Chocolate Cookies with Sea Salt
cookies are devastatingly dark and wonderful. You won't be sorry!
Cookies I Have Loved
Each one a winner! You've got to try making at LEAST one of these!!!