This post contains links that, if you click on them and make a purchase, will earn me money. Regardless, I only recommend products or services that I believe will be good for my readers. Thanks for helping me continue to produce great content!
The original recipe for these Chocolate Peanut Butter Oatmeal No-Bake Cookies has morphed over time, at my house, to the point that I feel they need a new name: Kitty Krap Cookies. As much as I'd like to take credit for this brilliant and enticing moniker, I can't.
Where Did They Get Their Tasteful Name?
I have been eating these and making these since I was a little girl. Once, I made them at my girlfriend George's house when we were in junior high. Her family adored them, but behind my back, they secretly renamed them Kitty Crap Cookies, due to their lovely, enticing/offputting appearance.
The name stuck. Because who can resist saying Kitty Crap Cookies???
Why My Recipe Is the BEST!!!
The first ingredient change I made to the original recipe was to make them with crunchy peanut butter, because that was all we had. And wouldn't you know it? I decided that crunch of the crunchy peanut butter added texture that I LIKED!
The second ingredient change happened when I noticed a new brand of cocoa at the grocery store: Hershey's Cocoa makes a Special Dark Cocoa, that really is deeper in color and is 100% cacao. I love the dark, intense chocolate flavor it brings. It's definitely better, in my opinion, than their regular cocoa.
One other ingredient note: by all means, us Old Fashioned Oats, rather than quick oats, if possible. Again, this is a texture issue. Old Fashioned Oats are larger – Quick Oats have been cut into smaller pieces, which makes them cook faster, if you're having oatmeal. The crunchy texture of Old Fashioned Oats makes for a more satisfying chew.
These three ingredient notes make a huge difference in the flavor and texture of this delicious Chocolate Peanut Butter No-Bake Cookie.
Best "I NEED SOMETHING SWEET…NOW!!!" Dessert, Ever
With a name like No-Bake Cookies, you probably suspected they'd be fast. I can be eating warm, chocolatey lusciousness in 15 minutes with these things, baby! And they're LUSCIOUS!!! So satisfying. And with peanut butter and oatmeal in them, you're perfectly justified in telling yourself they're almost healthy. Because they ARE….almost….
An Important Cooking Tip:
This tip is in regard to the cooking instructions, which say to boil them for one minute. I've made these so many times, that I've occasionally boiled them for less time than I should have, even though I always set the timer for one minute once the mixture starts to boil.
Here is the mistake I've occasionally made that YOU should avoid: Set that timer for one minute once the mixture has SINCERELY come to a boil. A few bubbles around the edge of the pan is not a sincere boil. It is only flirting with being a boil. You need to see bubbles all over the surface of the mixture. (If not, your cookies will be too runny. They won't thicken properly.)
How to Make Kitty Krap Cookies, Illustrated:
The Recipe for Kitty Krap Cookies: (Chocolate Peanut Butter No-Bake Cookies)
Yield: 18 cookies
Kitty Krap Cookies: Chocolate Peanut Butter Oatmeal No-Bake Cookies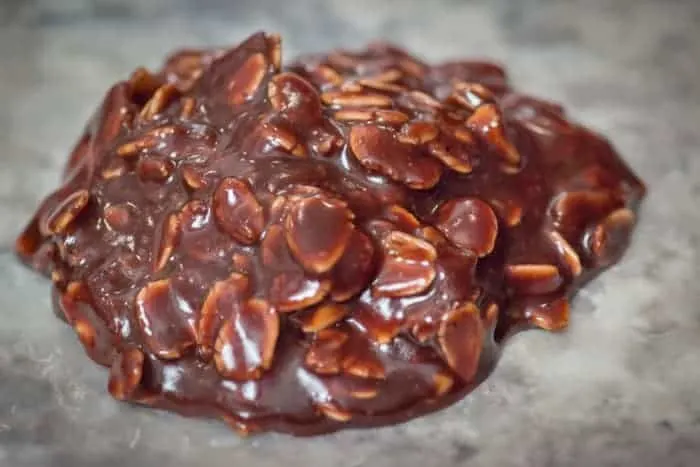 Kitty Krap Cookies are Chocolate Peanut Butter Oatmeal No-Bake Cookies, for when I need something sweet, and I need it NOW! DELICIOUS!
Additional Time
5 minutes
Ingredients
2 cups sugar
1/4 cup Hershey's Special Dark Cocoa
1/4 cup butter
1/2 cup milk
3/4 cup Crunchy Peanut Butter
2 1/2 cups of Old Fashioned Oats (uncooked)
2 teaspoons vanilla extract
Instructions
Whisk together sugar and cocoa in a heavy sauce pan. Add butter and milk, and cook over medium heat, stirring, until mixture comes to a boil.
Boil for one minute.
Remove from heat and stir in peanut butter, vanilla, and oats.
Drop dough by cookie scoops onto waxed paper. Allow to cool.
Notes
Be sure the mixture comes to a full boil before you start the one minute timer.
Recommended Products
As an Amazon Associate and member of other affiliate programs, I earn from qualifying purchases.
Nutrition Information:
Yield:
18
Serving Size:
1
Amount Per Serving:
Calories:

238
Total Fat:

10g
Saturated Fat:

3g
Trans Fat:

0g
Unsaturated Fat:

6g
Cholesterol:

8mg
Sodium:

78mg
Carbohydrates:

35g
Fiber:

2g
Sugar:

25g
Protein:

5g
I have LOTS more favorite cookie recipes, like my
Browned Butter Dark Brown Sugar
Cookies, and my
Glazed Raspberry Shortbread Cookies
. You can check some of them out below.
Cookies I Have Loved
Each one a winner! You've got to try making at LEAST one of these!!!