This post contains links that, if you click on them and make a purchase, will earn me money. Regardless, I only recommend products or services that I believe will be good for my readers. Thanks for helping me continue to produce great content!
Sheet Pan Baked Feta with Baby Broccoli, Tomatoes and Lemon is an easy weeknight meal, that also just happens to be a Sheet Pan Dinner. Sheet Pan Meals are terribly convenient, and super non-intimidating. A Sheet Pan recipe means you can throw all your ingredients onto a baking sheet, throw them in the oven, and dinner will emerge. That's pretty close to magic, right there!
Sheet Pan Meals Are So Easy!
I love the ease of a sheet pan meal! Once you've prepped the ingredients, everything gets assembled on one sheet pan, and then you allow the oven to do the rest of the work. (That's why I like frying bacon in my oven, also. Put it in, take it out. Done.) It's easy to see why they're so popular.
But it can be tricky doing a Sheet Pan Meal*well*. It's important to choose vegetables that will require approximately the same amount of cooking time. The second time I tried this recipe, I added in some mushrooms to the original recipe. I was disappointed with my result. I'm pretty sure to have gotten the results I wanted, I would have needed to roast the mushrooms by themselves a bit first, and then add in the other ingredients. I wanted my mushrooms crispier like they were in this recipe for Oven Baked Risotto with Crispy Mushrooms. Live and learn!
For Sheet Pan Baked Feta, You Need a Block of Feta
I use feta cheese quite often when I cook. For example, I love it in my Shamefully Easy and Delicious Coleslaw. (That's a recipe you don't want to miss!) But I was intrigued when I saw a recipe for roasted feta in the New York Times.
Most often, when I've used feta in the past, I've bought it already crumbled. So I had to look in the cheese case for a block of feta. It really wasn't too hard to find, and if your store has a reasonably well stocked cheese selection, you won't have a problem, either. Feta cheese is made from sheep's milk, just in case that helps you in your search.
Feta is a soft, slightly dry, tangy, salty cheese. It's salty, because it's been brined. When you buy it in a block, and roast it, it *almost* becomes creamy. It definitely softens, and becomes creamier than just regular feta. And that softened feta makes the roasted baby broccoli, tomatoes, lemons and sweet purple onions just luscious!
Since feta is a Greek cheese, I thought using oregano, an herb that is also common in Greek cuisine, along with roasted lemon and olive oil, would go nicely. And it did!
What is Orzo, and What Could I Substitute for It?
Orzo is a pasta that is rice shaped, and it cooks in a flash. It was delicious served underneath this sheet pan of roasted veggies and feta. But the first night I tried the recipe, I served it with angel hair pasta, and I enjoyed that even more than the orzo. You could use any type of spaghetti noodle. Farro would be delicious as well. It's an ancient grain with a nutty flavor, that I think you'd enjoy.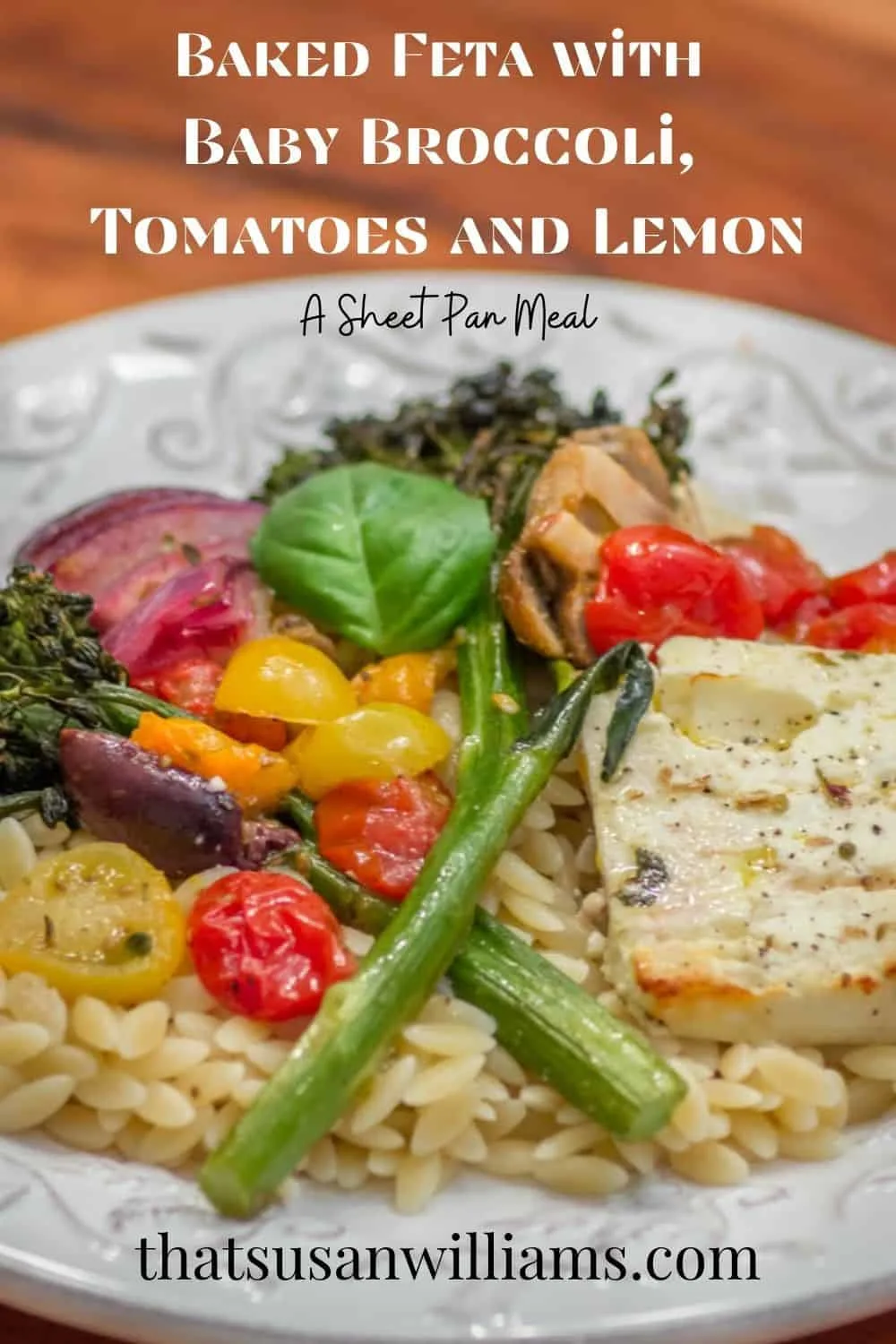 Please, pin this on Pinterest so you know where to find it when you're ready to try it.
Yield: 4 servings
Sheet Pan Baked Feta with Baby Broccoli, Tomatoes, and Lemon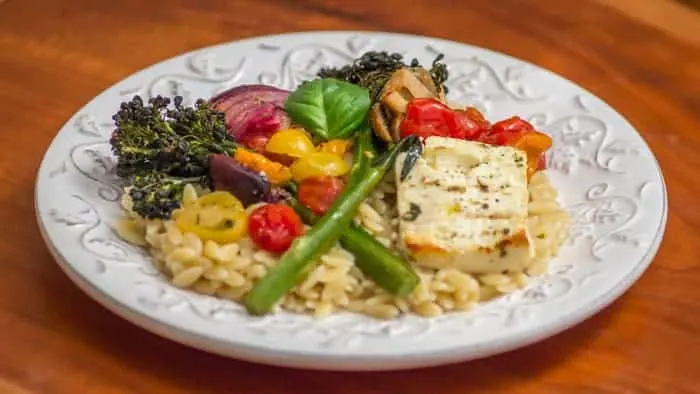 Sheet Pan Baked Feta with Baby Broccoli, Tomatoes and Lemon is an easy vegetarian weeknight meal, that also just happens to be a Sheet Pan Dinner.
Cook Time
20 minutes
15 seconds
Total Time
35 minutes
15 seconds
Ingredients
8 oz. Baby Broccoli, trimmed of leaves
2 c. grape tomatoes, halved
1 small red onion, cut into wedges, that are halved
1/2 lemon, cut into thin rounds
3 tablespoons olive oil
1 teaspoon ground cumin
1/4 t. red pepper flakes
1/2 teaspoon dried oregano
1 teaspoon sea salt
1/2 teaspoon freshly ground black pepper
1 8 oz. block of feta cheese, halved horizontally, and then quartered
Cooked orzo, for serving
1/4 c. torn fresh basil leaves, for garnish
Instructions
Preheat oven to 400º, with a rack set in the lower third of the oven.
On a sheet pan, combine the baby broccoli, tomato halves, red onion, lemon slices and feta with the olive oil and the herbs and seasoning. Toss until all the feta and veggies are shiny and seasoned.
Roast 15 - 20 minutes. Ovens vary, so start looking to see how things are looking after 15 minutes, or when you start smelling yummy smells. The baby broccoli will be somewhat charred on the tips, and the tomato skins will have begun to blister. That's how it should look when it's done.
Serve over orzo, or angel hair pasta or farro. Drizzle with olive oil and squeeze the roasted lemon slices over top. Top with chopped basil.
Notes
So many different vegetables could be added in to this recipe! Try using the veggies your family or friends love best.
Recommended Products
As an Amazon Associate and member of other affiliate programs, I earn from qualifying purchases.
Nutrition Information:
Yield:
4
Serving Size:
1
Amount Per Serving:
Calories:

362
Total Fat:

23g
Saturated Fat:

10g
Trans Fat:

0g
Unsaturated Fat:

12g
Cholesterol:

50mg
Sodium:

1072mg
Carbohydrates:

28g
Fiber:

4g
Sugar:

7g
Protein:

13g