This post contains links that, if you click on them and make a purchase, will earn me money. Regardless, I only recommend products or services that I believe will be good for my readers. Thanks for helping me continue to produce great content!
If you love risotto, but you hate the stirring, you're going to LOVE this recipe for Oven Baked Risotto with Crispy Mushrooms! Look, even if you've never made risotto before, so you don't know enough to know that in conventional risotto, there's enough stirring to hate, you'll still love this risotto. You'd never suspect, by taste, nor by texture, that there's a difference between risotto made in the oven, and risotto made conventionally, on the stovetop.
Conventional risotto recipes can call for being stirred for upward of 20 minutes, so this process-change is indeed a game changer!
Risotto is An Elegant, Easy Side Dish
Because I'm married to a hunter, we eat a lot of venison tenderloin and back strap. Our usual super duper easy way to prepare it is to rub it with some Slap Yo' Mama Butt Rub, and wrap it in bacon, securing the bacon with toothpicks. It's easy and delicious, but adding risotto as a side dish really glams things up!
A Word About Arborio Rice
Arborio Rice is a fatter, plumper rice with lots of starch. The starch is what makes risotto rice creamy. It used to be a bit pricey. I'm happy to tell you that my Kroger sells it as one of its own brand label products, and it's just as reasonably priced as other rices, so look for it at your own grocery store. It's what is generally used to make risotto.
About Those Crispy Mushrooms
I actually came across this recipe over on epicurious, because I'd discovered on another recipe I'd made for mushroom soup, the beauty of a roasted mushroom. When you roast a mushroom, their flavor concentrates and gets really intense and meaty. And their texture gets delightfully crispy, throw in some garlic, coarse sea salt and freshly ground black pepper, and wow! Are they ever delightful!
The only change I've made to the recipe is in regard to the type of mushroom. My recommendation is to use any type you have or easily have access to. The original recipe called for a whole pound of mushrooms, and you can do that, especially if you're a mushroom fiend, and want to do this up right. They also call for mixed wild shiitake, and or crimini mushrooms, and those tend to be the priciest where I shop.
But most of us seem to buy mushrooms more in that ubiquitous 8 oz. package size, and button mushrooms are the cheapest, with Baby Bellas following a close second. And I was pleased to discover that their flavor is wonderfully delicious. And in these times of VAST unemployment, let's go for the cheaper, and we can give the extra change in our pockets to families who are in NEED of food!
Then, pair that with a creamy, dreamy risotto that's been dolled up with a bit of white wine and some Parm, and a bit of lemon zest for an acidic zing, and baby, baby, baby!!! You've got to try this!!!
Economical, easy, and elegant, not to mention DELICIOUS!!! What more could you want in a side dish? Here's the recipe for:
Oven Baked Risotto with Crispy Roasted Mushrooms
Yield: 4 servings
Oven Baked Risotto with Crispy Mushrooms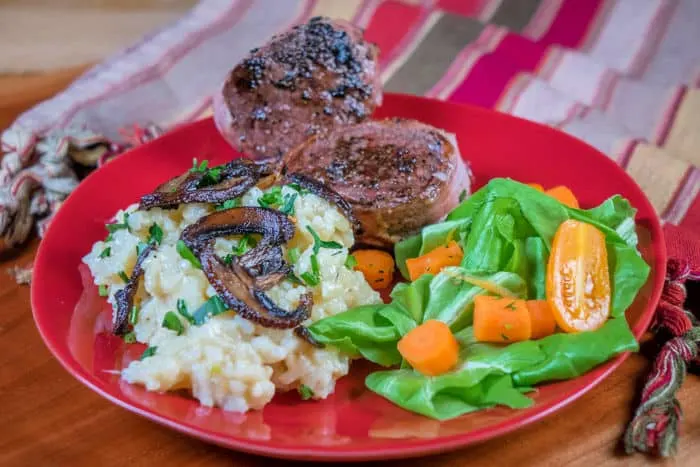 Scrumptious, and easy, this Italian side dish will
Ingredients
8 oz. Baby Bella or white button mushrooms
4 garlic cloves, thinly sliced
5 sprigs of fresh thyme
1/4 t. crushed red pepper flakes
1/4 cup + 2 T. extra virgin olive oil
1 1/2 t. sea salt, divided
1 med. onion, finely chopped
1 c. arborio rice
1/2 t. freshly ground black pepper
1/2 c. white wine
3 c. chicken stock
1 c. finely grated Parmigiano Reggiano
2 T. butter
1/2 t. lemon zest
1/3 c. parsley leaves
Instructions
Position two oven racks: one in lower third, and one in middle of oven. Pre-heat oven to 350º. On a rimmed baking sheet, place mushrooms, sliced garlic, thyme, red pepper flakes, drizzle with several tablespoonfuls of olive oil, and sprinkle with sea salt. Toss with fingers, until all ingredients are thoroughly mixed. Roast on bottom rack until deeply golden brown, and crisped, about 25 minutes. Give them a flip and a stir about halfway through their time in the oven.
While the mushrooms are in the oven, heat 2 T. of oil over medium high heat, in a large Dutch oven. on your stove top. (I use an enameled cast iron Dutch oven made by Lodge for this, and I'll link it below.) Add onion, and cook, stirring often, until onions are softened and translucent: 3-5 minutes. Stir in rice; season with pepper and 1/2 t. salt. Cook, stirring occasionally, about 2 minutes. (The rice will begin to have a slightly nutty smell, as it toasts.) Add wine, and bring to a simmer, and cook, stirring occasionally, until pan is almost dry (about another couple of minutes). Add 2 1/2 c. chicken stock. Bring to a simmer. Cover with the Dutch oven's lid, and bake in oven on middle rack, until liquid is mostly absorbed, but rice is still slightly firm in the center, 16 - 18 minutes.
Return pot to stove, and heat over medium. Add remaining 1/2 c. stock, and cook on stove top, stirring constantly, until rice is tender, but still has some bite, and sauce is creamy. This will take just a couple of minutes. Remove from heat and stir in cheese, butter, and lemon zest. Taste, and season with more salt, if needed. (Remember, Parmigiano Reggiano is quite salty itself, so that's why it's important to taste it before adding additional seasoning. The consistency of the risotto should be pourable, so add a bit of water, if needed.
Risotto can be poured onto a serving platter, or served onto dishes directly from the Dutch oven, but it should be topped with crispy mushrooms and parsley.
Notes
If you don't have any wine, an equal amount of chicken stock can be substituted for the wine.
Recommended Products
As an Amazon Associate and member of other affiliate programs, I earn from qualifying purchases.