This post contains links that, if you click on them and make a purchase, will earn me money. As an Amazon Associate, I earn from qualifying purchases. . Regardless, I only recommend products or services that I believe will be good for my readers. Thanks for helping me continue to produce great content!
What the world needs now is the BEST recipe for Red Beans and Rice, and I'm just the one to share it with you. This is positively the most DELICIOUS recipe for Red Beans and Rice I've ever tried. And I've tried many, in search of what the people of New Orleans were all about on Mondays.
They're Delicious And Affordable
Our economy is pretty much in the crapper, presently, so, we might as well join it there. (Also, it's impossible for me to write a recipe about beans without at least one quick nod to potty humor.)
Because even, and maybe ESPECIALLY when times are tough, people STILL need delicious, affordable food. So, after trying various recipes from both home cooks and professional chefs, I finally hit upon THE recipe for red beans and rice that trips my trigger. My inspiration for this recipe comes from a cookbook called "Southern Girl Meets Vegetarian Boy", written by Damaris Phillips. I've adapted many of Damaris' ideas for her Kentucky Red Beans and Rice recipe into my version. Her version includes a special way she makes her rice, so if you'd like to check it out, I'd encourage you to buy her book!
And YES, There's a Secret Ingredient (or two)
Now, I know you've been waiting with bated breath to find out just what that ONE ingredient is, and it's BOURBON. Yup. I almost named these "Tennessee Red Beans and Rice", and you CAN call them that, if the alcohol you add is Jack Daniel's Tennessee Whiskey. (Fun Fact: Jack Daniels's is Bourbon's cousin, in that it's over 50% corn mash based, but additionally, it's filtered through sugar maple charcoal.) Bourbon adds an extraordinary flavor to this ordinary dish. You. Will. Love. It.
Also, I sautéd my aromatics (onion, bell pepper, celery) in coconut oil, which I really liked, so if you have some, I encourage you to try coconut oil for sautéing your aromatic veggies, too. But if you don't have any, any type of vegetable oil will work just fine.
And then, in a variation from what I usually use (a green pepper)I used a RED pepper in my aromatics I found I liked its sweeter, more mellow flavor better in this, than the more assertive flavor of a green pepper. But use what you have. And if you have a choice, go with red.
Finally, to add a meaty flavor, I landed on Kielbasa. But in these times when we're avoiding an extra trip to the grocery store, you can use any kind of smoked sausage, or smoked meat you happen to have.
Can I Make This as a Vegetarian Recipe?
If you're a vegetarian, you can certainly omit the smoked sausage. Try roasting some chopped pecans, instead, and throw those in, to "beef" up the flavor profile.
The Most Delicious Type of Red Beans
I've tried Dark Kidney Beans, and Light Red Kidney Beans, and plain old Red Beans, and the winner, and champion, from a side by side taste test we conducted at my house, is cooking your own dried Light Red Kidney Beans.
If You Want to Take a Huge Shortcut Regarding Beans:
Yes, you can totally use canned beans if you like. To do this, you would omit the initial cooking time for the dried beans, and just doll up the canned beans with the suggested sautéd aromatics, spices and sauces in this recipe, and it will still be delicious. But not AS delicious.
The very best beans for this recipe, in my opinion, are dried light red kidney beans, cooked from scratch. I brine mine. It's a process I learned from Cook's Illustrated, and it produces the most delicious beans I've ever had. Creamy and full of flavor. If you have purchased a bag of dried beans, try my method of brining beans. It's worth it!!!
How to Brine Beans:
The night before you want to make this recipe, put 3 T. of salt in about 4 quarts of water, and soak one pound of rinsed and sorted dried light red kidney beans overnight. . The next day, rinse them off, and they're ready to use in this recipe.
The Overview of This Recipe:
Sauté the aromatics for about 5 minutes. Then add the spices and sauté a bit more. Add the brined, soaked beans, and 2 quarts of water. Cover the pot with a lid, and cook the beans until they are al dente (for about an hour and a half – still slightly undercooked). At that point, remove the lid and add the liquid flavorings: hot sauce, Worcestershire sauce, and bourbon. Give them some time to simmer, and get to know each other, and start a pot of white rice. (I use jasmine, but you can use whatever type you like or have on hand.)
By the time that pot of rice is ready, dinner will be ready, too. Ladle some beautiful red beans onto your bowl of rice, and marvel at what you just threw together.
Can I Make These Using a Pressure Cooker?
If you like to cook your dried beans in a pressure cooker, I'll bet this recipe would work great with that method. Just letting you know that I personally have never tried this recipe using that method, but I don't see why you couldn't.
Want More Economical, Frugal Recipes?
I've got a ton of 'em. We're both self employed around here, with a kid in college, so our income is always undependable. Sometimes we have more than enough, but often, we're robbing Peter to pay Paul. BUT we like to eat well. So I've learned to cook well, and waste very little. I've assembled a collection for you (you'll find the list below the recipe), of VERY economical meals, that will hopefully help you get through these rough times with delicious meals in your tummy. And not all of them are beans!
Yield: 6 servings
The Best Recipe for Red Beans and Rice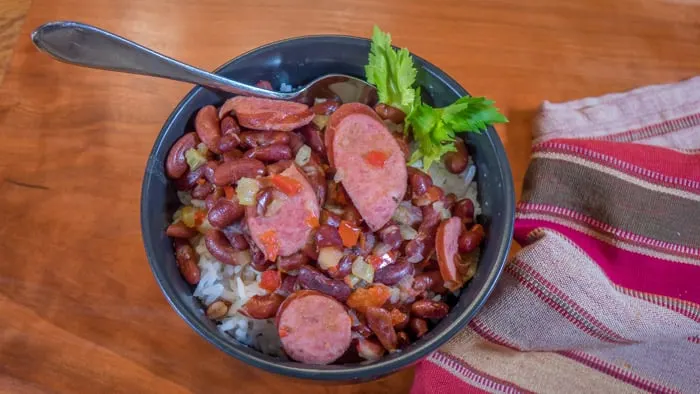 The Best Recipe for Red Beans and Rice - with a Secret Ingredient! This is the best recipe for Red Beans and Rice I have ever tried. And I've tried a lot.
Total Time
10 hours
15 minutes
Ingredients
1/4 c. coconut oil
1 medium onion, finely diced
1 red bell pepper, finely diced
2 stalks of celery, finely diced (leaves reserved for garnish)
12 oz. of Kielbasa, sliced into 1/2" slices
1 tablespoon of Creole Seasoning (I used Tony Chachère's brand)
2 t. garlic powder
1 t. dried thyme
1 t. freshly ground black pepper
2 bay leaves
1 lb. of brined, soaked light red kidney beans
1 tablespoon of Chipotle Tabasco
1 teaspoon of Worcestershire sauce
1/4 c. bourbon
Instructions
Melt the coconut oil in a large Dutch Oven over medium heat. Add the diced onion, red pepper and celery and sauté until onions are translucent and veggies are tender - about 5 minutes.
Add the sliced Kielbasa and slightly brown it, about 3 minutes more.
Add the Creole seasoning, garlic powder, thyme, black pepper, and bay leaves. Stir to coat the veggies and meat.
Add the pre-soaked/brined beans, and 2 quarts of water. Bring to a boil and reduce to simmer. Cover with a lid and cook for about an hour and a half. You want the beans to be slightly al dente (just barely undercooked) so they'll still absorb a bit more flavor from the flavorful liquids you're about to add.
Uncover and stir in the Chipotle Tabasco sauce, the Worcestershire sauce, and the bourbon. Cook, uncovered, until beans are tender, and the liquid is reduced by about half. The broth will thicken, as well.
Notes
Serve over your favorite brand of rice. We use jasmine, but you can use any variety your family likes best. Follow package instructions, as different varieties have different cooking times and rice to water ratios.
Recommended Products
As an Amazon Associate and member of other affiliate programs, I earn from qualifying purchases.
Budget Friendly Recipes
Here's a list of several other budget friendly recipes that exist here on my website, in case you're on the market for more. Each one is delicious, in its own right.