This post contains links that, if you click on them and make a purchase, will earn me money. Regardless, I only recommend products or services that I believe will be good for my readers. Thanks for helping me continue to produce great content!
Strawberry Shortcake Pinwheels are an easy and scrumptious improvement on strawberry shortcake. The recipe is just as comforting as good old fashioned strawberry shortcake, but with some flavor and texture upgrades. The orange zest in the pinwheel biscuit adds a bright flavor zing, and the caramelized filling in the shortcake biscuit adds a zesty and satisfying crunch.
Strawberries are in Season!
And as we all know, when produce is in season, they're super flavorful, much more affordable! Hence, the exclamation point: because cheap AND delicious gets me excited!
Strawberry Pinwheel Shortcake is a dessert that's easy, delicious, and that takes full advantage of the glorious strawberry that's presently in season. We bought a huge tray of strawberries from some Amish farmers here in TN. Seeking out farmers or CSAs in your area is a great way to support your local economy.
It follows that, when you buy in bulk, you're looking for easy, delicious recipes to use those gorgeous berries. I hope this recipe helps you out.Your family will be remembering this recipe, talking about it, and asking for it, for years to come!
I found this recipe in a cookbook that was published back in the '70's, the American-International Encyclopedic Cookbook, and first made it about 30 years ago, when I was living in Switzerland, the land of double-crème (that's double rich cream!).
What is Maceration?
Calm down, go back, and read that word a little more carefully. To macerate just means to let a fruit sit in some sugar for an hour or two in the fridge. Macerating fruit draws some of the juices out of the fruit, and that means your strawberries will make their own kind of sauce. Then, I choose a few of the less lovely strawberries to purée, to thicken the sauce. The juices from the strawberries and the whipped cream are really both integral parts of this dessert, so don't hesitate to ladle those on, because the shortcake really benefits from having the juices and the cream soak in.
What are the Pinwheels?
The "pinwheels" of the Strawberry Shortcake Pinwheels are basically a slightly wet biscuit dough, rolled up cinnamon-roll style.
Once you've patted out the shortcake dough, you brush it with butter and spread a filling on the inside of it, comprised of butter, sugar, and orange zest. The butter that you spread on the inside of the sweet roll/shortcake/biscuit adds that beautiful buttery flavor, but it's the orange zest that makes the dessert "sing". You are going to love this recipe!
Yield: 6 servings
Strawberry Shortcake Pinwheels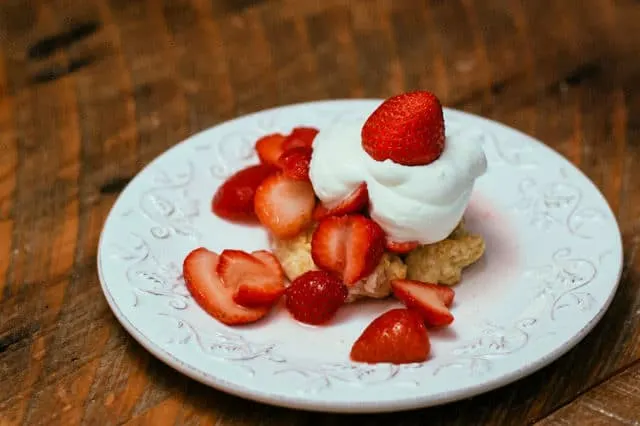 Strawberry Pinwheel Shortcake is an easy and scrumptious improvement on good old fashioned strawberry shortcake.
Total Time
2 hours
55 minutes
Ingredients
FOR SHORTCAKE:
1 1/2 c. flour
1 t. salt
2 t. baking powder
2 T. sugar
2 T. shortening
1 egg, beaten
1/3 c. milk
2 T. melted butter
1/2 c. sugar
1 T. orange zest
FOR STRAWBERRIES:
1 quart strawberries
1/2 c. sugar
FOR WHIPPED CREAM:
1 c. whipping cream
1 T. sugar
Instructions
For Strawberries:
Stem and slice strawberries, mix in bowl with 1/2 cup sugar, stirring until all strawberries are coated with sugar. Chill them in the refrigerator for approximately a couple of hours before serving, to allow them to make their own juices.
For Shortcake Pinwheels:
Stir together the dry ingredients: flour, salt, baking powder and sugar. Cut in shortening, until mixture forms small crumbs, like cornmeal.
Add in beaten egg and milk, and stir together gently till mixture forms into a dough. (Add more flour if necessary to make dough easier to handle, but it will be a wet dough.)
Pat out dough into a 9″ square onto a sheet of waxed paper.
Spread dough with melted butter, and then sprinkle with 1/2 c. sugar and orange zest.
Roll up jelly-roll style into a log, and cut into 6 even pieces.
Bake at 375º, in a layer cake pan or pie pan, cut side up, for approximately 25 minutes.
For Whipped Cream:
Pour cream into bowl of an electric mixer. Add in 1 T. sugar and whip on high using whisk attachment until peaks form.
Spoon over shortcake pinwheel that has been topped with strawberries and plenty of juice.
Recommended Products
As an Amazon Associate and member of other affiliate programs, I earn from qualifying purchases.
Nutrition Information:
Yield:
6
Serving Size:
1
Amount Per Serving:
Calories:

533
Total Fat:

24g
Saturated Fat:

14g
Trans Fat:

1g
Unsaturated Fat:

9g
Cholesterol:

90mg
Sodium:

612mg
Carbohydrates:

75g
Fiber:

3g
Sugar:

47g
Protein:

7g
If you're a strawberry lover, I think you'll go crazy for my
Springtime Fresh Strawberry Pie
recipe as well.
Warm Weather Desserts
As long as you're looking at this warm weather dessert, here's a few more for your consideration: