This post contains links that, if you click on them and make a purchase, will earn me money. Regardless, I only recommend products or services that I believe will be good for my readers. Thanks for helping me continue to produce great content!
Chicken Fried Venison Steak, or as I like to think of it, Chicken Fried Bambi, is a delicious way to enjoy venison steak. At a hunter's house, this is down-home good eats, but in today's slightly snooty culinary world, I worry that simple down-home cooking, the way your grandma used to do it, is becoming a lost art.
Never fear. I am unapologetically completely out of step with the times, and I do it almost effortlessly. I hope you'll throw politically-correct caution to the winds, and give this crave-worthy, southern-at-heart recipe a try.
What Does Chicken Fried Venison Steak Even Mean?
When I moved to Texas in my college years, one of the first cultural revelations for me was the Chicken Fried Steak they served at the Town Crier Restaurant, in Abilene, TX. The Town Crier was an affordable steak house for a completely broke college kid, IF you were willing to just say no to a REAL steak, and order a piece of chicken fried steak. Cheapest beef on the menu.
Basically, they took a tough, but delicious-in-flavor piece of top sirloin, and pounded the bejeezus out of it, to tenderize it. Then they breaded/battered it, like you might a piece of chicken, and fried it. It was crisp, juicy beef, and it came with gravy, and they brought fresh hot bread to the table, and there was an all you could eat salad bar. It was a great change in pace from The Bean (our university's cafeteria).
Now, I'm a still-completely-broke hunter's wife, but venison we have in the freezer a-plenty, and we use it in just about any recipe that calls for beef.
This recipe, using venison, is one I've adapted from the recipe for Chicken Fried Steak they use at an absolutely classic honky tonk in Austin, TX : Broken Spoke. There, after you've gorged yourself on what they modestly call "the best chicken fried steak in town" (no small brag in Austin), you can work off your chicken fried steak doing the two step. If you can talk your significant other into cutting the living room rug with you following your dinner of Chicken Fried Bambi, well, good on ya, as they say.
So, basically, no chicken is involved. No beef is involved.
Just Bambi.
But deliciousness? Oh, yes, my friends! And true southern comfort.
And maybe, if you're not from Texas, and you visit there some day, you won't be taken aback by seeing Chicken Fried Steak on the Menu.
Here's The Process for Making Chicken Fried Venison:
Don't Fear the Gravy
And whatever you do, do NOT miss out on the gravy.
Making gravy is easy. YOU CAN DO THIS!!!
You'll need a 1/4 c. of oil from the oil that you cooked the venison in. (Pour the rest of the oil out in a heat proof bowl, so you can dispose of it later.) That last 1/4 c. of oil will have the meat drippings and the browned bits in it that will make your gravy simply divine. Stir the 1/4 c. of flour into your pan over medium heat (and I strongly encourage you to use your cast iron skillet for this) and stir it around in the pan with the oil, using a whisk. This is called "making a roux". (pronounced "roo")
This will accomplish two things: you'll be cooking/browning the flour, so it won't have a pasty taste, and your gravy will thus have a pretty color and a great flavor. And using a whisk will allow you to stir out all the lumps. Then you gradually add the milk, and continue stirring and cooking .
The Secrets to Making Great Gravy:
use a ratio of equal fat to flour
brown the flour (make a roux)
use a whisk;
stir, stir, stir;
add the liquid gradually
stir, stir, stir
taste for seasoning
Look at you! YOU CAN
MAKE GREAT GRAVY!!!
Yield: 6 servings
Chicken Fried Venison aka Chicken Fried Bambi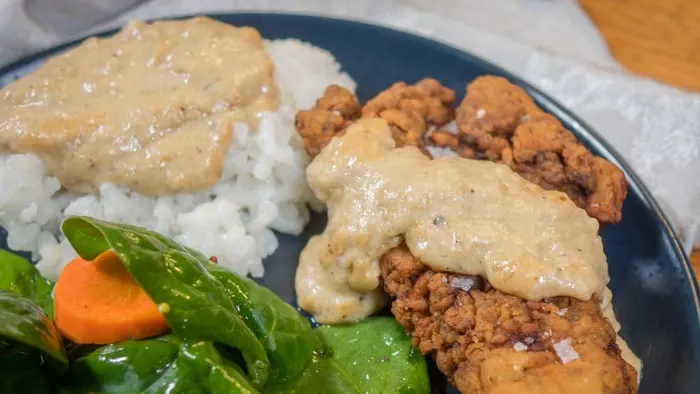 God Bless Texas, for teaching me the joys of Chicken Fried Steak. Now, with Bambi! Just like Grandma used to make!
Ingredients
1 egg
1 cup buttermilk
1 T. sea salt
1 T. freshly ground black pepper
1 c. all purpose flour
1 c. saltine cracker crumbs
6 venison steaks (sometimes called venison ham steaks, about 1/2" thick)
Vegetable oil for frying
1/4 c. flour
2 c. milk
Instructions
Whisk together the egg, buttermilk, salt and pepper in a bowl that's wide enough to allow you to submerge the steaks in it.
Combine the flour and the saltine cracker crumbs in a shallow bowl. You're going to double bread each venison steak in these, by following the next three steps.
Dip each steak in the flour/cracker crumb mixture, patting it onto both sides.
Submerge each flour dipped steak in the buttermilk mixture.
Dip each steak, again, into the flour/cracker crumb mixture.
Fry the steaks in a half inch of vegetable oil that's been heated over medium high heat until hot, but not smoking. Cook the steaks until the batter is golden brown, about 3 minutes per side.
Set the steaks to drain on paper towels, and season with a coarse finishing sea salt (if you're lucky enough to have some. I'll put a link to my favorite finishing salt at the bottom of the recipe card.) Allow the meat to rest for about 5 minutes, while you make the gravy.
TO MAKE THE GRAVY: Pour all but about 1/4 c. of the oil into a heat proof bowl. You're going to use that 1/4 c. of oil to make a roux.
Reduce the heat to medium and add 1/4 c. of flour to the oil in the skillet. Using a whisk, stir the flour, oil, and any venison steak drippings or brown bits, browning the flour for a minute or two, while you continue to stir. Gradually add the 2 c. of milk, stirring constantly. When the gravy is thickened, taste it for seasoning, adding more salt or pepper if desired.
Notes
Our venison processor puts our venison ham steaks through a tenderizing process. You can do this yourself by pounding the meat with a meat tenderizing mallet.
We often serve this dish with rice, and put some of the gravy over the meat, and the rice.
Recommended Products
As an Amazon Associate and member of other affiliate programs, I earn from qualifying purchases.
I've got lots of other venison recipes here on my site. My
Bambi Burgers with Caramelized Onions
, for instance, are out of this world!!! Here's a few more that I've put together, just for you!
More Venison For YOU! Because You're Such A Deer.
Santa knows you've been a good person. Also, since he doesn't want you feeding on his OWN herd, he wanted you to have MORE venison recipes out of regular deer. So here ya go!