This post contains links that, if you click on them and make a purchase, will earn me money. Regardless, I only recommend products or services that I believe will be good for my readers. Thanks for helping me continue to produce great content!
Salty-Sweet Peanut Butter Chocolate Chip Shortbread cookies are a taste treat for anyone who loves the peanut butter and chocolate flavor combination. Sprinkled with sugar and sea salt, you'll taste a slight tang from the cultured butter, and the savory flavor of peanut butter.
In regard to the texture of the cookie, they crumble and melt in your mouth, the way a good shortbread does. But then the chocolate chips begin to melt on your tongue, and they add a creamy note to this delicious cookie. Heaven!
What Is Cultured Butter?
All butter is made from cream. Cultured butter has had lactic acid – live bacteria cultures – added to it, which results in slight fermentation, and a tangier flavor than regular butter. You can make a homemade version of it, by using cream and yogurt.
The brand of cultured butter I used was Organic Valley, which I found at a Sprouts location near me. But if you look around your butter section, I think you'll be as surprised as I was at how many varieties of cultured butter are available.
Can I Use Regular Butter Instead of Cultured Butter?
You ABSOLUTELY CAN! The amount of tanginess that cultured butter adds is minimal. Regular sweet cream butter would just fine.
I found this recipe in the New York Times Cooking Section, and their recipe suggested using cultured butter. I liked my results, and so that's why I'm suggesting that you try it in this recipe, too. (I altered their recipe a bit by adding chocolate chips to the cookie.)
What Kind of Peanut Butter Should I Use?
Either variety is fine: smooth or crunchy. I used smooth, because that's what I had on hand.
What Ingredients Need to Be at Room Temperature?
If you're the type who needs an extra nudge, here's your reminder, before you start baking: your butter and your eggs need to be at room temperature.
If you're the type who impulsively jumps up to start baking, you can bring your butter to room temperature faster by slicing it into thin slices and letting them sit for just a few minutes. If you need to get your eggs to room temperature quickly, fill a glass measuring cup with warm water, and let the egg sit in the warm water for a few minutes.
You're welcome. 😀
A Few Glamour Shots of the Process of Making Peanut Butter Chocolate Chip Shortbread Cookies :
For those of you who benefit from seeing what things should look like: I've got you covered.
Mise en place: a French term that simply means measuring out and doing any prep work necessary for your ingredients in advance. I prefer to weigh my peanut butter and flour, rather than relying on volume. Peanut butter is hard to measure accurately, because you have to squish down the air bubbles, and flour is just more accurately measured when weighed on a scale, as opposed to cup-full measurements which can vary widely, depending on how packed full the measuring cup is. Two cups of peanut butter is equal to 510 grams.
Creaming: Beating air into the butter and sugar.
The Recipe for Salty-Sweet Peanut Butter Chocolate Chip Shortbread Cookies
Yield: 36 cookies
Salty-Sweet Peanut Butter Chocolate Chip Shortbread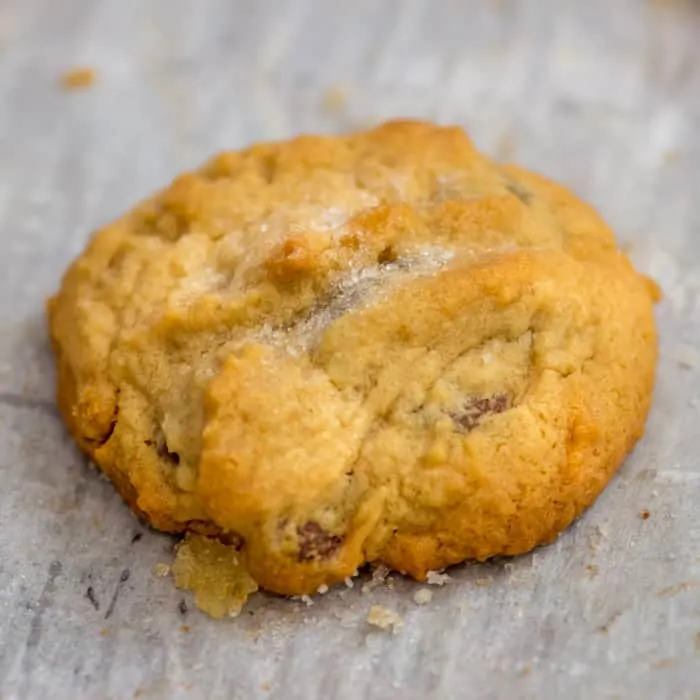 Salty and sweet, these Peanut Butter Chocolate Chip Shortbread cookies are both crunchy and creamy in texture. They're a delight for peanut butter/chocolate lovers!
Ingredients
1 cup (2 sticks) of (cultured) butter
¾ cup sugar
¾ cup (packed)light brown sugar
1 teaspoon sea salt
2 cups peanut butter
2 eggs, at room temperature
2 cups flour
1 cup chocolate chips
sea salt and sugar for sprinkling
Instructions
Pre-Heat oven to 350 degrees. Line 2 baking sheets with parchment paper.
In a mixer fitted with a paddle attachment, cream the butter and sugars until smooth and fluffy, at least 3 minutes.
Add the peanut butter and eggs, and mix.
Add the flour and salt and mix just until well combined. No white flour should still be showing.
Stir in chocolate chips.
These cookies will not spread much, so you can place them more closely together than you might usually place cookies on a cookie sheet. Using a small cookie scoop (about 2 teaspoons capacity), scoop dough onto prepared pans. The tops will be rounded but craggy.
In a small bowl, mix together 2 tablespoons sugar with 1 tablespoon sea salt. Sprinkle each cookie lightly with sugar-salt mixture, getting it into the crags and crannies.
Bake 12 to 15 minutes, until cookies are set and golden-brown. Carefully lift or slide off baking sheets and cool on racks. Store in layers separated by parchment paper, in airtight containers.
Recommended Products
As an Amazon Associate and member of other affiliate programs, I earn from qualifying purchases.
Nutrition Information:
Yield:
36
Serving Size:
1
Amount Per Serving:
Calories:

154
Total Fat:

9g
Saturated Fat:

2g
Trans Fat:

0g
Unsaturated Fat:

5g
Cholesterol:

10mg
Sodium:

148mg
Carbohydrates:

16g
Fiber:

1g
Sugar:

8g
Protein:

4g
If you like Chocolate and Peanut Butter together, you might want to try my recipe for Kitty Krap Cookies. (Yes, I typed that out loud.) And since now I know you're a cookie lover, check out some of my other cookie recipes, here:
Cookies I Have Loved
Each one a winner! You've got to try making at LEAST one of these!!!