This post contains links that, if you click on them and make a purchase, will earn me money. As an Amazon Associate, I earn from qualifying purchases. . Regardless, I only recommend products or services that I believe will be good for my readers. Thanks for helping me continue to produce great content!
Linzer Heart cookies are romantic, and tasty, and I decided to set up a duel to see which recipe was better: my old favorite from the Silver Palate cookbook, or a recipe I stumbled across by Chef Alex Guaranaschelli.
Which Recipe for Linzer Heart Cookies Will Prevail?
I posted a recipe for Linzer Heart Cookies
a long time ago
, that came from my Silver Palate Cookbook, one of my favorite cookbooks from days gone by. And it was good.
But this recipe is from Alex Guarnaschelli, and she's one of my favorite chefs. And she'd recommended this as one of her most favorite Christmas gifts to make for special friends. Would her recipe be as good as the original recipe from The Silver Palate Cookbook?
That's how this post came to be known as Dueling Linzer Hearts Cookies.
Which Heart Will Prevail?!
The Differences Between Alex Guarnaschelli and The Silver Palate:
Alex calls for less sugar in her ratio of sugar to butter.
The Silver Palate recipe calls for an egg.
Alex calls for almonds.
The Silver Palate calls for walnuts.
Alex calls for cinnamon, nutmeg, and a greater ratio of jam.
The Silver Palate calls for a cup of cornstarch, which makes for a very tender dough.
Alex calls for using two heart-shaped cookie cutters of graduated sizes: this makes for a prettier cookie.
The Silver Palate recipe makes a larger quantity.
Which of the Dueling Linzer Hearts Won?
They were BOTH great.
So…I'd make my decision based on which nut I happened to have on hand, and preferred the flavor of. For me, if forced to choose, I think I'd choose Alex's recipe, because I love almonds so much, and the addition of cinnamon and nutmeg is nice.
Anyway, these cookies are PERFECT for Valentine's Day, although I made them for Christmas. Hope you'll share them with someone you love, either way.
Chill Your Dough
NOTES: The cookie dough in this recipe is extremely tender. You will need to separate it into three batches, and chill it in between rollings (whenever you're not working directly with a batch of it, it should be resting in the refrigerator). When you are working with a batch of dough that is not being refrigerated, roll it and cut it as quickly as possible.
You'll need two heart shaped cookie cutters of graduated sizes: one slightly larger than the other. I've linked some below, in the Recommended Products Section, below the Recipe Card, for your convenience.
Also, you'll need a fair amount of waxed paper as you're preparing this recipe, so check your supplies!
The daughter lends a helping hand.
Waiting for their powdered sugar shower.
Spreading some preserves.
Here's the recipe by Alex Guarnaschelli for
Linzer Heart Cookies
Showers of Sugar: I love that you can see the sugar falling!
Got any cooking plans for Valentine's Day? You might want to consider my easy Chocolate Glazed Chocolate Tart. Ever considered Dry Aging your own steak? I tell you how, here in my Expensive Steak House Taste at a Fraction of the Price post.
Yield: 36 cookies
Dueling Linzer Hearts Cookies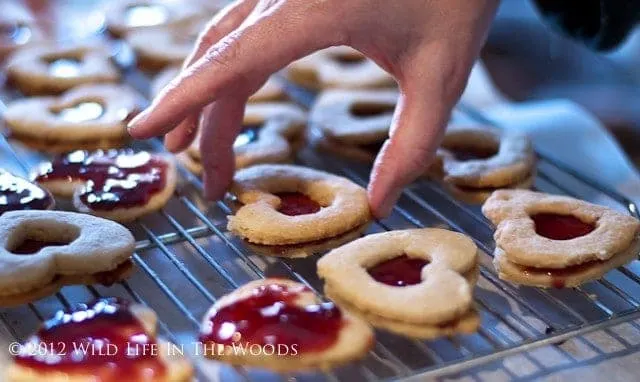 A beautiful and delicious Linzer Heart Cookie, made from almonds, with cinnamon and freshly grated nutmeg, and raspberry jam.
Prep Time
1 hour
30 minutes
Total Time
1 hour
42 minutes
Ingredients
2 1/2 sticks of butter
3/4 c. sugar
2 1/3 c. all purpose flour
1/2 c. slivered almonds, ground
1/2 t. cinnamon
1/4 t. freshly ground nutmeg
1 c. seedless raspberry jam
Powdered sugar, for dusting
Instructions
Whip butter till smooth in an electric mixer. Add sugar and keep mixing for 5 minutes, till the mixture is light and fluffy. In another bowl, whisk together the dry ingredients: flour, ground almonds, cinnamon and nutmeg.
Lay 3 large pieces of waxed paper out separately on a flat surface. Sprinkle each with a coating of flour.
Blend the flour mixture in with the butter. Place 1/3 of the dough onto each piece of floured waxed paper. Coat dough top with a light layer of flour, and top with another piece of waxed paper, cut the same size as the bottom sheet, forming a packet that is a veritable "dough sandwich".
Place 2 of the packets in the fridge, and work with only one packet out of the refrigerator at a time.
Preheat oven to 350º.
Roll each packet of dough into a rectangle of 1/8" thickness. Refrigerate each packet after rolling to keep dough nicely chilled.
Make cookie bottoms: Cut as many of the larger hearts as you can from one packet. Reserve scraps to wad up and re-roll (once you've chilled them again) to make more cookies. Arrange cookie bottoms on lightly greased baking sheets.
Repeat with other 2 dough packets.
Make cookie tops: Cut hearts with the smaller cutter out of the center of half of the cookies you've cut. Reserve the scraps in a ball, chill, and roll out again when chilled to make more cookies.
Bake the cookies until very lightly browned for 12 to 15 minutes, depending on your oven. You do not want to over-brown these cookies, so keep an eye on them. Allow them to cool for a few minutes on the cookie sheet, and then remove them to a flat surface.
In a small pot, gently warm the raspberry jam, bringing it to a light simmer. Remove from heat and allow to cool slightly.
Spoon about 1/2 t. of jam onto each cookie bottom, and place a cookie top on each. Dust with powdered sugar.

Notes
While this recipe should yield around 36 cut out cookies -depending on the size of your cookie cutters - it will only yield half as many *assembled* cookies.
Recommended Products
As an Amazon Associate and member of other affiliate programs, I earn from qualifying purchases.
Nutrition Information:
Yield:
36
Serving Size:
1
Amount Per Serving:
Calories:

148
Total Fat:

7g
Saturated Fat:

4g
Trans Fat:

0g
Unsaturated Fat:

3g
Cholesterol:

17mg
Sodium:

54mg
Carbohydrates:

20g
Fiber:

1g
Sugar:

12g
Protein:

1g