This post contains links that, if you click on them and make a purchase, will earn me money. Regardless, I only recommend products or services that I believe will be good for my readers. Thanks for helping me continue to produce great content!
Oven Roasted Tomato Sauce is the answer to the question of what to do with all those tomatoes. Even for, and maybe especially for, the lazy person.
My Counter is Full of Tomatoes. What Should I Do???
I'm a lazy person, in many ways. One of the ways it manifests itself is when a huge bounty of tomatoes shows up on my counter, from a local friend, or a farmer's market, or a CSA share. Tomatoes – especially homegrown tomatoes – are a treasure. We don't take them lightly around here.
Why We Don't Take Tomatoes Lightly in the Boonies
We don't grow tomatoes, thanks to the evil, conniving wildlife here in the Boonies. We have rabbits, deer, raccoons, and squirrels that we've fattened up for far too many summers, trying to grow tomatoes. One time we even caught our Creepy Old Mail Man stealing them.
For those uninitiated to life in the Boonies, at one time, several years ago, we had this mailman who I wouldn't really want to meet in a dark alley. He kind of gave all of us the heebie jeebies, because he'd creep up to our house, and casually peer in the window. So we took to calling him the Creepy Old Mail Man, behind his back. From this point on, I'll refer to him as the C.O.M.M.
One day, as he was creeping down to our house, our son happened to be outside on the other side of the house. Our son crept up on the C.O.M.M. from behind, unbeknownst to the C.O.M.M. Our creeping son caught the C.O.M.M. stealing and eating some of the very few remaining MiniPearl tomatoes that the squirrels had somehow missed.
You move to the country with the expectation of a safe and peaceful life, right??? Fuhgeddaboudit.
So when we actually end up with a bounty of tomatoes, it's a big deal, having been the victims of so much tomato theft.
But as I mentioned, before I so rudely interrupted myself, I'm a lazy person.
Mistakes…I've Made a Few…(In Regard to Tomato Sauce)
I've tried many fresh tomato sauce recipes. Many have disappointed me. Let me tell you about them.
The Skins:
One recipe was called Lazy Day Tomato Sauce, or something like that. Sounded like the recipe for me!!! They had you simply cutting up the tomatoes and chunking them in a pot to simmer for a long time, while you go off and do something else. Well, that one I didn't like because it still had the tomato skins in the sauce. Now you might think: well, that's more fiber, and more nutrition, and more natural. All to the good, right?
Well, sort of. But once the sauce is cooked, you have these little roly pieces of tomato skin that kind of mar the texture of the sauce. Especially since they reminded me of little rolls of plastic. They're even resistant to being chewed.
Blanching:
Other recipes I've tried begin with you blanching the tomatoes,(plunging them into a big pot of boiling water for a few seconds, removing them, and then plunging them into an ice bath) in order to peel the skin off of the tomatoes, before you make the sauce. That process can be really, really time consuming, especially if you have a tomato variety that is loathe to shed its skin. Or if you don't blanch them just the right amount of time. And then you have to have a ton of ice on hand, so that you can plunge the steaming hot tomatoes into ice cold water, to make them easier to peel.
But blanching is honestly not a fun process. It's kind of hot work. Needs one person blanching, and one person peeling, in a kind of assembly line kind of way, to get it done more quickly.
Tomato Water:
And then, you have to cook those blanched tomatoes a long time, because tomatoes have this stuff in them…their juice….that is often called "tomato water". One recipe recommended that I scrape that stuff (the juice and the seeds) out, and use only the tomato walls and membranes, basically. They call it the "meat" of the tomato.
Well, that seemed wasteful to me! I didn't want to do that, so I didn't.
The problem is, that if you don't get rid of that tomato water, somehow, either through cooking/simmering it out, or by just not using it in your sauce in the first place, then you'll have tomato sauce that separates, and is watery.
One year, at a wine bottling party, I made a big pan of my eggplant parm with my fresh tomato sauce that I was so proud of. Well, the tomato pulp and the tomato water had separated, and basically this separated sauce made the eggplant go limp and soggy, and diluted the flavor of the dish. I'm WEEPING OVER THE WASTE, (not to mention my hurt pride) over an inferior batch of eggplant parm,even as I recount the tale! I'd been so proud to have made that sauce, but it was nothing to write home about.
And getting back to the the point I've been trying to make… as I *may* have mentioned….ahem….I'm a lazy person.
However, when you have a counter full of ripe tomatoes, it's a battle against time and fruit flies, and something must be done to process said tomatoes, and quickly. This is not happy news to the lazy person.
Three Reasons Why I Love This Recipe for Oven Roasted Tomato Sauce
It's Easy:
Here's why I LOVE this method, of oven roasting the tomatoes to make your sauce. I love it because it's so easy, and so convenient. (And, you might remember, perhaps…that I'm lazy.)
Well….that's one of the reasons.
It's Delicious:
Although I'm listing it second, this, I believe, is the Most Important Reason. The most important reason is that it TASTES THE BEST.
Now if you read this blog often, and you SHOULD, you'll know that I only share the very best recipes. I share the ones I've found that really work, and that are just exploding with flavor. And roasting the tomatoes really intensifies the flavor of the tomatoes! It brings out their natural sweetness.
There's No Food Waste:
But there's one last reason that I really love this oven roasted tomato sauce. I love it because it hauls off and spits in the eye of food waste, which I detest. I love it because it's going to give you an ingredient you may have never cooked with before: savory, herbed tomato water. And I love it because I developed an AWESOME recipe to use that ingredient…and said recipe uses a pressure cooker/multi-cooker/InstantPot to make using that ingredient quick, easy, and absolutely pain free! It's called Southern Summer Risotto in a Pressure Cooker, with Corn, Tomatoes, and Bacon.
Important Note:
As of the summer of 2019, I learned something very important. If you use Roma tomatoes, YOU WILL NOT HAVE TOMATO WATER. YOUR RESULTS WILL ONLY BE AN INTENSELY FLAVORED TOMATO SAUCE.
So How Does This Process for Oven Roasted Tomato Sauce Work?
Line a rimmed pan, or a couple of pans, however many you need, with foil, or parchment paper. (Foil makes cleanup easier. And as I may have mentioned, I'm kind of…nevermind…I think you've gotten the point.)
Slice the tomatoes in half. Slice the garlic into thin slices. Drizzle the pan(s) with olive oil, and place the tomato slices and garlic slices on it. Sprinkle the sliced tomatoes and garlic with salt, pepper, a bit of sugar, and some Italian herbs. Roast for about 30 – 40 minutes, depending on your oven, and how closely you've placed your tomatoes. Their skins should appear to have loosened, and some of them will have slightly charred edges.
Take them out of the oven and allow them to cool. While they're cooling, go do something self indulgent. Or industrious. I don't care.
When You Gaze On Your Pans of Roasted Tomatoes, Do Not Despair Due to the Appearance of What's In the Pan.
It will appear to hold shriveled, slightly blackened tomatoes that are largely drowning in a pool of orangish oily water. That's OK. That means you've done it right.
(You'll see this if you've used larger slicing tomatoes. If you've used smaller, Roma tomatoes, there will be very little tomato water.)
Once the tomatoes have cooled, Come back later and slip those tomato skins off the meat of the tomatoes. Put the skins in the garbage or compost, or give them to the pigs. The meat/pulp goes in a bowl. You should portion that out, and freeze it.
If you have swampy tomato water? Pour it into Mason jars. You're going to use that goodness in tomorrow's recipe! (Southern Summer Risotto in a Pressure Cooker, with Corn, Tomatoes and Bacon! Or, you could use it in a vegetable or tomato soup. This article from Food & Wine, offers you some more possible uses. )
We portioned our tomato sauce into 4 cup ziplock gallon size freezer bags, in order to freeze it. I love how it stores flat, so it doesn't take up much room in the freezer. When I'm ready to use it in a recipe, I'll know how much is in each bag. I'll likely tear up some fresh basil after it thaws, and add that to the sauce.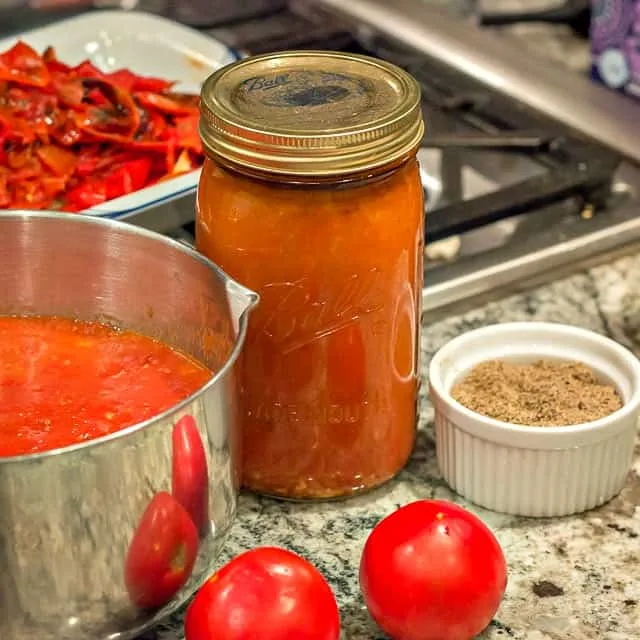 Now don't forget to check back for the amazing recipe Southern Summer Risotto, with Corn, Tomatoes, and Bacon, Made EASY in an Instant Pot, that uses that gorgeous tomato water! It's easy, and delicious.
But in the meantime, here's the recipe for :
Oven Roasted Tomato Sauce
Yield: 12 servings
What to Do With All Those Tomatoes: Oven Roasted Tomato Sauce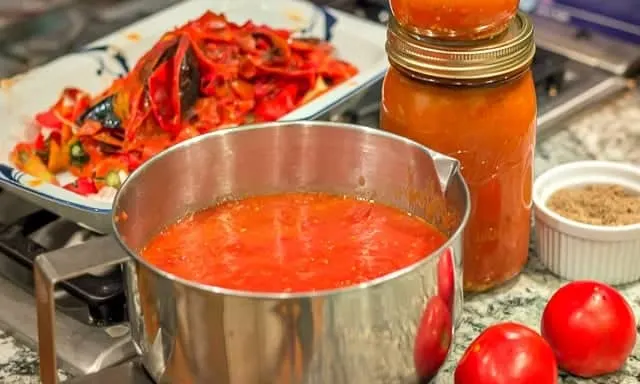 Oven Roasted Tomato Sauce is the answer to the question of what to do with all those tomatoes.
Total Time
1 hour
15 minutes
Ingredients
3 lbs. tomatoes sliced in half
4 garlic cloves sliced
1 teaspoon dried Italian herb seasoning
1 teaspoon sugar
1 teaspoon sea salt
1/2 teaspoon freshly ground black pepper
2 tablespoons olive oil
Instructions


Preheat the oven 400°F.
Cover two rimmed baking sheets with aluminum foil.
Drizzle the olive oil all around the baking sheets.
Place the tomato halves on the baking sheets, cut side down, and sprinkle the tomatoes with the slices of garlic, the herbs, sugar, salt and pepper. Drizzle with some more olive oil, over top.
Roast for about 30-40 minutes, or until the skins start to lift from the tomatoes. Some of the edges will be slightly charred. Tomatoes will have exuded a lot of juice/tomato water.
Allow pans of tomatoes and tomato water to cool.
Remove the skins and put the skins in one bowl, to discard. Scoop the tomato pulp up off of the baking sheet into a large bowl, and break up any larger chunks with a fork.
Pour the tomato water into Mason jars, or another container, to be used in another recipe.
Recommended Products
As an Amazon Associate and member of other affiliate programs, I earn from qualifying purchases.
Recipes Wherein You Can Use Oven Roasted Tomato Sauce
Now that you've got this beautiful tomato sauce, wouldn't you like some incredibly wonderful recipes to use it in? So glad you asked!!!