This post contains links that, if you click on them and make a purchase, will earn me money. As an Amazon Associate, I earn from qualifying purchases. . Regardless, I only recommend products or services that I believe will be good for my readers. Thanks for helping me continue to produce great content!
All the Treasures of Summer in the South, in a Risotto:
Southern Summer Risotto is simply an Italian-style rice dish, made in the easiest way I've ever made risotto: with a pressure cooker. I made this recipe up myself, by taking a basic risotto recipe, and changing up a few ingredients. It's made with some of the most beautiful treasures of a southern summer: corn and tomatoes and bacon.
Well, let's face it: bacon is a year-round treasure. But to me, nothing says summer in the South (the southern USA, that is) like a BLT, with fresh corn on the cob. In this recipe for Southern Summer Risotto, basil stands in, taking on the role formerly played by lettuce in a BLT.
What is Risotto?
Just in case you aren't exactly sure what risotto is, it's an Italian dish, made with a very special kind of rice: Arborio Rice. It's a plumper, more toothy kind of rice. Basically, when you cook risotto the old fashioned way, on the stove top, you end up standing by the pot for most of half an hour, stirring.
You brown the grains of rice just a bit in butter, first, and then you stir about a cup of the liquid called for in the recipe into it. Then you stir some more until that liquid has been absorbed. After that, you add some more liquid, and then you stir it till that liquid is absorbed. And then you add some MORE liquid, and guess what? You stir it some more.
Now, the goal here is to cook it thoroughly, adding all the liquid called for in the recipe, to help the rice become creamy, yet still be slightly "to the tooth", as they say in Italian. Slightly al dente. It should be a bit firm in the middle of each grain. lAll that stirring helps the grains of rice shed some of their starchiness. And that's what makes the dish so creamy.
The beautiful…and I mean REALLY BEAUTIFUL…thing about making risotto in a pressure cooker/Instant Pot is that: YOU ELIMINATE THE STIRRING. You can walk around your kitchen, and do other things!
What isTomato Water, and Why Would You Use It in Risotto?
But the really ~special~ ingredient that makes this risotto different than probably any other risotto you've ever tried is tomato water! The last recipe I shared was for Oven Roasted Tomato Sauce. Oven Roasted Tomato Sauce is the answer to the question of what to do with that counter full of tomatoes you have that are begging to be used before you are overcome by guilt, or fruit flies.
But if you made that recipe, and I hope you did, it created its own little problem: what to do with all that yummy tomato water?
I developed this risotto recipe in self-defense. I was also needing to use up some corn a friend had given us. And then I thought about how summer nights at my house growing up meant a BLT, and corn on the cob. And that risotto takes a lot of broth. So why not make the tomato water the liquid that would take the place of the stock or broth that is generally called for in a risotto recipe?
Recipe Notes:
If you don't have tomato water handy, you can definitely replace the tomato water in the recipe with an equal amount of chicken stock or veggie stock. If you want to make some impromptu tomato water on your own, you can salt a chopped up tomato or two or three, and let them drain down through a sieve, into a bowl, and use that. Then just add the meat of the tomato to the finished risotto.
In this recipe, salt is important. The amount of salt you use or add will be dependent upon how salty your tomato water is. If you used the recipe for Oven Roasted Tomato Sauce, your tomato water may be quite salty. Mine was. Therefore, my risotto needed no additional seasoning. If your risotto turns out to be too salty, you can do what I did: add 1/2 – 1 tsp. of sugar. It really does take the edge off of a dish that is borderline overly salted.
Yield: 6 servings
Southern Summer Risotto in a Pressure Cooker: with Corn, Tomatoes and Bacon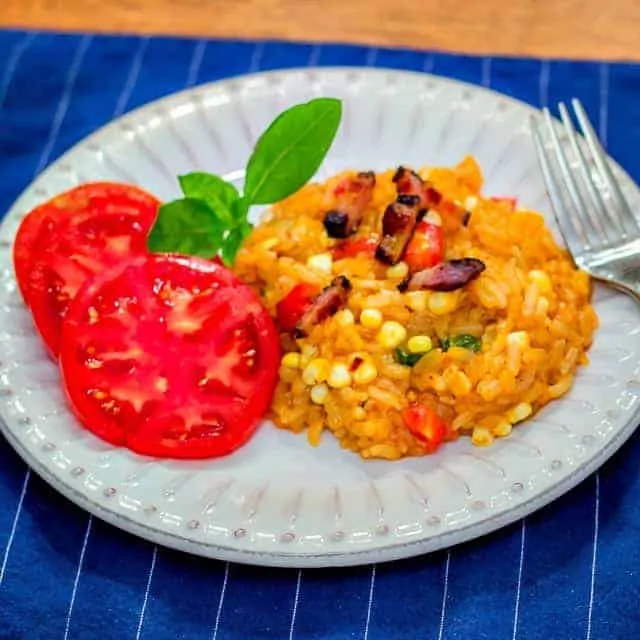 A risotto dish, made in a pressure cooker, that contains all the flavors of a Southern summer.
Ingredients
2 tbsp olive oil extra virgin
4 oz. bacon diced
3 1/2 c. tomato water
1 1/2 c. Arborio rice
1/4 c, dry white wine
1 c. fresh corn freshly cut off the cob
1 tbsp fresh basil leaves chopped
1/2 c. tomatoes chopped
2 cloves garlic thinly sliced
1 tsp. sea salt less, or more, to taste
1/2 tsp. black pepper freshly ground
1/4 c, Parmesan cheese freshly grated
Instructions
Using the sauté function, heat 1 T. of the oil in the pressure cooker. Add the chopped bacon, and cook until browned and crisp, about 7 minutes. Transfer the browned bacon to a plate covered with a paper towel.
Briefly sauté the garlic, about 1 minute. Remove it from the cooker, placing it in the tomato water.
Add the remaining tablespoon of oil in the pot, and stir in the rice. Brown it briefly: about 3 minutes. It should begin to smell slightly nutty and look lightly toasted. Stir in the wine and cook until it has evaporated, about 1 minute. Stir in the tomato water and garlic, and half of the browned bacon. Cover and cook on high pressure, for 6-9 minutes.
Release the pressure manually. Taste the rice to see if it needs any more cooking time. Add the corn, and tomatoes, basil. Taste, and adjust the seasoning, if necessary, with either more sea salt, freshly ground black pepper, the reserved bacon, and additional basil and freshly grated Parmesan cheese for garnish. Serve.


Notes
Sea salt should be added to taste in this recipe. My tomato water was very salty, due to the amount of salt I sprinkled on my tomatoes, when I roasted them. So no additional salt was needed. But if you use chicken broth, or if your tomato water is lightly salted, you'll need to add salt. In general, most home cooks err on the side of not enough salt, so it's very important to taste as you go. Don't forget that if you're going to add Parmesan cheese, it's very salty, as well, so factor that thought in, as you taste.
Recommended Products
As an Amazon Associate and member of other affiliate programs, I earn from qualifying purchases.