This post contains links that, if you click on them and make a purchase, will earn me money. As an Amazon Associate, I earn from qualifying purchases. . Regardless, I only recommend products or services that I believe will be good for my readers. Thanks for helping me continue to produce great content!
Rich, unctuous Pork Osso Buco, sprinkled with a bright, fresh gremolata, on creamy risotto is the kind of comfort food you crave on a cold winter evening.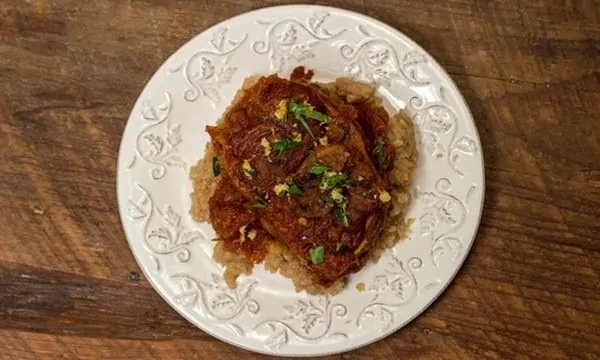 I received the osso buco I used to create this recipe as a gift from Batey Farms, but all opinions my very own. 🙂
On cold winter evenings, we crave comfort foods – meals that will stick to our ribs like stews – and this osso buco recipe is a delicious braised meat dish that falls into that category.
What Is Osso Buco?
Osso buco means "bone with a hole", and it is traditionally made with the veal shank. Not many of us can afford this expensive cut of meat, at $18.00 a pound!
But there is a more affordable osso buco, and it comes from a pig, not a calf. Pigs have shins too, ya know.
Where did you find Pork Shanks?
I was lucky enough to obtain some on my visit to Batey Farms in Murfreesboro, TN. I was invited to visit Batey Farms by my friend Janice Person, who is a representative of the Monsanto Company. Janice wanted to help me connect with some local farmers in my area, and to see some of the exciting things that they have going on. To say I enjoyed my visit there, and learning about that family farm and the products they produce would be a huge understatement!
The Batey Farms have been in their family for 8 generations. EIGHT generations: since 1807! The land was given to a soldier ancestor of theirs for services rendered during the Revolutionary War, in a post-Revolutionary War land grant. I loved my visit with the men who own and run the farm today: John Batey, and his son-in-law, Brandon Whitt. I envy them their understanding of the importance of the land and family, and the sense of history they all must feel.
On Batey Farms, they care for and maintain hogs, row crops (like soybeans, strawberries and blueberries), and hay. I'm planning a trip back in the springtime, for sure, to help take some of the fresh strawberries they'll be growing off their hands!And maybe the blueberries, too, around the 4th of July!
And while I'm there, I'll visit the store they have that sells all their wonderful pork products: because I can tell you that we DEVOURED this pork osso buco, and my only regret is that it's now gone from my freezer.
Osso Buco With Other Types of Meat
So, here's the thing about osso buco that I learned: since it means, quite literally, bone with a hole, you can do an osso buco with many types of meat: people use not only veal and pig, but also lamb.
Typically, you take the shank of the animal, and braise it for a while.
What is Braising?
To braise a meat merely means taking a (usually tougher) meat, and after browning it (for that lovely caramelization that tastes so good on the exterior of the meat, and within whatever sauce you're creating), you slow cook the meat by cooking it in a vegetable wine sauce that you create.
When braising, you don't fully immerse the meat. (With apologies to all my friends in the Churches of Christ.)
You simply nestle it into the broth, up to its little shoulders, as it were, with the bone and top of the meat sticking out. And then you cook it for about 90 minutes.
What is a Gremolata?
The gremolata is a topping that gets sprinkled on top after the meat is finished braising. It simply, but importantly, adds a note of freshness to this deeply unctuous dish. The gremolata that I used (and this recipe was inspired by and adapted from Chef Anne Burrell) is made of parsley, orange zest, garlic, and horseradish, mixed together and sprinkled on top for a bit of acidity, to cut the fat.
What Do You Serve With Osso Bucco?
Finally, I served my Pork Osso Buco on a bed of creamy risotto, which is traditionally what accompanies osso buco, Risotto Milanese. I plan to do a risotto recipe post at some point soon, but this one I kind of improvised and made up a lot on, and frankly, I don't know how orthodox it was.
Real Risotto Milanese has saffron, and I didn't use that. What I made sure was delicious, though! I do remember that I toasted the Arborio rice and some shallots in butter, and used a sauvignon blanc white wine, and chicken broth, and a lot of Parmesan cheese to finish it.
Now how bad could that be?
One thing that did surprise me about Osso Buco is that most recipes use a white wine to deglaze the pan. I really kind of expected they'd call for a red wine, but this sauce was absolutely lovely, and I'd do it again in a heartbeat. (Plus, I used the same white wine in the Risotto as I used in the Osso Buco, so that kind of ties things together.
How to Tie the Meat
Speaking of tying things together: when I say to tie the string equatorially: well, it means to give the little jolly fat men a belt around their middle.
One more lovely thing about this recipe: you really don't need to hand chop all the veggies. Just stick them in the food processor, and pulse them till they look like this:
I think that pretty well covers my recipe notes.
And now, on to the recipe for
Pork Osso Buco
Yield: 4 servings
Pork Osso Buco Recipe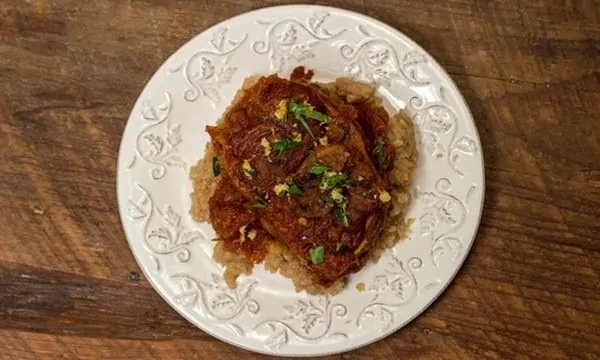 A delicious braise of pork shanks, in a vegetable and wine braising liquid, with a fresh and zesty gremolata to sprinkle on top for a note of freshness.
Total Time
2 hours
30 minutes
Ingredients
4 pork osso buco, tied equatorially with string
Kosher salt
Extra-virgin olive oil - enough to generously coat the bottom of the pan
1 large onion, coarsely chopped
2 celery ribs, coarsely chopped
1 fennel bulb, coarsely chopped
3 cloves garlic, smashed
Pinch crushed red pepper
3/4 cup tomato paste
2 cups dry white wine: I used a Sauvignon Blanc
3 bay leaves
1 fresh thyme bundle
FOR THE GREMOLATA:
1 orange, zested
1/4 cup finely chopped fresh parsley leaves
1 small clove garlic, minced
2 tablespoons freshly grated horseradish
Instructions
Season the osso buco generously with salt.
Coat an enamel covered cast iron Dutch oven generously with olive oil. Bring the pan to a high heat and add the osso buco to the pan and brown them very well on all sides.
In a food processor puree the onion, celery, fennel, and garlic to a coarse paste, by pulsing about 10 times. Check the texture: you don't want it too pasty, nor too coarse (see picture above) . When the osso buco is well browned on all sides, remove from the pan and reserve.
Ditch the excess oil (but keep the browned bits - they're called the fond, and they make for deliciousness) from the pan and add a little new oil and bring to a high heat.
Add the veggies to the pan with a pinch of crushed red pepper, season with salt, and brown them very well. Do not skimp on this step - it will take awhile. Be patient!
Add the tomato paste and cook until it starts to brown, 3 to 4 minutes. Add the wine and reduce by half.
Preheat the oven to 375 degrees F.
Return the osso buco to the pan. Add water so the liquid becomes even with top of the meat's shoulders. Taste the liquid and season with salt if needed.
Add in the bay leaves and thyme bundle. Bring the liquid to a boil, cover, and put the whole pan in the oven.
Cook the osso buco for 1 hour. Pull the pan out of the oven and check the liquid level and the seasoning. Add more liquid, if needed, return the pan to the oven, and cook for another hour.
Remove the lid and cook for 30 minutes.
Remove the pan from the oven, remove the osso buco, and hold on a serving platter. Skim the fat off the surface of the sauce, if needed. Taste the sauce and adjust seasoning.
Add the gremolata ingredients to a bowl, and toss together.
Remove the string from the osso buco.
Serve the osso buco over risotto with sauce spooned over.
Garnish with Gremolata.


Recommended Products
As an Amazon Associate and member of other affiliate programs, I earn from qualifying purchases.
Nutrition Information:
Yield:
4
Serving Size:
1
Amount Per Serving:
Calories:

721
Total Fat:

27g
Saturated Fat:

10g
Trans Fat:

0g
Unsaturated Fat:

14g
Cholesterol:

213mg
Sodium:

691mg
Carbohydrates:

32g
Fiber:

6g
Sugar:

13g
Protein:

61g
This Little Piggy Went to Your Tummy
Are you looking for more delicious pork dishes? I've got you covered!