This post contains links that, if you click on them and make a purchase, will earn me money. As an Amazon Associate, I earn from qualifying purchases. . Regardless, I only recommend products or services that I believe will be good for my readers. Thanks for helping me continue to produce great content!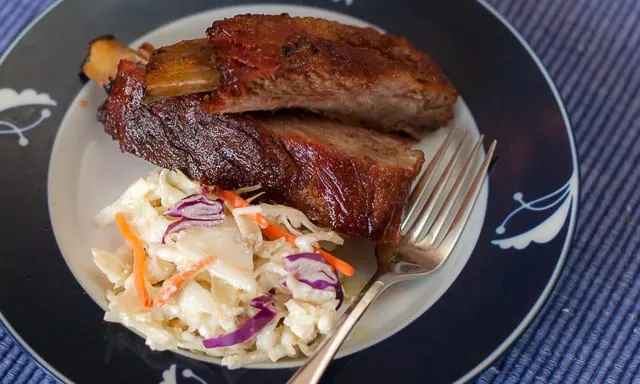 Slap yo' Mama Ribs are made with delicious Slap yo' Mama Rib Rub: read on for the easy directions!But I promise: no disrespect to YO' Mama is intended!
Where'd You Get the Name for Slap Yo' Mama Ribs?
Spring has sprung, and I'm so glad, because with the coming of spring, comes grilling season! Ribs are just about my favorite thing to grill, and I've come up with an easy rib recipe I've named Slap Yo' Mama Ribs! The story behind the name – in brief – refers to that theoretical someone/something who is so good-looking to you, that you might, were it insisted upon, be willing to turn around and slap yo' mama, just to have them. ) And while I hope none of you will never, EVER smack yo' mama, I do hope you'll try these easy-to-make ribs. I'd go so far as to say that no matter your level of expertise, you can grill great ribs.
The best way to cook ribs is a topic that generates a lot of controversy, wherever you go. Some advocate for the grill, or the smoker, and some for the slow cooker, or the oven. And then, there's what you put on your ribs: will it be barbecue sauce or a dry spice rub, or a combination thereof?
No Sauce on Slap Yo' Mama Ribs???
My favorite place in the South to eat ribs prepares their ribs with spice rub, only. In the past, I've usually served mine with a barbecue sauce, but for this post, I wanted to try cooking my ribs simply: with a spice rub only.
I have a spice rub mixture that I mostly use on Boston Butt roasts (and that cut of meat comes, in reality, NOT from a butt…but a pork shoulder! Oh, that confusing English language of ours!). I call my Boston Butt spice rub, Slap Yo' Mama Butt Rub, and it happens to be the most popular recipe on my blog. (So…pretty much everything's in a name.)
Anyway, when I heard that Smithfield Fresh Pork wanted me to share my tips on how I do ribs, I thought I'd take my existing recipe for Butt Rub, and use it as a Rib Rub. Because I was pretty sure that if you like Butt Rub, you're going to love Rib Rub.
What Type of Ribs Did You Choose for Slap Yo' Mama Ribs?
I chose the St. Louis style spareribs. All cuts of spareribs are going to be delicious, whether regular, baby back, country style or St. Louis style, but the cut known as St. Louis style spareribs has already been trimmed of skirt meat and excess cartilage. Thus, their overall shape is more even. The shape is basically rectangular, and in terms of even cooking, that makes for less worry for the cook!
I start my ribs by applying the spice rub. If you have 8 – 24 hours to spare, you can wrap them in plastic wrap at that point, and store them in the fridge, till you grill them later. The spice rub will have even more time to penetrate that way. I didn't have that kind of time: I needed to grill them soon, so we applied the rub and cooked them right away, and they were great, even without giving the rub time to be drawn in deeper.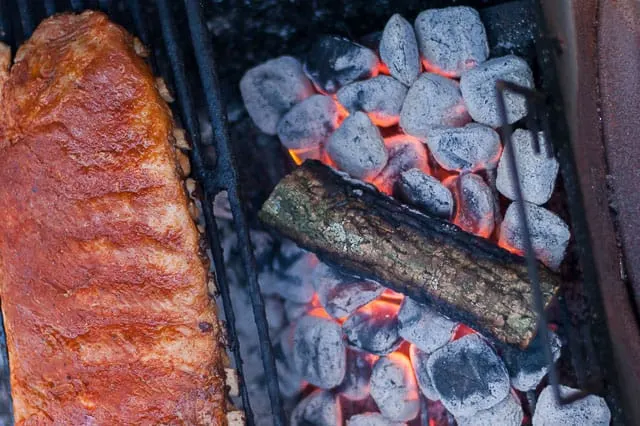 Start Slap Yo' Mama Ribs in the Oven, and Finish Them On the Grill
Wrap the spice-rubbed ribs in foil, and crimp the edges, to seal the packet. Cook them low and slow, at 300º on a rack. Place the rack on a cookie sheet, for two hours. Low heat + sealed in steam from the cooking ribs, causes the meat's proteins to relax. Low, slow and steamy makes them tender and juicy.
And since I can't resist a bit of smoky flavor, when we took our ribs out of the oven and unwrapped them, we finished them for the last 45 minutes on the grill, over indirect heat, with a stick of hickory wood placed on top of our Kingsford charcoal coals, to get some smoky flavor. (My husband turned the rack of ribs over every 10 minutes or so, keeping an eye on them as they cooked.)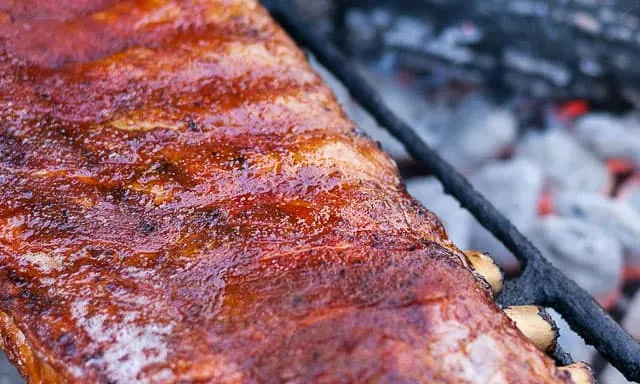 The brown sugar in my rub – sugar in any spice rub or barbecue sauce – will brown and caramelize on the grill. Yum!!!! However, sugar burns quickly, so that's why we used an indirect heat while we grilled the ribs.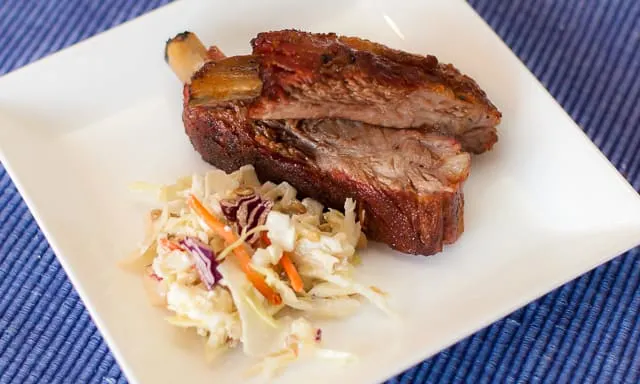 In layman's terms, what I'm talking about doing here perhaps could be titled:
How to Cook Pork Ribs in a low Oven in a foil packet with a Dry Rub/Tasty Spice Blend, and Finish them with Smoke on the Grill
However, that's neither catchy, nor succinct. And we all know "catchy" is what tends to get more blogs clicks. And the name needs to be more memorable. You need a name that will cause the people that you're grilling them for to smile. So, we'll call them:
Slap yo' Mama Ribs:
Slap yo' Mama Ribs: Get Grilling America!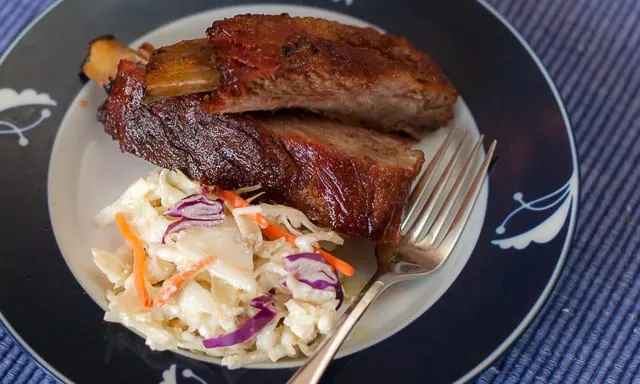 Grilling ribs is easy to do! Here's a delicious recipe that will be tender, juicy, and flavorful. To make this recipe, you'll need a batch of my Slap Yo' Mama Butt Rub. There's a link for it in the recipe Ingredients.
Ingredients
1 rack of Smithfield Fresh Pork St. Louis Style Pork Spareribs for every 4 people
Instructions
Spread each side of each rack of ribs with 2 tablespoons of Slap yo' Mama Rib Rub. Don't just sprinkle with the spices: rub them in. Wrap each rack you're cooking in plastic and refrigerate for up to 24 hours (if you have the time). When you're ready to cook, preheat the oven to 300º. Remove spice-rubbed ribs from plastic wrap, and wrap securely in a foil packet, crimping the ends for a tight seal. Place the rib packet(s) on a rack, set on a baking sheet. Roast in the oven for 2 hours.
Remove foil from around the rack(s) of ribs, and place on a grill, using indirect heat. (That means the coals have been built up on one side, and the ribs will be on a rack on the other side.) Grill the ribs over indirect heat for about 45 minutes, turning them every 10 minutes or so, and keeping an eye on their color, so that they don't burn. Enjoy!
Notes
To get a smoky flavor, we added a piece of hickory wood onto the top of the bank of coals in our grill. This is definitely optional, but we like smoky ribs.
Recommended Products
As an Amazon Associate and member of other affiliate programs, I earn from qualifying purchases.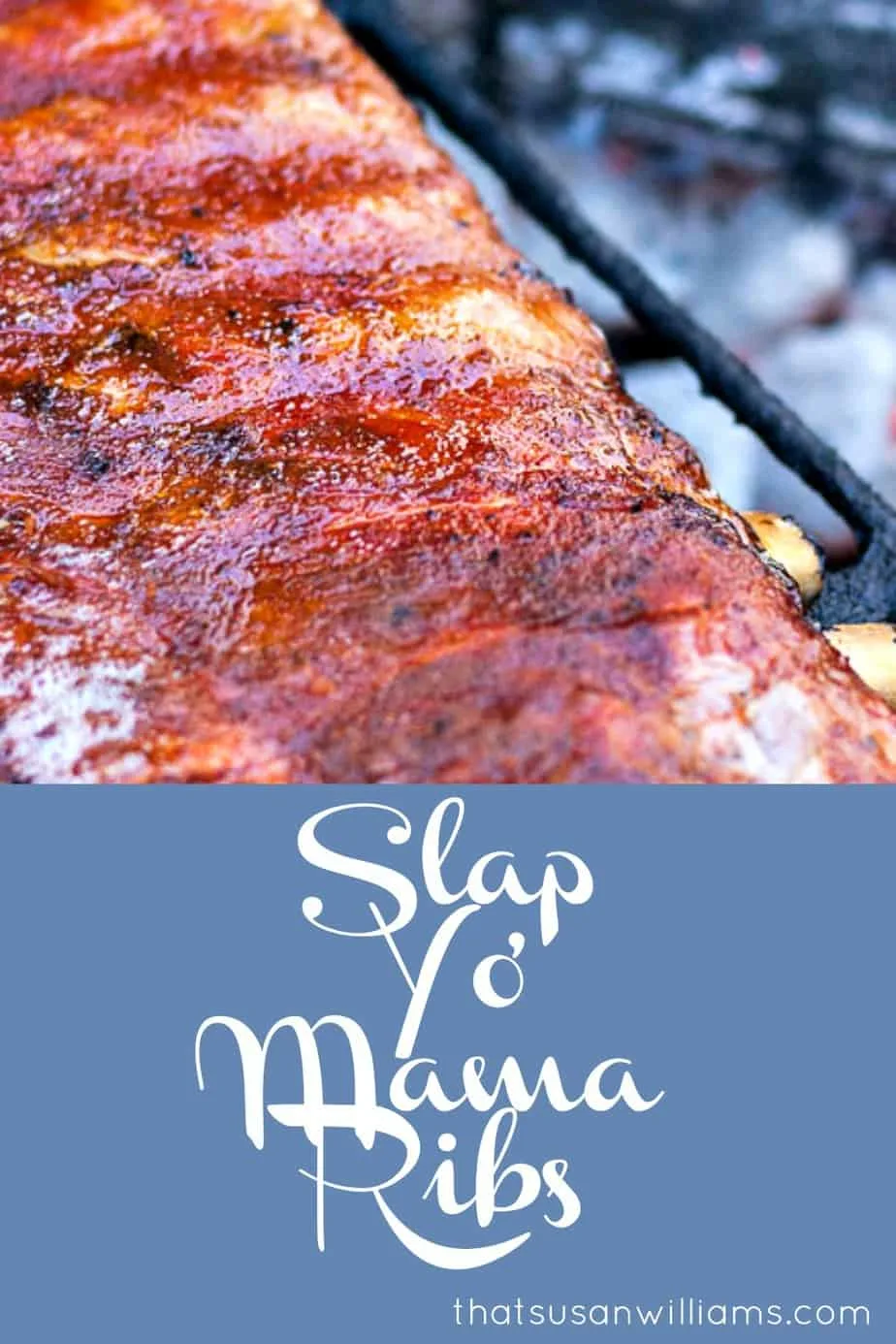 I'd appreciate it so much if you'd pin my recipe on Pinterest, or share it on Facebook, Twitter or Yummly.