This post contains links that, if you click on them and make a purchase, will earn me money. As an Amazon Associate, I earn from qualifying purchases. . Regardless, I only recommend products or services that I believe will be good for my readers. Thanks for helping me continue to produce great content!
Great ribs are easy to grill, once you know a tip or three. This post will provide you with all you need to know to produce a rack of juicy, succulent ribs, as well as a recipe for a SUPER EASY and DELICIOUS homemade Chipotle-Beer Barbecue Sauce.
Step One to Grill Great Ribs:
Season the ribs generously with salt and pepper, double wrap them in foil, and roast them on a rack, set in a jelly roll pan/baking sheet, in your oven, at 300º, for about two hours. GrillMasters call that cooking them Low and Slow.
Step Two to Grill Great Ribs:
Combine all the ingredients for your barbecue sauce in a sauce pan, and simmer for 30 minutes.
Step Three to Grill Great Ribs:
Finish the ribs by grilling them over indirect heat on your grill for about 15 minutes, basting them with the barbecue sauce during the last 5 minutes of grilling.
The Easy Recipe for Homemade Barbecue Sauce
Yield: 1 1/2 cups
Easy Homemade Chipotle-Beer Barbecue Sauce Recipe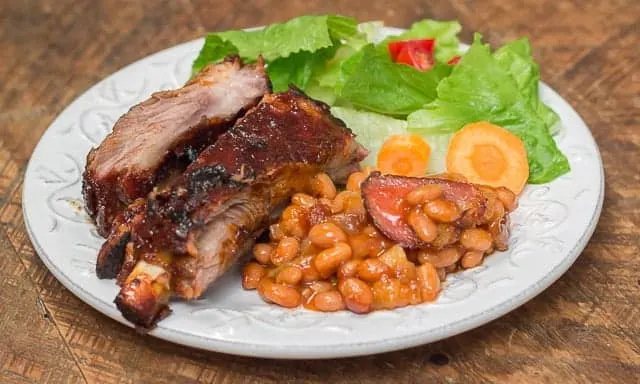 I made this recipe up myself, using beer and Tabasco Chipotle Barbecue Sauce, and dang, it's good. Sweet, smoky & spicy! You're going to love it!
Ingredients
1 c. ketchup
3/4 c. Budweiser or other lager-style beer
1/4 c. molasses
1 tablespoon Dijon mustard
1 teaspoon salt
1/4 teaspoon Tabasco Chipotle Pepper sauce (or more, to taste)
.
Instructions
Combine all ingredients in a 1 qt. saucepan. Simmer for approximately 30 minutes, or until thickened.
Recommended Products
As an Amazon Associate and member of other affiliate programs, I earn from qualifying purchases.
And by all means, please pin this post, so you'll have it handy when you need it.