This post contains links that, if you click on them and make a purchase, will earn me money. Regardless, I only recommend products or services that I believe will be good for my readers. Thanks for helping me continue to produce great content!
This shop has been compensated by Collective Bias, Inc. and its advertiser. All opinions are mine alone. #HostingHacks #CollectiveBias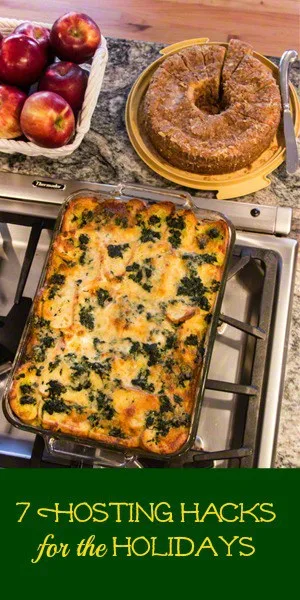 Life is so much richer when we take the time to celebrate the season, and that makes the holidays the perfect excuse to get together with those we love. For some of us, it's also the time we'll be hosting guests, whether we like it or not! 😀 Whatever your reason for hosting, be it totally voluntary, or if it's been mercilessly thrust upon you, we all need some helpful hints to make the process easier. Let's call those #HostingHacks!
My husband and I do a fair amount of entertaining. It seems that I've talked about living in the Boonies and the things I'm cooking enough, that people kind of want to see where we live for themselves. The last time we hosted guests, one of our guests, who got lost on the way, (and our first-time guests nearly *always* get lost on the way) called us and said, "We're afraid we're going to DIE out here, cold, and alone, with no gas in our tanks."
Hey…you buy your tickets to the Boonies…you take your chances…
Now, it's no secret to my friends that I have a deep and abiding love for Costco. Costco stocks nearly all the products I need, in the quantities I need them, so that I spend less of my time running to the store because I've run out of something important. And as you may have gathered from the comment made by my guest who was afraid of dying on the trail, it is NOT an easy hike back into civilization, when I *do* run out of stuff. So buying in what we call the "Costco Quantity" has saved my bacon more times than I can count! Costco carries all the Procter & Gamble products that I have come to count on as necessities, products like Tide Pods, Cascade Complete Action Pacs, and Charmin. And for the recipe that I'm going to share with you today, I was also able to pick up the baguette, the Gruyère cheese, the eggs, and the Half and Half, all from my local Costco.
All you really need to be a great hostess for the holidays is a clean house, a full pantry, and a loving heart. But since some of you like things broken down and spelled out a little more, and since I do a fair amount of entertaining, I thought I'd use this post to share with you how I get my home ready for holiday celebrations:

7 Helpful Hosting Hacks for the Holidays
Pick up clutter and clean your house first. (This is my least favorite part, but it allows me to relax, feel confident, and focus more on my guests.) One P&G cleaning product that I find to be a miracle worker when it comes to cleaning is the Mr. Clean Magic Eraser: I love to use it to spot clean smudges on painted walls, trim, and light switches…that gunk that builds up when we let the details slide. But I also use them to clean my bathroom.
Buy the products you'll need in quantities such that you won't run out while your guests are visiting. (So stock up on Charmin. Buy extra feminine supplies like Always and Tampax, in case your guests have a minor emergency. Be sure you have enough laundry and dishwashing detergent. Dawn Platinum Advanced Power is my favorite for washing dishes by hand.)
Buy products that are multi-purpose: they help you not only with the cleaning up, but also with the cooking. I am a huge fan of Bounty paper towels. I use them in cleaning up my kitchen, and in cooking. In the recipe I'm sharing with you today, you can see that I used Bounty paper towels to help me squeeze the liquid out of my frozen spinach, which kept my breakfast strada from being watery or runny.
When you plan a meal for your get-together, plan a potluck, so that everyone gets to share their favorite dish. It will lighten your load, you'll learn awesome new recipes, even your guests with allergies will have something there that they know is safe for them to eat, and it will cut your costs. That's known as a win for everyone!
If possible, plan your party at a non-traditional time. The holiday calendar fills up so fast that sometimes, it seems like it's impossible to find a date that will work for everyone. This year I planned one of my get-togethers as a breakfast potluck for my girlfriends. Even though they had other parties to attend in the evenings, we found a morning when everyone was free to eat breakfast together. What a fun time it was, too!
Choose a fabulous recipe that you can prepare in advance. Especially if you're going to be doing a breakfast potluck, no one wants to get up at 0′ Dark Hundred to cook for hours before a party. And that's one of the beauties of the recipe I'm going to share with you today: it's easy prep, and it's all done the night before. When you get up, you take the strada out of the fridge, pre-heat the oven, and let the strada bake for 1 hour. How easy is that? The breakfast bakes while your guests are getting lost on the way to your house!
When you're doing your prep work the night before, clean up as you go, washing the larger things by hand. Then, by the time the strada is ready to go in the fridge overnight, you're ready to go to bed, with a clean kitchen!
Be sure to check this list of necessities from Procter & Gamble on the Costco website, to make sure you're all stocked up for your holiday hosting needs!
What do you typically run out of, when you're hosting? Leave me a comment. 🙂
Yield: 12 servings
Strata with Spinach and Gruyère Cheese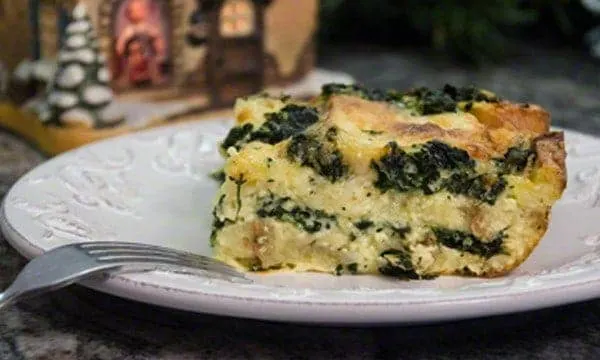 A delicious strata, for breakfast, brunch, or lunch, that can be made the night before you need to serve it, which makes for EASY entertaining.
Prep Time
2 hours
2 seconds
Total Time
11 hours
2 seconds
Ingredients
12-14 oz. baguette (I used one of the long baguettes from my Costco bakery), sliced into 1/2" thick slices
15 oz. bag of frozen chopped spinach, thawed, and with water squeezed out (I used paper towels to help me squeeze out the water
9 and 1/2 tablespoons butter
2 large shallots, minced, (you need about 1 c. of minced shallots - mine were really large)
sea salt, and freshly ground black pepper
1 cup medium-dry white wine, such as Sauvignon Blanc
12 oz. Gruyère cheese, (white cheddar, or havarti are other possibilities)
12 eggs
3 c. half and half
Instructions
Adjust oven rack to middle position and heat oven to 225 degrees. Arrange bread in single layer on large baking sheet and bake until dry and crisp, about 40 minutes, turning slices over halfway through drying time. (Alternatively, leave slices out overnight to dry.) When cooled, butter slices on one side with 4 tablespoons butter; set aside.
Heat 4 tablespoons butter in medium nonstick skillet over medium heat. Sauté shallots until fragrant and translucent, about 3 minutes; add spinach and salt and pepper to taste and cook, stirring occasionally, until spinach and shallots are combined, about 2 minutes. Transfer to medium bowl; set aside. Add wine to skillet, increase heat to medium-high, and simmer until reduced to 1/2 cup, 2 to 3 minutes; set aside.
Butter 9 x 13" baking dish with 1 and 1/2 T. butter; arrange half the buttered bread slices, buttered-side up, in single layer in dish. Sprinkle half of spinach mixture, then half of grated cheese evenly over bread slices. Arrange remaining bread slices in single layer over cheese; sprinkle remaining spinach mixture and remaining 1/2 of cheese evenly over bread. Whisk eggs in medium bowl until combined; whisk in reduced wine, half-and-half, 1 teaspoon salt, and pepper to taste. Pour egg mixture evenly over bread layers; cover surface flush with plastic wrap, weigh down (see note, below), and refrigerate at least 1 hour or up to overnight. I refrigerated mine overnight.
Remove dish from refrigerator and let stand at room temperature 20 minutes. Meanwhile, adjust oven rack to middle position and heat oven to 325 degrees. Uncover strata and bake until both edges and center are puffed and edges have pulled away slightly from sides of dish, 60 minutes. Cool on wire rack 5 minutes; serve.
Notes
To weigh down my assembled strata, I used a 7 lb. bag of confectioner's sugar, which is surely at the upper end of any weight you might need, but it worked perfectly for me. Just be sure your 9 x 13 pan is completely sealed with plastic wrap before you put your weight on top. You could also use a couple of 2 lb. bags of brown sugar, for example, or a couple of gallon-sized zipper-lock bags filled with about 2 pounds of sugar or rice as weights.
Recommended Products
As an Amazon Associate and member of other affiliate programs, I earn from qualifying purchases.
Nutrition Information:
Yield:
12
Serving Size:
1
Amount Per Serving:
Calories:

1386
Total Fat:

30g
Saturated Fat:

14g
Trans Fat:

0g
Unsaturated Fat:

13g
Cholesterol:

240mg
Sodium:

2756mg
Carbohydrates:

213g
Fiber:

10g
Sugar:

22g
Protein:

61g