This post contains links that, if you click on them and make a purchase, will earn me money. Regardless, I only recommend products or services that I believe will be good for my readers. Thanks for helping me continue to produce great content!
This shop has been compensated by Collective Bias, Inc. and its advertiser. All opinions are mine alone. #GrillPorkLikeASteak #CollectiveBias

This recipe for Grilled Pork Chops and Grilled Romaine Salad with a Toasted Sesame Vinaigrette is a 30 minute meal, and who doesn't need a delicious recipe like that in his/her back pocket? I adore having recipes that are not only quick and easy, but scrumptious, too.
Here we are, still in the midst of summer, and for many folks I know, their kids are already going back to school. Say WHAT???? Despite the fact that school is in season for some, summer weather is in full flourish, and both of those factors mean that the time is right for easy dinners on the grill!
The thing I love about this recipe is that not only is it perfect for a busy school night, but it's also awesome enough to serve if you're entertaining. Your guests will be bowled over by how delicious pork can be when you grill it like a steak, and your wallet will thank you, too. Plus, there's the "wow" factor of grilled romaine lettuce: many people haven't tried it yet. Most will be amazed by how much flavor grilling adds! And then, there's the toasted sesame vinaigrette.
Let me tell you a little secret about this vinaigrette: it is a very close approximation of what used to be served at one of my favorite places to have lunch in Nashville: The Corner Market. If this recipe isn't perfectly what they served, it's pretty dang close. You can always substitute a bottled dressing, if you're pressed for time, but this takes only about 5 minutes to throw together, and once you've tasted it, you'll wonder where it's been all your life. It's quite likely to become a family favorite for salads of all types, so don't miss out on making it, is my recommendation.
To make this recipe, I started out by visiting Walmart. That's where I found my Smithfield All Natural Bone-In Pork Chops, and I've included a photo here of where I found them in my local Walmart. Smithfield All Natural Bone-In Pork Chops are naturally tender and juicy, and they have no added steroids, hormones, or artificial ingredients. The folks at Smithfield had challenged me to take my pork chop and "Grill It Like a Steak". Having come up with my idea, I needed to pick up a few more groceries while I was there. I also picked up my romaine hearts, my tomatoes, and a bag of those adorable miniature peppers in assorted colors. Walmart also has a good Asian section, which was where I located the toasted sesame oil that I needed for my recipe.
Thinking about grilling pork chops in the same way that I think about grilling steaks was a new thought for me, but I can't imagine why I didn't think of it sooner! I hope this post will help you begin to think of Smithfield All Natural Fresh Pork as an everyday meal solution. They are high in quality, and easy to prepare. And Smithfield All Natural Fresh Pork is proudly raised in the USA by Smithfield Farm Families. If you've known me any amount of time, you know that supporting our farmers is an issue that is near and dear to my heart!
When you're grilling meats, using a meat thermometer is a must. If you love your pork medium rare, you should cook it to an internal temperature of 145º, followed by a 3 minute rest. That resting time is crucial, and it's also the perfect opportunity to grill the romaine. If you like your chops a little more done, you can cook them ot an internal temperature of 160º.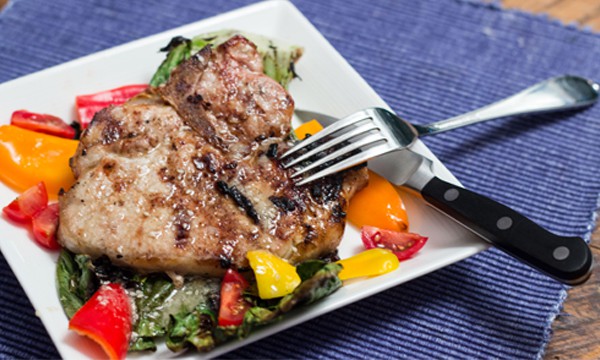 Grilled Pork Chops and Grilled Romaine Salad with Toasted Sesame Vinaigrette
2016-08-10 11:42:13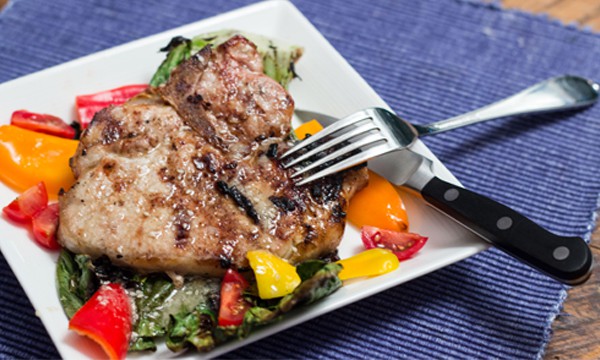 Serves 4
This is ridiculously delicious for the amount of time and effort you put in! Grill the pork like a steak, grill the romaine briefly, add some fresh veggies, and the delicious vinaigrette, and you've got dinner in a flash, perfect for your family, or entertaining.
For the Vinaigrette
¼ cup of rice wine vinegar
1½ teaspoons onion powder
1 t. minced garlic
½ teaspoon pepper
1 tablespoon mustard powder
½ teaspoon salt
2 tablespoons of sugar
¾ cup canola oil
2 tablespoons toasted sesame oil
1 tablespoon sesame seeds
For the Pork Chop and Salad
4 Smithfield All Natural Bone-In Pork Chops
2 hearts of Romaine Lettuce, halved from tip of leaves, down to center of core, horizontally
12 miniature bell peppers of assorted colors (red, orange and yellow), quartered in long strips
16 grape tomatoes, halved
For the Vinaigrette
Combine all ingredients in a jar with a lid, and shake well, until mixed.
To Grill the Pork Chops
Heat grill to medium-high. Pat the pork chops dry, and season them generously with salt and pepper. Grill chops approximately 5 minutes on each side until it reaches an internal temperature of 145º for medium-rare, or up to 160º for a little more done. Allow meat to rest for 3-6 minutes, while you grill the romaine.
To Grill the Romaine
In a large bowl, toss the romaine halves in a little olive oil and season them with salt. Put them in a single layer on the grill and cook for 3 minutes. Turn and cook on the other side for 3 additional minutes; the romaine should feel slightly warm and tender. Transfer the halves to a large platter. Spoon a little of the vinaigrette on each.
To plate the meal
Place the romaine on each plate, a grilled pork chop on top of that, and distribute the sliced tomatoes and miniature peppers around and on top of the meat and the Romaine. Drizzle with Toasted Sesame Vinaigrette, and serve.
That Susan Williams https://www.thatsusanwilliams.com/
Here's a video for another recipe, from Smithfield®:
Smithfield Ginger Honey Glazed Pork Chops:
For lots more recipe ideas for All Natural Pork, and for how you can #GrillPorkLikeASteak, visit this link.
Be sure to visit SmithfieldThrowdown.com to enter the Hog Wild Throwdown Sweepstakes for a chance to win some amazing prizes, including a Ford F150! To do that, click this link.
If you'd like to connect with Smithfield® through social media, you can find them on Facebook, Twitter (as @SmithfieldBrand), on Pinterest, or at their website.

To Save $1.00 on any Smithfield All Natural Pork variety (while supplies last):

If you like this post, I have sooo many more ideas for pork recipes! Among my favorites? I have a recipe for Pork Osso Buco that is just divine! (And for the record, till the pork farmer suggested it to me, I had NO IDEA that Osso Buco could be made from pork! I also adore these Carnitas, that I made in a Dutch Oven.