This post contains links that, if you click on them and make a purchase, will earn me money. Regardless, I only recommend products or services that I believe will be good for my readers. Thanks for helping me continue to produce great content!
Tinga de Pollo may not fall trippingly off of *your* tongue, but Shredded Chicken Tacos is easy enough for any English speaker to say, and understand. What I love about these tacos is that they are full of rich, wonderful flavors!
I'm always looking for recipes that are relatively quick and easy, and while this one has a few steps, each of the steps is quite easy. I also find it to be pretty budget friendly. It's one that I've made 4 or 5 times in the last 6 months, so that means it's a keeper. My kids, especially, loved it.
Notes on Ingredients in Shredded Chicken Tacos:
Brown the Chicken:
In Tinga de Pollo, the meat is usually poached, but this recipe, which I found through Cook's Illustrated, calls for the chicken to be browned. Browning means caramelization (which is a chemical reaction known as the Maillard Reaction), which means an added level of flavor: and more flavor is a good thing, and a smart step. Using boneless, skinless chicken thighs means more flavor (more fat) than chicken breasts, too.
Use Fire Roasted Tomatoes:
For my tomatoes, I used fire-roasted: I chose them due to the added flavor of the Maillard reaction that occurred when the tomatoes were allegedly fire-roasted.
Since this dish involves a bit of browning, and a brief braise at the end, (that's where you simmer the chicken in the sauce), I chose my Lodge Enameled Cast Iron Dutch Oven. I'm having so much fun using it, these days! And it's not even close to winter! My Dutch oven is large (7 qt.), so I was able to brown all my chicken thighs in one batch. If you're using a smaller vessel, I'd encourage you to brown your chicken thighs in two batches, so that they brown, rather than steam. (They'll steam if things get too crowded, and that defeats the purpose of "browning" them, right?)
Regarding the Unused Chipotle Peppers in Shredded Chicken Tacos:
This recipe calls for two canned chipotle chiles in adobo sauce. That means you'll have a bunch of leftover chipotles, and I'm not a fan of food waste.
Take out a baking sheet, and cover it with waxed paper. Then place each chile pepper, with some of the sauce over it, in its own little section on the waxed paper, and freeze them till they're firm. Take a pair of scissors, cut the chiles into individual squares, and store them in your freezer in a ziplock freezer bag, that you have labeled chipotle peppers.
The labeling is important, because you can use this same procedure with cans of tomato paste, measuring one tablespoonful blobs of tomato paste onto waxed pater as well. But frozen chipotle peppers in adobo sauce and frozen blobs of tomato paste look a lot alike, but TASTE NOTHING alike. And you don't want to mix up the two. Ask my friend Stephanie why this is true. She'll explain it to you. 😀
Other Alterations for Shredded Chicken Tacos:
In terms of how I altered the recipe to suit my own tastes, the only change I made was to add in some smoked paprika, and to take out the cinnamon. I realize that the chipotle brought a ton of smoky flavor, but when I used the cinnamon, it reminded me too much of my Chicken Tikka Masala recipe, and I wanted this recipe to have lots of smoky flavor.
I also omitted the chopped green onions as a topping (you're welcome to add them, if you like!) and used Queso Fresco, rather than Cotija. Those two cheeses are so similar, that either one would be great. And if you have neither of those, you could try a feta cheese, as a substitution.
And now, for the moment you've all been waiting for:
Tinga de Pollo (Shredded Chicken Tacos) Recipe
Yield: 4 servings
Tinga de Pollo (Shredded Chicken Tacos)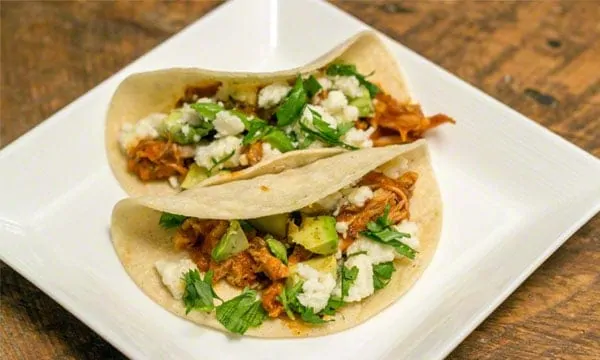 A weeknight budget friendly meal your family will love! Because....TACOS!!!
Ingredients
FOR THE CHICKEN:
2 lbs. boneless, skinless chicken thighs
sea salt
freshly ground black pepper
2 T. vegetable oil
1 onion, halved, and sliced thin
3 garlic cloves, minced
1 t. ground cumin
1 t. smoked paprika
1 14.5 oz can fire roasted diced tomatoes
1/2 c. chicken broth
2 minced canned chipotle chiles in adobo sauce plus 1 T. adobo sauce
1/2 t. brown sugar
1 t. grated lime zest, plus 2 T. lime juice
FOR THE TACOS:
12 small corn tortillas, warmed
1 avocado, pitted, and cut into chunks
2 oz. Queso Fresco, or Cotija cheese, crumbled
1/2 c. minced fresh cilantro
lime wedges
Instructions
For The Chicken: Pat the chicken dry with paper towels and season with sea salt and freshly ground black pepper.
Heat 1 T. of oil in a large Dutch oven over medium-high heat until shimmering. Brown chicken on both sides, 3-5 minutes per side. Transfer chicken to a large plate
Reduce heat to medium, add remaining 1 T. oil to pot, and heat until shimmering. Add onion and cook, stirring frequently, until browned, about 5 minutes.
Add garlic, cumin, smoked paprika and cook until fragrant, about 1 minute.
Add tomatoes, broth, chipotle and adobo sauce and brown sugar. Bring to a boil, and scrape up and stir in any browned bits off the bottom.
Return chicken to pot, reduce heat to medium-low, cover, and simmer 15 to 20 minutes, flipping chicken after 5 minutes. Transfer chicken to cutting board.
CAREFULLY transfer hot cooking liquid to blender and process until smooth, 15-30 seconds. (If you have an immersion stick blender, this would be a great time to use it, instead. ) MAKE SURE THE LID ON YOUR BLENDER IS ON TIGHT. (To be really safe, you can hold it down with a towel.)
Return sauce to pot. Use 2 forks to shred chicken that is on the cutting board into bite sized pieces. Return chicken to pot with sauce. Cook over medium heat, stirring frequently, until sauce is thickened and clings to shredded chicken, about 10 minutes.
Stir in lime zest and juice. Season with salt and pepper, to taste.


Assembling the Tacos: Spoon chicken into center of each warmed tortilla, and top with avocado, cilantro, Queso Fresco, and serve a lime wedge on the side.
Notes
This recipe makes enough for 12 tacos, so if each person only eats two, you'll have enough to feed 6 people. But if you're a three taco family, it feeds 4.
Recommended Products
As an Amazon Associate and member of other affiliate programs, I earn from qualifying purchases.
Nutrition Information:
Yield:
4
Serving Size:
1
Amount Per Serving:
Calories:

792
Total Fat:

39g
Saturated Fat:

10g
Trans Fat:

0g
Unsaturated Fat:

28g
Cholesterol:

289mg
Sodium:

1026mg
Carbohydrates:

52g
Fiber:

12g
Sugar:

8g
Protein:

66g

I've got a beautiful guacamole that would be great to enjoy with this meal. And a delicious pico de gallo. Or an oven roasted salsa, if you prefer. You might want to use those links to check out those recipes.
In any case, enjoy!
Dishes from South of the Border I Have Loved
I didn't go to college in Texas for nothing! I learned me a thang or two down there! Try these!!!