This post contains links that, if you click on them and make a purchase, will earn me money. As an Amazon Associate, I earn from qualifying purchases. . Regardless, I only recommend products or services that I believe will be good for my readers. Thanks for helping me continue to produce great content!
This amazingly delicious recipe for what, in my opinion, is the World's Best Oven Roasted Salsa, is a recipe I've been making a lot lately, practically all summer long. I keep making it for two reasons: first, because it's so amazingly delicious, and secondly, because we finally found a fantastic fresh tomato source. Sounds like I've found a drug source, right? 😀
Where We Get Our Tomatoes
My husband has been playing guitar for a little church out in the country, in Middle Tennessee. This "out in the country" place is a bit more gentrified than The Boonies, where we live. But make no mistake, it is still, very much, "out in the country". And because we made the right connections in this little community, we've been in Tomato Heaven, all summer long, for about 1/3 of the price one might pay at any other farmer's market. Which really beats the heck out of us attempting to grow tomatoes for the deer and squirrels of Middle Tennessee. If it sounds like I'm being a bit (tomato) cagey, (pun intended), well, yes. I'm guarding my source. Supply and demand, baby.
Why We Go To The Trouble Of Making Our Own Salsa
"What?" you say. "Making your own oven roasted salsa? Why would you go to all that trouble? Isn't that why God put jarred salsa in the grocery store?"
Oh, no, my friends. Once you've tasted this salsa, you'll wonder where salsa has been all your life. Once you've made this salsa to share with friends, you will become the most valued party guest all summer long at any affair, and all you'll have to do is say, "I'll bring chips and my homemade salsa". From that day on, your reputation as the one who brings the world's best oven roasted salsa will have become legendary.
And easy? Pfffffffft!!!! There's nothing to it!
Some Recipe Notes:
Recipe Notes in Regard to Roasting the Tomatoes
When you roast those fresh tomatoes, do yourself a favor and put a sheet of parchment paper down on your baking sheet. They're going to darken or caramelize (a bit) and bubble out – that's as it should be – and basically make a mess on your pan that you won't want to scrub later. So use parchment paper trimmed to fit the pan, and then throw away that mess once you've removed the tomatoes and peppers.
The tomatoes are going to lose some moisture, and their flavor is going to caramelize and intensify, and dear momma, are they going to taste good. KEEP AN EYE ON THEM, BECAUSE ALL OVENS HEAT DIFFERENTLY. You want a bit of blistering on the skins, with a bit of black, here and there. You don't want dried-out smoking bits of incinerated tomato ash. If a few of your tomatoes look like little blackened bombs, remove their skin, and you should find an intensely flavored tomato jewel within, still able to be used. (Yes, I had to do that with a few.) The jalapeños are going to char, a bit, too, and you want that.
In Regard to Roasting the JALAPEÑOS:
While I roasted two jalapeños, I only ended up using one per batch of salsa. We don't like a lot of heat. Jalapeños can vary a great deal as to the amount of heat you find in them. Some can be quite strong. One of mine was. One was mild. What's a cook to do? Taste. Use the heat level that works for your family. If you like a lot of heat, roast 3, and use the ribs and seeds. If you're a weeny, roast one, and wearing gloves, trim out all the ribs and seeds. That's where the heat is.
In Regard to 2 Types of VINEGAR:
I used balsamic vinegar when I was roasting the tomatoes, and as you probably know, it has a high sugar level, so it is likely to go pretty dark, pretty quickly. If some puddles off to the side of the tomatoes, and goes too dark, and tastes burnt, just don't add those bits to the food processor. It will peel right off the parchment paper, and you can throw it away.
The cider vinegar at the end is what cooks speak of as a "hit of acid" to brighten up the flavor. I tried making this with lime juice as an alternative to cider vinegar, but was surprised that I preferred the cider vinegar. So…use what you like for an acid, but know that after trying both, I think cider vinegar works best as the acid added at the end of this recipe.
Bosch Universal Mixer Food Processor Attachment:
You may have noticed in my video, that I'm using the Food Processor attachment that goes with my Bosch Universal Mixer. It does a lovely job of helping me pulse my way to just the texture and consistency I wanted for this salsa. They have a great deal running this summer, you'll want to take advantage of if you're in the market for a mixer. You get a Free Ice Cream maker and 10 dollars off with the purchase of the white Bosch Universal Plus! Just use the code: susanwilliamsicecream
If you're looking for some great recipes to pair with this salsa, might I suggest my super-easy Sour Cream and Green Chile Enchiladas? I also have a recipe that will teach you how to make carnitas in a Dutch Oven!
So that you can find this recipe when you're ready to use it, I've made a Pinterest pin for you. I recommend you start a board for Recipes You Want to Try, and pin this on it.
Here's the recipe for how you, too, can become famous for your homemade salsa.
The Recipe for the World's Best Oven Roasted Salsa
Yield: 12 servings
World's Best Oven Roasted Salsa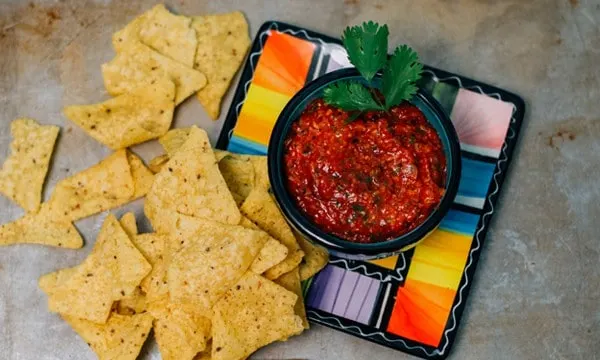 With some fresh ingredients, you can make a salsa so addictive, salsa from the store will PALE in comparison!
Cook Time
1 hour
45 minutes
Additional Time
5 minutes
Total Time
1 hour
55 minutes
Ingredients
1 1/2 lbs. of tomatoes, sliced 1/2" thick
2 T. olive oil
2 T. of chopped fresh thyme leaves
1 T. of balsamic vinegar
1 T. sugar
sea salt
freshly ground black pepper
2-3 jalapeño peppers
1/2 small white onion, sliced 1/4" thick, and then separated into rings
4 cloves of garlic
1/3 c. chopped fresh cilantro (use leaves and stems)
1 t. salt
1 1/2 t. cider vinegar
Instructions
ROAST THE TOMATOES AND PEPPERS: Pre-heat the oven to 350º. Lay the sliced tomatoes and the jalapeño peppers on a baking sheet that has been lined with a sheet of parchment paper, trimmed to fit. Drizzle them with the olive oil, and balsamic vinegar, and then sprinkle them with the thyme leaves, sugar, salt, and black pepper. Roast them for about an hour and a half, but keep an eye on them. You want some char, but not incineration. Remove from oven and let cool. Things should look darkly roasted, and even blackened in spots. The tomato skins will split and curl. This is as it should be.
ROAST THE ONION RINGS AND GARLIC: Turn the oven up to 425º. Line another baking sheet with parchment paper, and scatter the sliced onion rings and peeled garlic cloves onto the pan. Place the pan in the oven for approximately 15 minutes total. Onion slices will wilt, and brown in spots, and garlic cloves will brown. If anything begins looking too dark brown, rescue it from the pan, but continue cooking the rest. Stir the slices every 5 minutes: this will allow you to keep an eye on their progress, and keep them from getting too brown. Remove from oven and allow them to cool.
WHIR IT ALL UP IN A FOOD PROCESSOR: Remove the ribs and seeds from the jalapeños if you're heat-sensitive, and chop them up a bit. Dump the tomatoes, sliced jalapeños, onion slices and garlic cloves into the food processor and whir them all around for a few minutes, till things look like you want. If you think you might like it thinner, you can always add 1/4 c. of water, but I didn't. Sprinkle in the 1 t. of salt and pulse a few more times. Then add the cilantro and vinegar, and pulse a few more times. Voilà! World's Best Oven Roasted Salsa. You can refrigerate this for up to 5 days. Good luck keeping it around that long.
Notes
You can use any variety of tomato you like, from beefsteak to cherry. I find that Roma tomatoes do beautifully in this recipe, due to being less watery.
Recommended Products
As an Amazon Associate and member of other affiliate programs, I earn from qualifying purchases.
Nutrition Information:
Yield:
12
Serving Size:
1
Amount Per Serving:
Calories:

92
Total Fat:

6g
Saturated Fat:

2g
Trans Fat:

0g
Unsaturated Fat:

4g
Cholesterol:

18mg
Sodium:

258mg
Carbohydrates:

5g
Fiber:

1g
Sugar:

3g
Protein:

6g
My Very Best Mexican Recipes
I've compiled a list of my very best Mexican and Tex-Mex recipes, just for you! I hope you enjoy them as much as we have!