This post contains links that, if you click on them and make a purchase, will earn me money. Regardless, I only recommend products or services that I believe will be good for my readers. Thanks for helping me continue to produce great content!
Grilled Skirt Steak Tacos With Roasted Poblanos, Grilled Onions and Easy Homemade Guacamole may not be a memorable recipe title, but I guarantee you that this IS a memorable dish, and it's perfect for your Cinco de Mayo festivities. Since grilling season is here in full force, wouldn't you love a recipe for a dish that you can throw on the grill with minimal effort, but which will also deliver maximum deliciousness?
I've got you covered, right here!
What is Skirt Steak?
Skirt steak has nothing to do with de-frocking a cow. Neither is it what Lady Gaga wears to a Cinco de Mayo party. Skirt steak is, in fact, the diaphragm of the cow. Take a deep breath, (ar, ar, ar) and don't let that "diaphragm" thing put you off. It is an absolutely delicious cut of meat, traditionally the cut that is used in making fajitas.
There are two distinct types of skirt steak you can purchase: the inner, and the outer skirt steak. In developing this recipe, we tried both. The inner skirt steak, though more expensive per pound, is definitely the one to choose, if your market offers a choice. Inner skirt steak comes with the membrane removed. The outer skirt steak was both less flavorful, and much more tough.
If you can't find skirt steak, you can substitute flank steak for this recipe, but they are two entirely different cuts of meat.
How to Grill Onions
To cook the onions on the grill, we sliced them into rounds that were about a half an inch thick, and then threaded long metal skewers through the edge of each slice. Usually we could get at least two rounds on each skewer. (Bamboo skewers work as well.) This makes the onions easy to flip on the grill.
Marinate AFTER Grilling???
Normally, skirt steak is marinated before it's grilled, but we found that the skirt steak turned out to be just as flavorful with a brief rest of 5 minutes in that marinade post-grilling. This enables you to get the recipe finished with less time invested. It's not a pretty marinade, I'll warn you. (Ok, it looks like some giant sneezed.) But it's packed with the delicious flavors of puréed lime juice, garlic, cumin, and onions. It delivers just the flavor punch you need to heighten the taste of the delicious grilled skirt steak.
What You Need To Know About Grilling Poblano Peppers
The poblano peppers need to be blistered/blackened on the grill. After that, they're placed in a bowl, covered in plastic wrap for five minutes. Under that plastic wrap, they'll steam, which will enable you to peel off their tough outer skin. Wear latex gloves when you peel off the skin, slice, and de-seed them.
The Order in Which the Ingredients Need to Go on the Grill:
First the poblanos – and you want to get a good char on those.

Then the onions.

Then the meat.

Finally the tortillas go on, ever so briefly.
Ready to read how this thing is done? Here we go!
The Recipe for Grilled Skirt Steak Tacos
Yield: 6 servings
Grilled Skirt Steak Tacos with Roasted Poblanos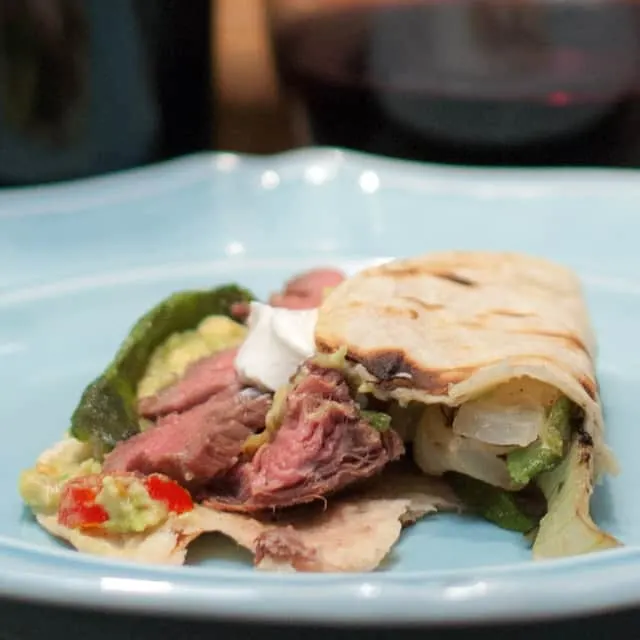 Yummy, yummy Grilled Skirt Steak Tacos with Charred Poblanos and Grilled Onions are perfect for Cinco de Mayo, or anytime!
Additional Time
5 minutes
Ingredients
4 onions, 3 of them sliced into 1/2" rounds, (for the grill) and 1 chopped coarsely, (for the marinade)
1 tablespoon vegetable oil
sea salt and freshly ground black pepper
1/3 c. freshly squeezed lime juice (about 3 large limes)
3 medium garlic cloves, coarsely chopped
1/2 teaspoon ground cumin
1 1/2 lb. poblano chiles
2 lbs. skirt steak
18 small corn tortillas
1 lime, cut into wedges
For garnish:
sour cream
/4 c. chopped cilantro
Instructions
Preheat your oven to its warm setting, about 200º.
Skewer the onion slices on long metal or bamboo skewers. Brush with oil, and season with salt and pepper.
In a blender or food processor (I used my VitaMix), process the chopped onion, lime juice, garlic, 1 t. salt, and cumin for about 30 seconds, until smooth. Pour it into a serving dish large enough to hold the meat, after it's been grilled. Set aside.
Heat the grill, building a two level fire, so that one side of the grill is hot, and one is not.
Place the poblano chiles on the center of the hot grill, about 3 to 4 minutes. You want to blister and blacken the skin, on all sides, but don't let it go to grey.
Meanwhile, place the onion slices around the peppers. and cook until streaked with dark grill marks, about 6 minutes. Flip and cook on the other side. Remove the onions from from the grill and and slide the slices off the skewers, placing them into an oven safe dish. Separate the slices into rings, and keep the dish of onions warm in the oven, covered with foil.
When the chiles are blistered and blackened, place them in a dish and cover with plastic wrap. You want them to sweat in that bowl for about 5 minutes. This will loosen their skin, and allow you to peel away the blackened skin, leaving a beautifully roasted poblano pepper. When 5 minutes are up, wearing latex gloves, remove the skin, cut away the top/stem, and slice open the pepper. Scrape away its seeds. Now slice each pepper into thin strips, and add them to the dish of onions you are keeping warm in the oven. Cover with foil.
Grill the steak over the coals until well seared and brown on the first side, about 4 minutes. Flip the steak and grill until the meat is slightly less done than you want it to be when you eat it. about 2 to 4 minutes for rare to medium rare, depending on the thickness of the steak, and how hot your fire is.
Place the steak to rest in the bowl where you poured the marinade. Flip it over so it is thoroughly coated in marinade. Cover the dish with foil, and allow the meat to rest in it for five minutes.
Spread out the tortillas on the grill, and cook only long enough to lightly mark them on each side, 15 to 30 seconds.
Wrap the cooked tortillas in a soft damp towel, and keep them warm in the oven.
After the meat has rested 5 minutes in the marinade, thinly slice it against the grain.
Each taco should contain flank steak, onion rings, pepper slices, sour cream, guacamole, a squeeze of lime juice, and a sprinkle of freshly chopped cilantro.
Recommended Products
As an Amazon Associate and member of other affiliate programs, I earn from qualifying purchases.
Nutrition Information:
Yield:
6
Serving Size:
1
Amount Per Serving:
Calories:

611
Total Fat:

28g
Saturated Fat:

10g
Trans Fat:

0g
Unsaturated Fat:

16g
Cholesterol:

91mg
Sodium:

237mg
Carbohydrates:

48g
Fiber:

8g
Sugar:

7g
Protein:

44g
If you'd like to see a recipe and video for how to make a lovely homemade and super simple guacamole, you can find it here, on my blog: How to Make Guacamole.
Hope you'll give this recipe for fajitas as well as the recipe for homemade guacamole a try! You're going to love both of them!