This post contains links that, if you click on them and make a purchase, will earn me money. As an Amazon Associate, I earn from qualifying purchases. . Regardless, I only recommend products or services that I believe will be good for my readers. Thanks for helping me continue to produce great content!
What Is Panzanella?
For those of you inclined to ask, "What the heck is Panzanella?", let me tell you: panzanella is a traditional Italian bread salad recipe, and the best use of fresh summer tomatoes that I know!
Panzanella is one of my most favorite summertime dishes, something that I consider to be one of the most essential elements of summer. Today, I'm going to share with you my own adaptation of the recipe I have prepared every summer since the year 2000. This adaptation was made to suit our tastes, but I can promise you, it gets RAVE reviews from everyone to whom I've served it.
Use Homegrown or Locally Grown Tomatoes, When Possible
My friend Cathy says there are two things money can't buy: true love, and home grown tomatoes. And she's pretty close to the gospel truth on that. I used to be able to grow tomatoes when we lived in Nashville, but here in the Boonies, where we have to pipe in the sunshine, and where the deer eat anything not nailed down, we have to resort to locally grown tomatoes that we purchase from farmers. And they're a close second.
If it's ~not~ summertime when you try this recipe, as it wasn't for us when we shot these photos, you can use store-bought grape tomatoes. The ones Costco carries are dependable in flavor and texture. I spent a buck extra on the carton we bought for this photo shoot, to get a variety of colors, and was pleasantly surprised that the variety in color was also indicative of differences in flavor amongst the varieties.
Use Good Quality, Artisan Bread
My favorite Nashville Bakery, Provence, has closed. Woe is me. However, Kroger has its own Private Selection Artisan Breads that are darned good, and I enjoy the Sesame Semolina, the Sourdough, and the Herb de Provence Pave. They each have a nice chewiness and crustiness. Ideally, that's what you want: a chewy, crusty bread: something rustic-ish, with large holes. If you don't have that, get the closest thing you can to it. It will still be good.
While the original recipe called just for day old bread cubes, I've gone the extra mile and taken those slices of bread, rubbed them with a smashed garlic clove, drizzled them with olive oil, and then toasted them on a grill pan, just long enough to get some pretty grill marks. After they're toasted, I slice them up into cubes.
Fresh Mozzarella is Preferable
The original recipe called for mozzarella cubes, and I've altered that to specify FRESH mozzarella cubes. Back in 2000 when I started making this, fresh mozzarella wasn't something I was even familiar with, I don't think. It certainly was only just about then becoming available at our local grocery stores. Costco has cylinders of fresh mozzarella that are already sliced, meaning less chopping for you.
If, once you've poured the vinaigrette over the salad, you wait about 15 minutes before serving it, the bread has enough time to soak up the vinaigrette, and everything tastes a little bit better.
And now, the recipe for:
Panzanella
Yield: 4-6 servings
Panzanella: Traditional Italian Bread Salad Recipe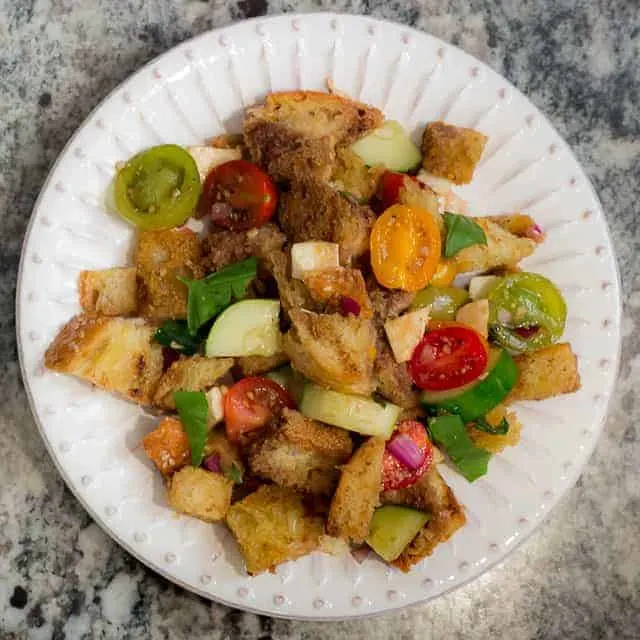 A delicious and traditional Italian bread salad that is, in my opinion, the very best use of summertime tomatoes. Some folks serve it as an appetizer, but for me, it's a perfect summertime dinner.
Additional Time
15 minutes
Ingredients
For the salad:
1 garlic clove, peeled and smashed
olive oil to drizzle
1 lb. loaf of day old Italian bread, sliced
1 8 oz. pkg. fresh mozzarella cheese, cut into cubes (grated mozzarella will do)
3 large tomatoes, chopped (or an equivalent amount of cherry tomatoes, halved)
1 small cucumber, chopped
1/2 c. purple onion, chopped (and rinsed)
1/2 c. kalamata olives, pitted and halved
1/2 c. chopped fresh basil leaves (don't chop these till just before you're ready to serve, to avoid having the leaves turn brown prematurely)
For the vinaigrette:
1/2 c. extra virgin olive oil
1/4 c. balsamic vinegar (or red wine vinegar)
3 cloves of garlic, minced
1/2 t. freshly ground black pepper
3/4 t. sea salt
Instructions
Rub the slices of bread with the smashed garlic, and drizzle with olive oil. Grill on a grill pan, to get grill marks.
Cut grilled bread into bite sized cubes.
Combine bread cubes and the rest of the salad ingredients in a large salad bowl and toss gently.
Combine vinaigrette ingredients and whisk till blended.
Pour over salad and toss well.
Let stand for 10 to 15 minutes for bread to absorb vinaigrette.
Notes
This recipe lends itself easily to substitutions. I have used day old bread that is NOT grilled, with success. But be sure to choose a more chewy variety - an artisan bread.
I have used grated mozzarella, and it's good, but I do prefer fresh mozzarella.
Use your favorite olive variety - kalamata is wonderful, but I have substituted green olives stuffed with garlic, and they were good, too.
Recommended Products
As an Amazon Associate and member of other affiliate programs, I earn from qualifying purchases.
I'd appreciate it you'd pin this on Pinterest, or share it somehow on social media! Your friends will thank you for sharing a great recipe!