This post contains links that, if you click on them and make a purchase, will earn me money. As an Amazon Associate, I earn from qualifying purchases. . Regardless, I only recommend products or services that I believe will be good for my readers. Thanks for helping me continue to produce great content!
This post contains a recipe for the freshest, most delicious, least processed crunchy-shelled Venison Tacos you'll ever have. But first, you'll need to endure a brief explanation for how they got named Lunch Lady Tacos with Ground Venison.
Remember when you were younger, walking into your school cafeteria only to find out that the lunch lady was serving up Taco Tuesday Tacos, again, on Friday? And remember how you didn't really mind those Lunch Lady Tacos, at all? Because anything was better than that grimly gray and slightly slimy Mystery Meat.
Ahhh, the halcyon days of youth!
Even though I was the only Lunch Lady my kids ever had to face in their schooling, they still thought that, I, too, for a Lunch Lady, made a pretty mean taco.
Why Use Venison for Lunch Lady Tacos?
Back when the kids were younger was when my husband first began keeping our freezer well stocked with locally sourced, antibiotic and hormone-free ground venison. He harvested it each fall from the Tennessee woods. We were eating that way long before anyone knew it was cool to do so.
So began my quest to find ways to cook with venison. But you can only make so much venison chili, and so many venison burgers, which were pretty much what the hunter's wives *I* knew were making.
Venison recipes weren't mainstream back then. To find any, I had to look for obscure cookbooks. And most of the recipes I *did* find weren't particularly kid-friendly.
Our family needed kid-friendly recipes, and let's face it: there's a lot to love about the kind of tacos the Lunch Lady used to serve us back in Middle School or junior high. Think about it: the crunchy, crispy tortilla shell, the savory, slightly spicy browned ground meat filling, the bright freshness of the tomato, the creaminess of the cheese and sour cream. Put all those elements together? And you've got a recipe that makes anyone's taste buds and tummy happy – regardless of the taco eater's age.
It occurred to me, at some point, that ground venison could do just about any job that ground beef could do. So why not try making tacos, which I normally made out of a pound or so ground beef, out of venison? I knew I could save our family money that way.
But YOU don't have to use ground venison! By all means, use this recipe with ground beef! Or ground turkey. Whatever floats your family's taco boat!
Spices for Tacos: Fresh, not Processed
Then I began considering the "taco seasoning" packets I'd used to make tacos, up to that point. I wasn't really fond of buying processed-tasting "taco meat" seasoning packets. It seemed I'd only use half of one anyway…and then leave it folded over in my spice cabinet, where it languished, becoming less and less flavorful. If I made my own taco seasoning, I could better control the flavors I used, and the freshness level of my spices.
Thus, my Lunch Lady (Venison) Tacos were born. And to me, they really bring back the flavors of childhood, in the very best of ways.
But…Processed Taco Shells???
There is ONE concession to processed food that I make, and that is that I buy a box of hard taco shells. But if you make your own, I bow to your prowess, and wish you were my next door neighbor. And just in case you DO move in nearby….
You bring the shells, I'll bring the meat. We'll both throw in some toppings, and have a fiesta, and tell stories of when we were kids, eating tacos, getting in trouble, and having a blast, in the school cafeteria. And we'll raise a Margarita glass, and toast the envious Lunch Lady, who wishes she could join us in a cold one. But, alas, she's got more ungrateful little mouths to feed, more Lunch Lady Tacos to assemble, more dirty trays to sling into the dishwasher. And a hairnet to shed.
If you're looking for a recipe to pair with this, why not try my Oven Roasted Salsa ?
The Recipe for Lunch Lady (Venison) Tacos
Yield: 6 servings
Lunch Lady Tacos with Ground Venison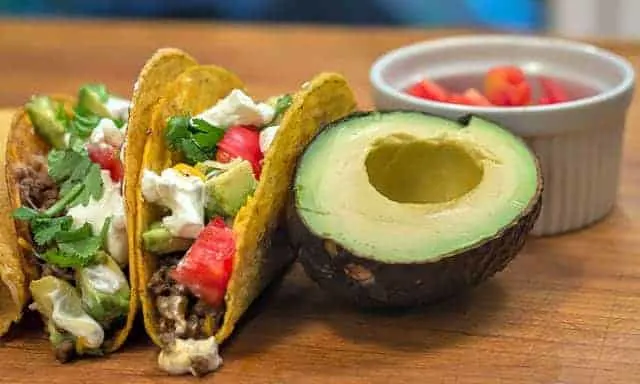 Ingredients
2 tablespoons canola oil
1 medium-size yellow onion, peeled and diced
4 cloves garlic, peeled and minced
2 pounds ground venison
1/2 teaspoon chipotle chili powder (it's smoky, and spicy! Or use 1 T. regular chili powder)
1 tablespoon ground cumin
2 teaspoons kosher salt, or to taste
2 teaspoons freshly ground black pepper, to taste
2 teaspoons cornstarch
2 teaspoons smoked paprika
1/4 teaspoon crushed red-pepper flakes, or to taste
1 can (approximately 2 cups) of chicken broth; Use homemade chicken brothif you have it! or beef broth
12-18 hard taco shells
Possible Toppings: grated cheese, queso fresco, chopped tomatoes, shredded lettuce, sour cream, chopped cilantro, cubed avocado pieces
Instructions
Place a large skillet over medium-high heat, and add the oil. When it begins to shimmer, add the onion, and cook until softened and starting to brown, approximately 5 to 7 minutes.
Add the garlic, and cook for a minute or so to soften, and then the ground venison. Cook until the meat is starting to brown, stirring and chopping with a spoon to break up the meat, approximately 5 to 7 minutes. Pour off excess fat, if any. (venison is lean!) leaving only a tablespoon or two in the pan.
Heat oven to 325. Add the chile powder, cumin, salt, pepper, cornstarch, paprika and red-pepper flakes, and stir to combine. Add the broth, stir, bring to a simmer and cook uncovered until the sauce has thickened slightly, approximately 4 to 5 minutes.
As sauce cooks, place taco shells on a sheet pan, and toast in oven until they are crisp and smell nutty. Serve a few tablespoons of meat in each taco, along with whatever toppings you like.
Notes
Don't forget: this recipe works as well with either ground beef, or ground venison.
Be sure to taste the meat mixture and adjust the seasoning, adding more salt, and/or more chili powder for heat, according to your family's taste preference.
Recommended Products
As an Amazon Associate and member of other affiliate programs, I earn from qualifying purchases.
More Venison For YOU! Because You're Such A Deer.
Santa knows you've been a good person. Also, since he doesn't want you feeding on his OWN herd, he wanted you to have MORE venison recipes out of regular deer. So here ya go!