This post contains links that, if you click on them and make a purchase, will earn me money. Regardless, I only recommend products or services that I believe will be good for my readers. Thanks for helping me continue to produce great content!
This recipe for Super Simple Grilled Tuna Steak with Avocado, Soy, Ginger and Lime is so quick and easy to throw together, you can have an awesomely delicious dinner on the table in a flash. And, IF you can afford the price of the tuna you'd need for a few guests, it's a dish that's decidedly company-worthy!
Tuna is a luxury fish for us, but now that we're effectively empty nesters, it's a luxury we occasionally indulge in. Grilled tuna is so yummy, and it's good for you, too!
Tips for Tuna Shopping
Where We Buy It:
Our Costco has fresh fish around each holiday weekend. They call them Seafood Road Shows. Lately, for instance, I've seen the seafood shows there quite a bit: Mother's Day, Memorial Day, Father's Day, and coming up, ours will have another one for the three day 4th of July weekend. We find our best prices there for wild-caught fish, and we make it a point to look for whatever type of fish looks exceptionally good that visit.
Appearance Counts:
You can tell when a fish is old, or tired, usually just by looking at it. The color will be dull. It won't be shiny, and will look like it's beginning to dry out. Some of the layers may be starting to separate. The last time we were at our Costco's Seafood Road Show, the Ahi tuna looked beautiful: a deep dark garnet red, shiny and moist looking, with all the layers of the steak still clinging tightly together!
Costco had it cut the tuna into lovely 2″ thick steaks, in packages of two. I would venture to say that each fish steak weighed about 12 ozs. each, so 1/2 of one of those steaks was more than enough for one person. So even though the price of a package of 2 tuna steaks looked pretty expensive, it's important to remember that we were actually looking at 4 servings of fish. For just the two of us, it was a package with more than enough for two meals. So we grilled one the night we brought it home, and froze the other, to enjoy later.
My Inspiration for this Grilled Tuna Steak Recipe:
So here we were with this glorious piece of tuna. What to do? I found this Tyler Florence recipe on his oldest Food Network Show, Food 911, and altered it ever so slightly. This recipe was so easy, so delicious, and so delightful, that we decided to enjoy it again the very next Saturday night. I wanted to make it again ASAP, because I knew I wanted to have my hubby photograph it, so that I could share it with you! Saturday night is very often date night at home, and we often grill something a little special for ourselves during grilling season. I highly recommend making this recipe for a romantic meal with someone you love.
The Changes I Made to Tyler's Recipe:
The lime I had on hand was largish, so I only used 1 lime in my recipe, whereas Tyler's recipe called for two limes. I taste as I go, and after the addition of the juice of that 1 lime, my sauce was already very sour. Tyler only called for a pinch of sugar, but I added an entire teaspoon. Again, this is where tasting as you go really pays off.
I treated the soy-ginger-cilantro sauce as not only a sauce for the fish, but also as a vinaigrette for the purple cabbage we grilled as a side dish. The cabbage was an awesome choice, because not only did it taste great, it also looked gorgeous next to the tuna and avocado pieces. We sprinkled the cabbage with some bacon, and then drizzled it with some of the fish's reserved sauce, as a vinaigrette. Outstanding!!! It really tied all the flavors on the plate together.
The Importance of Cooking Tuna Correctly
First, above anything else, cook the fish the day you purchase it. Fish, like time, waits for no man. Also for no woman. *You* make fish wait, and *it* will, in turn, make your house stink, and your tastebuds sad.
Second: you don't have to grill this tuna. Tyler's original recipe called for pan roasting. So if you prefer to pan roast it indoors, do it! The cooking time will be about the same. But we love the flavor grilling brings, and my husband enjoys grilling, and it quite skilled at it. So we went with grilling.
My husband uses these things on top of his grill called Grill Grates, and they enable the surface touching the food to get screaming hot. That's a really good thing. The grill marks they leave are beautiful. They're a minimal investment, and he won't grill without them anymore, he loves them so much. You can click on the affiliate link I'll leave below the recipe card, if you want to check them out further. They are an affordable investment in grilling tools that have brought a super nice payoff in the taste and appearance of the foods we grill.
The first time we had grilled tuna at a restaurant, the waiter asked me how I wanted my tuna cooked. I asked him what he recommended. He recommended rare, and I do, too. Once tuna loses that lovely red color on the interior, it loses its lovely texture and flavor, and will be quite dry. So, make sure your tuna steak is 1 1/2″ to a 2″ THICK piece of fresh, wild caught ahi tuna. When the tuna steaks are quite thick, it's easier to keep them from cooking beyond rare. If you use a thermometer, that means you want its temperature to be below 115º! Follow the cooking times in the recipe. It will seem amazingly quick – and it is – but you won't be sorry.
You want your tuna to look like this, on the inside.
The second time we made this recipe, Lindsey left the tuna on the grill just a hair longer than the first time, an the tuna looked like this. It was still delicious, but not quite *as* delicious to me. Your mileage may vary, however.
Please pin this on Pinterest, so the next time you find a divinely fresh piece of tuna, you'll know just where to find the recipe.
Yield: 2 servings
Super Simple Grilled Tuna Steak with Avocado, Soy, Ginger and Lime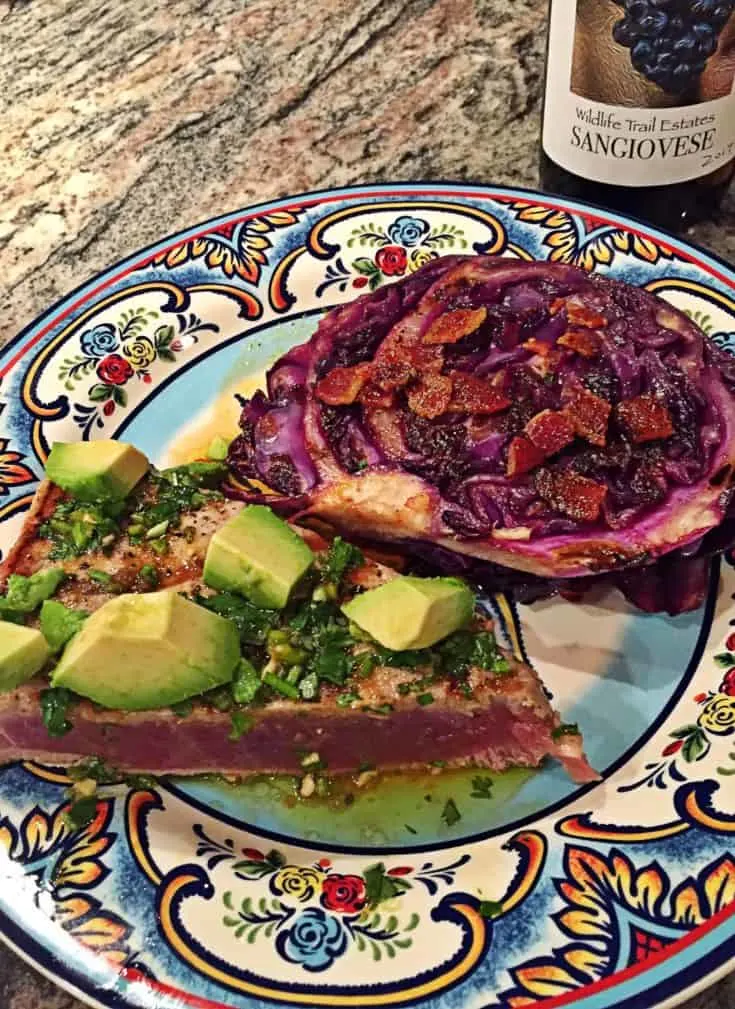 Super Simple Grilled Tuna with Avocado, Soy, Ginger, and Cilantro comes together in a flash, and is a scrumptious recipe for grilled fish. Perfect for a romantic dinner for two, or a meal fit for company.
Ingredients
2 big handfuls fresh cilantro leaves, finely chopped
1/2 jalapeno, sliced
1 teaspoon grated fresh ginger
1 garlic clove, minced
1 lime, juiced
2 tablespoons soy sauce
1 t. sugar
Sea salt and freshly ground black pepper
1/4 cup extra-virgin olive oil
1 (12-ounce) block sushi-quality tuna steak, 2" thick
1 ripe avocado, halved, peeled, pitted, and sliced
Instructions
In a mixing bowl, combine the cilantro, jalapeño, ginger, garlic, lime juice, soy sauce, sugar, salt, pepper, and 2 tablespoons of olive oil. Stir the ingredients together until well incorporated.
Heat the grill to high. Brush the tuna with peanut or canola oil. Season the tuna generously with salt and pepper. and sear for 1-2 minutes on each side to form a slight crust. When you flip the fish, spoon 1/4 of the sauce over the grilled side of the fish. When the other side has seared for 1-2 minutes, flip the fish one last time, and pour another 1/4 of the marinade on the opposite side. Serve the seared tuna with the sliced avocado and the remaining cilantro sauce drizzled over the whole plate.
Notes
The temperature for rare Ahi Tuna is below 115º.
If cilantro tastes like soap to you, or, if you're allergic to it, parsley is a great substitute.
Recommended Products
As an Amazon Associate and member of other affiliate programs, I earn from qualifying purchases.
If you're looking for fish recipes, I have several great ones. You might like my
Grilled Halibut Steaks with Cilantro Lime Butter.
Here's another fish recipe you can make, even if it's not grilling season. How about
Pistachio Crusted Salmon
?
Seafood Dishes You'll Love
I thought I'd pull together a list for you of all the seafood dishes we've loved. And we've loved a lot!