This post contains links that, if you click on them and make a purchase, will earn me money. Regardless, I only recommend products or services that I believe will be good for my readers. Thanks for helping me continue to produce great content!
This post shares Seven Steps to Grilling Great Ribs, as well as a recipe for Grilled Sweet & Spicy Ribs with Browned Butter Sauce.
This post was compensated by Collective Bias, Inc. and its advertiser. All opinions are mine alone.
Time for Grilling Great Ribs?
Here in the MidSouth, every other day, we're seeing *something* approaching spring – that is, until we go back to having a frost, the following evening. Well, it may be too early in these parts to put out our tomato plants till after the 15th of April, but we don't let that discourage us from dragging out the grill much earlier than that!
And goodness, me, am I ready for some grilled ribs! I'd imagine you'd enjoy some too! But what if you've never grilled ribs before? Before my husband and I tried grilling them our first time, we were novices, too. So, have no fear! I'm here to encourage and educate you, because actually, grilling great ribs is quite an easy process, involving a few simple steps I'll gladly share!
All directions in this post refer specifically to the "St. Louis Style" variety, in terms of the cooking times specified. But I'm sure the spice blend and sauce would be just as delicious on other varieties.
Seven Steps to Grilling Great Ribs
I've got Seven Simple Steps to help YOU become a Pitmaster, right in your own home!
1. Make a rub.
Use my recipe (see below) to make a spice blend, that's called a rub. You'll see why it's called that in the next step.
2. Rub the spice rub into the ribs.
First pat the ribs dry with a paper towel, and then sprinkle a couple of tablespoons of spice mixture on each side of each rack of ribs you're grilling. Then actually gently rub those spices into the ribs. (I wear disposable latex gloves for this part. Keeps me from rubbing cayenne into my eyes later.)
3. Wrap the Ribs In Foil; Then Roast Them.
Wrap the ribs securely in a double layer of foil. Roast them – low and slow, as they say, at 300º for a couple of hours.
4. Pour Off the Juices to Make a Sauce.
Carefully open the foil packet of ribs at one corner to release some steam and make a kind of spout. Then pour off those juices into a heat-proof glass measuring cup. While the juices cool, the fat will rise, and you'll need to skim that off. (If you stick the measuring cup of juices in the refrigerator, the fat will rise to the top more quickly.)
5. Make the Browned Butter and Vinegar Sauce.
The directions for that are in the recipe, but it's super-easy.
6. Build a Fire; Grill, Turn and Baste the Ribs.
Once you have your coals burning, you're going to grill the ribs over indirect heat. That means not directly OVER the coals – but, beside them. If you want to add a smoky flavor, like we always do, add a stick of hickory wood (or mesquite, apple, cherry…whatever wood you prefer.) Remove the ribs from their foil packet, and grill over indirect heat, basting with the browned butter/vinegar sauce and turning occasionally, until charred in spots, 5–7 minutes. Those char marks will help them look, and taste, delicious.
7. Allow the Ribs to Rest About 10 minutes before you carve them.
It's such an important step, but one that's ignored so often. Allowing them to rest about 10 minutes allows the cells to reabsorb the juices. If you slice them immediately, all the juice is on the loose, so to speak, and will run out all over your cutting board, leaving your ribs much less moist.
You don't need to wait for a special occasion. In fact, why not practice on your family, first, and then invite some guests over to show off your amazing technique that you learned, from the tips in this post?

Yield: 4 servings
Grilled Sweet & Spicy Ribs with Browned Butter Sauce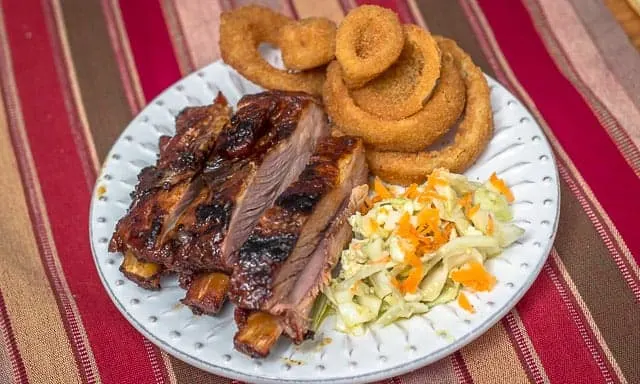 See how easy it can be to grill scrumptious sweet and spicy ribs, using this recipe with a browned butter/balsamic basting sauce.
Cook Time
2 hours
7 minutes
Additional Time
10 minutes
Total Time
2 hours
57 minutes
Ingredients
3/4 cup (packed) light brown sugar
1/4 cup smoked paprika
1 teaspoon cayenne pepper
2 tablespoons garlic powder
3 tablespoons kosher salt, plus more
2 St. Louis-style pork ribs (3–4 pounds each)
1/2 cup (1 stick) unsalted butter
1/2 cup balsamic vinegar
Vegetable oil for oiling grill grate
Instructions
Preheat oven to 300º F. Combine brown sugar, smoked paprika, cayenne, garlic powder, and 2 tablespoons salt in a small bowl; set aside 1/4 cup of this spice mixture to use in sauce.
Pat ribs dry with paper towels and rub each side of each rack you're grilling with 2 Tablespoons of remaining spice mixture, massaging into crevices. (Disposable gloves are a help with this task, if you have any.)
Wrap each rack you're preparing in a double layer of foil, crimping edges to seal tightly. Place each foil packet on a rack in a rimmed baking sheet and roast until the meat is fork-tender at the thickest part but not falling off the bone, about 2 hours. Let cool.
Tear open a corner of each foil packet and carefully pour juices from ribs into a large heatproof measuring cup. Let juices settle, then spoon fat from surface and discard.
Heat butter in a medium saucepan over medium, stirring often, until it foams, then browns (do not burn), 5–8 minutes. It should smell nutty. Add juices from ribs and 2 T. of the reserved spice mixture and bring to a simmer. Taste. If it needs more heat or salt, you can add more salt or cayenne, at this point. Cook until reduced by one-third, 15–20 minutes. Remove sauce from heat, add vinegar, and season with salt, if desired.
Prepare grill for medium-high heat; oil grate. Remove ribs from foil and grill, basting with sauce and turning occasionally, until charred in spots, 5–7 minutes. Transfer to a cutting board and let rest 10 minutes. Slice between ribs and serve with remaining sauce.
Notes
Ribs can be roasted 1 day ahead; let cool in foil, then chill. Bring to room temperature before grilling. Sauce can be made 1 day ahead; cover and chill. Reheat over low.
Recommended Products
As an Amazon Associate and member of other affiliate programs, I earn from qualifying purchases.
Nutrition Information:
Yield:
4
Serving Size:
1
Amount Per Serving:
Calories:

141
Total Fat:

9g
Saturated Fat:

2g
Trans Fat:

0g
Unsaturated Fat:

5g
Cholesterol:

13mg
Sodium:

4793mg
Carbohydrates:

13g
Fiber:

3g
Sugar:

6g
Protein:

4g
If this recipe for rib rub and sauce doesn't quite turn your crank, check out my recipe for
Grilled Ribs with Blueberry Barbecue Sauce.