This post contains links that, if you click on them and make a purchase, will earn me money. Regardless, I only recommend products or services that I believe will be good for my readers. Thanks for helping me continue to produce great content!
This shop has been compensated by Collective Bias, Inc. and its advertiser. All opinions are mine alone. #ScrubbingPower #CollectiveBias

Frying bacon, cooking pasta, and pouring a creamy corn sauce can lead to both a delicious meal, (Fresh Corn Carbonara) and a big mess to clean up at the end of the meal. That's why I'm excited to share with you not only the delicious recipe I came up with, but also about the dish cloth (it's a brand new product!) that I was invited to review. The Scotch-Brite® Scrubbing Dish Cloth really is something that will make *your* cleanups easier. And when I find a good product, I enjoy sharing what I've learned with my readers.
Finding a product you've never purchased before can be a bit tricky, so I got my favorite photographer – my husbyman – to snap a few shots to make it easier for you to find them at your store. At my Kroger, (and my clever husband entitled this picture "Clean Up on Aisle 13") I found them here:
While I actually preferred the Scotch-Brite® Scrubbing Dish Cloths in the mint color, I decided the gray color would go better in my kitchen. They also have them in navy, and tan. I'm actually glad I went with the gray, because I discovered that these work really well for scrubbing the burnt-on grease on my cooktop, and that the gray color really hides the grime that normally stains my other dish cloths! They are available in packs of two, for $5.49, or you can buy just one for $2.99. (And right now, Kroger has them for a dollar off of the one pack, and $1.50 off the two pack, so I felt like I had scored, there!) The dish cloths are fully washable, reusable, and sturdy.
About the Recipe for Fresh Corn Carbonara
The purists among you are going to take note immediately that there are no eggs in this dish, so technically, it's NOT a pasta carbonara. Well, technically, you're right. Hope that makes you feel better! Now that we've gotten *that* out of the way… 😀
I titled it a "corn carbonara" because it really, really reminds me of a true pasta carbonara. No tomatoes in sight, and there's bacon, garlic, and Parmesan, (all elements of a pasta carbonara). Half and half, puréed corn, and the milk from the corn cob take the place of the eggs, to make a lovely sauce. Then I also incorporate some fresh corn kernels, to give a little burst of sweetness and some crunch to add to the creamy texture. Bacon adds a crunchy salty element, basil adds an herbal brightness, and a sprinkling of hot red pepper flakes adds a slight note of heat. Salty, sweet, savory, creamy, with a hint of crunch: this is a really nicely balanced dish! My family loved it, and I think yours will, too! Perfect for summertime, with all the lovely fresh corn and basil we have available.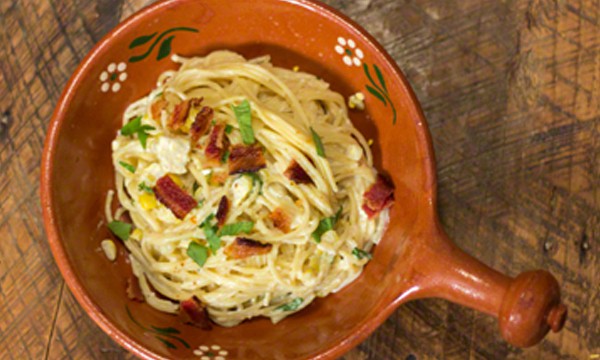 Fresh Corn Carbonara
2016-08-07 12:21:30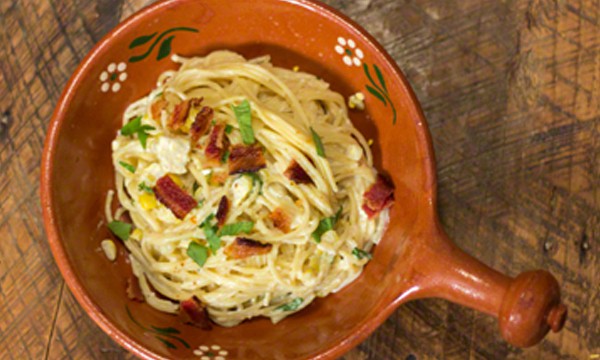 Similar to a true pasta carbonara, fresh corn carbonara uses fresh corn, the milk from the cob, and some half and half to make a creamy sauce for pasta. I added minced garlic and hot pepper flakes, and substituted half and half for the cream in the original recipe, to adapt it.
Ingredients
1 lb. spaghetti
sea salt
5 slices of thick cut bacon (about 5 oz. of bacon)
4 minced cloves of garlic
1/4 t. red pepper flakes
4 ears of corn, kernels cut off (about 3 c.) and divided in half; cobs reserved
1/2 c. half and half
1/2 t. sea salt
1/2 t. freshly ground black pepper
1/2 c. grated Parmesan
1/2 c. coarsely chopped basil leaves, divided
Instructions
Cook spaghetti in well-salted water, about 1 minute shy of package directions. (The water should be salty like the sea.) You want it al dente: to absorb the corn and cream sauce when you pour that over it. When the pasta is al dente, drain it, and pour it back into the pot you used to cook it in. Cover it with a lid to keep it hot until you pour the sauce over it.
Meanwhile, fry the bacon in a large skillet over medium high heat until crisp. Drain bacon on paper towels. Crumble or chop the bacon into bite sized pieces. Pour all but about 2 T. of the bacon grease off of the skillet, and return skillet to the heat. Sauté the minced garlic and red pepper flakes for about 1 minute. You don't want the garlic to burn. Set aside.
Scrape the excess corn cob milk/remnants of corn kernels off the cobs, using the back of a chef's knife. Scrape that, half of the corn kernels, sea salt, freshly ground black pepper, the bacon fat with the sautéed garlic and red pepper flakes, and the half and half into a blender. Purée until a smooth sauce forms.
(Set aside a little bit of the remaining fresh corn, basil, bacon and pepper to sprinkle on top of each plate, as a garnish. You may also finish each bowl with a drizzle of fragrant extra virgin olive oil, if you like. I think it adds a nice mouth feel)
Toss hot, drained pasta with the creamed corn sauce, Parmesan, the other half of the corn kernels, crumbled bacon, and basil in the pot to which you returned the drained pasta. Taste for seasoning, adding additional salt and pepper, if needed.
Garnish the individual plates with the reserved toppings.
That Susan Williams https://www.thatsusanwilliams.com/
How I Cleaned Up My Big Fat Mess:
Following your delicious dinner, you will probably be faced with something like this:
And this lovely view doesn't even take into consideration what I slopped on my cooktop. Can you say bacon grease? How about slightly sticky, starchy corn sauce?
That's where the handy dandy Scotch-Brite® Scrubbing Dish Cloth came to my rescue. In case I didn't make it clear above, the textured fiber cloth has two distinctly different sides. One is smooth and absorbent, for wiping things down. On the other side, those little white dots you see are raised, and do a great job of scrubbing, without using other tools. The thing that pleased me most, during my cleanup, was that when it came time to clean my cooktop, and I added a safe-for-my-cooktop scrubbing powder, not only did that evening's mess come off quickly, but also, the cooked-on residue/dark spots of meals past, that hide between the "arms" of my star-shaped burners, started coming off, too, without scratching my stainless steel finish. (Those star shaped burners distribute the heat more evenly around my pots, but are notoriously difficult to keep clean.) Yay! Bonus!!!
So Here's How I Used It: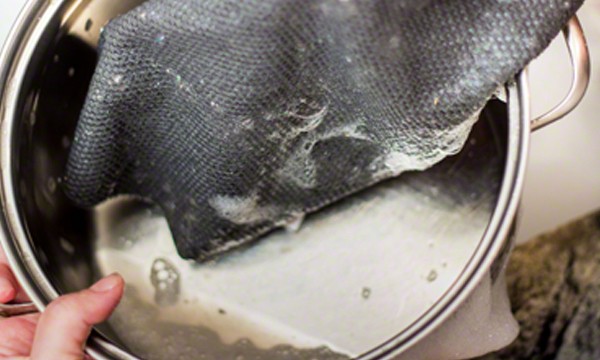 1) Rub
I used the smooth side of the cloth for rubbing. (You can also use this side for wiping down your counters, and any other appliance that needs wiping down. It works great on stainless and granite, in my experience.)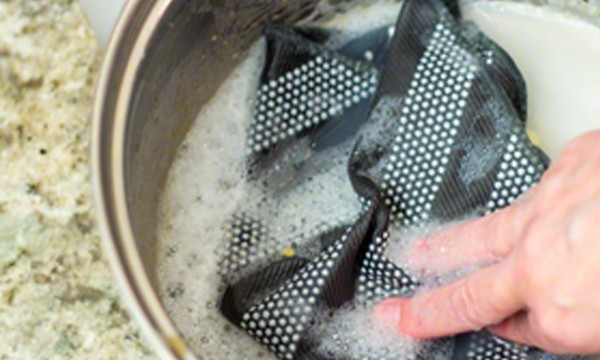 2) Scrub:
I used the bumpy side: for scrubbing off any residual mess.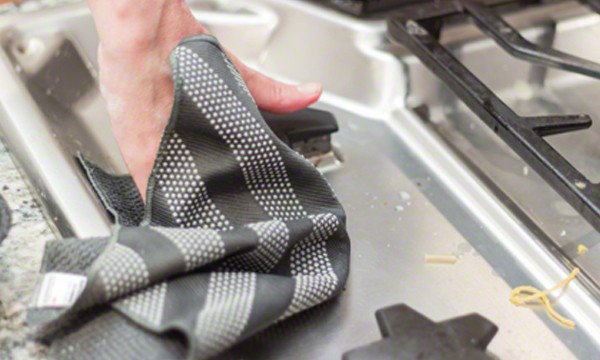 3) Wipe Up/Scrub Down of Cooktop:
I did the final step, following washing my dishes, my cooktop wipe-up, and scrub-down. Here, you can see how I used the bumpy side to help me scrub between the "arms" of my star-shaped burners. And remember: the dish cloths are fully washable, once they've scrubbed and wiped your surfaces.
I wish I'd had these dish cloths YEARS ago. Even though that would be impossible, since they're a brand new product, a girl can dream. I think they would have helped me do a better job of maintaining that "new" look of my cooktop, longer.
Want to find more delicious recipes, and more great tips for cleaning up your worst kitchen messes? Check them out here.
What do you cook that makes the biggest mess?