This post contains links that, if you click on them and make a purchase, will earn me money. Regardless, I only recommend products or services that I believe will be good for my readers. Thanks for helping me continue to produce great content!
This recipe for Fresh Corn Carbonara is both easy and delicious! It's a great weeknight meal.
Fresh Corn Carbonara is Technically Not a Carbonara
The purists among you are going to take note immediately that there are no eggs in this dish, so technically, it's NOT a pasta carbonara. Well, technically, you're right. Hope that makes you feel better! Now that we've gotten *that* out of the way… 😀
I titled it a "corn carbonara" because it really, really reminds me of a true pasta carbonara. No tomatoes in sight, and there's bacon, garlic, and Parmesan, (all elements of a pasta carbonara). Half and half, puréed corn, and the milk from the corn cob take the place of the eggs, to make a lovely sauce.
Fresh Corn Carbonara Requires Fresh Corn, Because You Use the Cobs
Then I also incorporate some fresh corn kernels, to give a little burst of sweetness and some crunch to add to the creamy texture. Bacon adds a crunchy salty element, basil adds an herbal brightness, and a sprinkling of hot red pepper flakes adds a slight note of heat. Salty, sweet, savory, creamy, with a hint of crunch: this is a really nicely balanced dish! My family loved it, and I think yours will, too! Perfect for summertime, with all the lovely fresh corn and basil we have available.
Yield: 4 servings
Fresh Corn Carbonara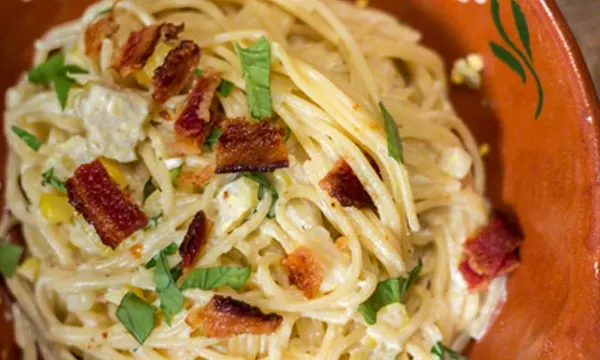 Similar to a true pasta carbonara, fresh corn carbonara uses fresh corn, the milk from the cob, and some half and half to make a creamy sauce for pasta. I added minced garlic and hot pepper flakes, and substituted half and half for the cream in the original recipe, to adapt it.
Ingredients
1 lb. spaghetti
sea salt
5 slices of thick cut bacon (about 5 oz. of bacon)
4 minced cloves of garlic
1/4 t. red pepper flakes
4 ears of corn, kernels cut off (about 3 c.) and divided in half; cobs reserved
1/2 c. half and half
1/2 t. sea salt
1/2 t. freshly ground black pepper
1/2 c. grated Parmesan
1/2 c. coarsely chopped basil leaves, divided
Instructions
Cook spaghetti in well-salted water, about 1 minute shy of package directions. (The water should be salty like the sea.) You want it al dente: to absorb the corn and cream sauce when you pour that over it. When the pasta is al dente, drain it, and pour it back into the pot you used to cook it in. Cover it with a lid to keep it hot until you pour the sauce over it.
Meanwhile, fry the bacon in a large skillet over medium high heat until crisp. Drain bacon on paper towels. Crumble or chop the bacon into bite sized pieces. Pour all but about 2 T. of the bacon grease off of the skillet, and return skillet to the heat. Sauté the minced garlic and red pepper flakes for about 1 minute. You don't want the garlic to burn. Set aside.
Scrape the excess corn cob milk/remnants of corn kernels off the cobs, using the back of a chef's knife. Scrape that, half of the corn kernels, sea salt, freshly ground black pepper, the bacon fat with the sautéed garlic and red pepper flakes, and the half and half into a blender. Purée until a smooth sauce forms.
Nutrition Information:
Yield:
4 servings
Serving Size:
1
Amount Per Serving:
Calories:

411
Total Fat:

14g
Saturated Fat:

6g
Trans Fat:

0g
Unsaturated Fat:

7g
Cholesterol:

35mg
Sodium:

922mg
Carbohydrates:

56g
Fiber:

4g
Sugar:

6g
Protein:

18g
If you're looking for more easy weeknight recipes, I have a ton. Check out Chicken Dukkah, for example.